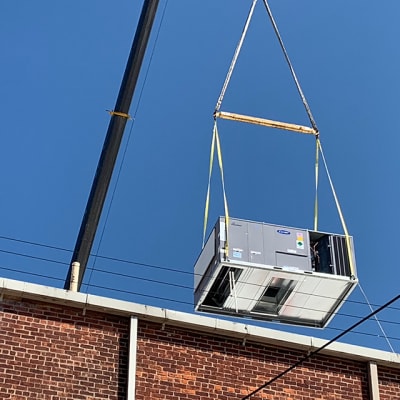 Commercial Packaged Outdoor Rooftop Units
The expert HVAC choice for commercial packaged rooftop units.
Carrier provides a complete line of commercial packaged rooftop units with Puron® refrigerant to meet demanding HVAC system requirements.  These packaged air conditioners deliver performance for various ranges of industrial applications.
Nominal Efficiency (SEER)
info
---
WeatherExpert® Packaged Rooftop Units: Unrivaled Leadership in Comfort and Total Low Cost of Ownership
Leading Efficiencies
The Carrier WeatherExpert® Packaged Rooftop Unit series provides comfort and energy efficiency never seen before. WeatherExpert units, available in 3-23 ton sizes, use multi-stage compressors, a single refrigerant circuit and SAV™ (Staged Air Volume) logic to provide part-load efficiencies that lead the industry. This simple design provides two- and three-stage cooling and IEERs (Integrated Energy Efficiency Ratios) up to 21.0.
LEED® & Energy Rebates
With ultra high IEERs and energy-saving features such as Variable Frequency Drives, the WeatherExpert Packaged Rooftop Units can help contribute to qualify for LEED® (Leadership in Energy & Environmental Design) credits and may qualify for efficiency rebates from your local utility company.
Low Cost of Ownership
Designed with cost-efficiency in mind, many WeatherExpert units use the same curbs and accessories as other Carrier rooftop units, making upgrades easy. Superior energy efficiency and ease of installation and maintenance helps provide a low total cost of ownership.
WeatherExpert...Engineering Excellence Built In
Rigid full perimeter base rails have built-in rigging provisions.
Units are available with electro-mechanical controls or RTU Open multi-protocol direct digital controller. Additional ComfortLink integrated controller on 3-5 ton models that provides:

Scrolling marquee display
Reverse rotation protection
Service diagnostics and alarms
Alarm and run time history
Additional dehumidification fan speed control

All models use highly efficient belt drive indoor fan systems with Variable Frequency Drive (VFD) controller; 3 to 5 ton units are also available with direct drive multi-speed ECM indoor motors.
Gas units utilize Integrated Gas Controller (IGC) with LED fault indication. Electric heat units utilize single point wiring connection.
Highly efficient enhanced round tube plate fin coils with optional special environmental coating.
All gas models utilize induced draft combustion system with tubular heat exchanger.
Large panels with handles and no-strip screw technology provides access to all major components. Tool-less filter access door.
Precision sized Thermostatic Expansion Valve (TXV) provides optimum operation through the entire application range.
Multi stage cooling capacity (2-stage on 3 to 5 ton, 3-stage on 6 to 23 ton) with a fully activated evaporator coil on a single refrigerant circuit that provides efficient and accurate temperature control.
Highly efficient direct drive ECM outdoor fan motor aids in unit overall high performance. Helps provide quiet operation with outdoor sound levels as low as 76 dB.
Fully safety protected with high pressure, low pressure and over current/temperature.
Units are available in vertical supply and return air or horizontal supply and return air configurations to adapt to job applications as required.
High capacity solid core filter drier for added refrigerant system protection.
Non-corrosive, composite material condensate pan/with bottom center drain connection is designed in accordance with ASHRAE 62 standard.
IEER: The New Gold Standard in Efficiency
Because a typical building experiences peak cooling conditions approximately 3% of the time, leaving 97% in part-load conditions, the U.S. Department of Energy (DOE) and other industry regulators have begun to rely on the Integrated Energy Efficiency Ratio (IEER) as the new standard for measurement. The IEER standard measures efficiency in part-load conditions — representing the vast majority of the operating year.
The recent U.S. DOE Rooftop Packaged Unit Challenge specified only IEER, not EER (Energy Efficiency Ratio). Few companies undertook the challenge — but the Carrier WeatherExpert™ 48/50LC exceeded the target IEER by 15%.
Some WeatherExpert 48/50LC models surpass current efficiency standards by significant amounts:
ASHRAE 90.1 levels up to 87%
ENERGY STAR® levels up to 77%
CEE
Tier II levels up to 47%
U.S. DOE Rooftop Unit Challenge levels up to 15%
---
LEED® is a registered trademark of the U.S. Green Building Council.
CEE - Consortium for Energy Efficiency
BACnet® is a registered trademark of the American Society of Heating, Refrigerating, and Air-Conditioning Engineers, Inc.