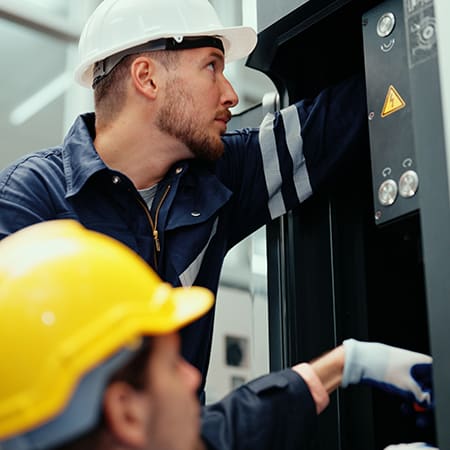 Solutions for Healthier, Safer and More Sustainable Schools
Carrier has the solutions that facility managers need to help them achieve building health, safety and sustainability outcomes for our nation's schools. For example, 74% facility managers listed "air filtration and contaminant reduction" as a key concern.1 Carrier's Abound™ digital platform can support IAQ management.
Education facility managers have unique priorities when it comes to improving school facilities based on their school's equipment age, infrastructure limitations and community needs. However, there are common outcomes that most schools are seeking.
Carrier Solutions for Your K-12 School
Below is a select list of products and services Carrier offers for K-12 and other educational applications. For more information about how we can help you achieve your school's goals, please contact us.
Chillers keyboard_arrow_right
Chillers are one of Carrier's premier technologies that features easy installation, high reliability, and multiple sound configurations.
RMAPs are portable purifiers for rooms up to 560 square feet, such as classrooms, equipped to capture 99.97% of air particles at 0.3 microns.
Abound™ keyboard_arrow_right
Abound is Carrier's "suite of connected solutions and digital platform" to support visibility into building performance, such as IAQ, energy efficiency, etc.
Building automation & controls solutions that optimize the usage of HVAC products.
RF is easy to install, offering unmatched flexibility and efficiency. The entire system can be run from a central location or monitored remotely.
IAQ assessments are tools to identify issues with IAQ and determine healthy building strategies to improve indoor environments.
Commissioning is a service that can support schools with appropriate startup to equipment, HVAC, systems, etc.
Carrier Commercial Service also offers turn-key retrofit solutionsand can partner directly with schools to execute solutions for existing buildings. Retrofits are upgrades made to installed solutions to optimize equipment during asset life.
BluEdge™ services can support schools with repairs, breakdowns, contingency planning, predictive and preventive maintenance, etc. across tiered offerings.
Sustainability services can help schools achieve goals in energy efficiency, operational cost savings, greenhouse gas reduction, etc.
How Carrier Helps Schools Overcome Challenges
Facility Managers face multiple compounding challenges when maintaining and improving school learning environments including supply chain delays, labor shortages, budget cuts, and aging building systems and equipment. Beyond day-to-day operations, large scale capital projects require resource capacity that schools and districts often do not have readily. Carrier understands these challenges and offers products, services, solutions, and support to help facility managers achieve their goals.
Common Challenges for Facility Managers
Case Studies
Depending on your school needs, Carrier can support facility managers with procurement, installation, maintenance and more to help you achieve a healthier school.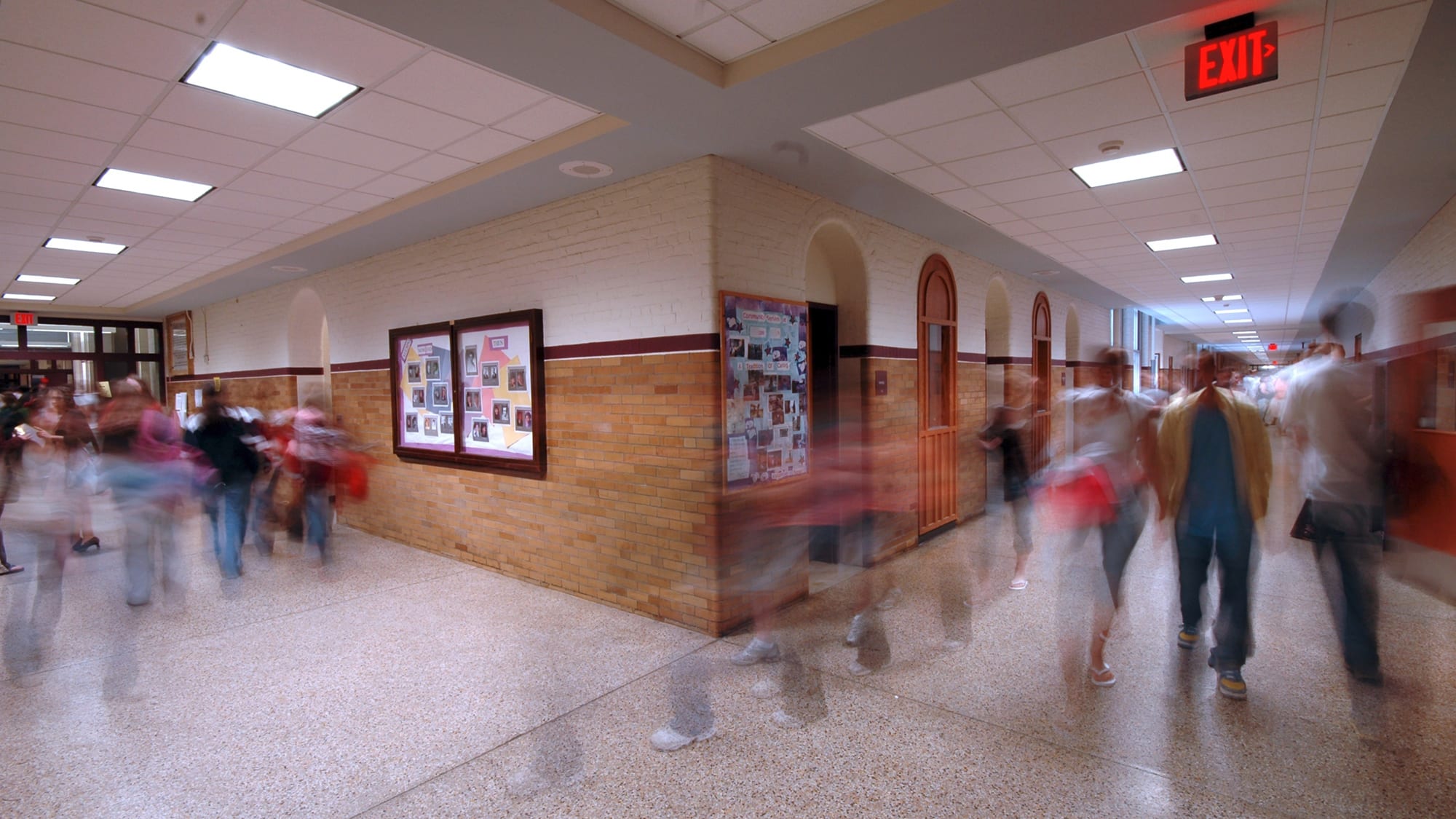 The school installed Carrier's AquaForce® 30XV air-cooled screw chillers due to their energy efficiency capabilities as well as acoustics. In fact, at completion of the project, the county schools were awarded a $24,000 utility rebate from a major energy provider due to the chillers' efficiency.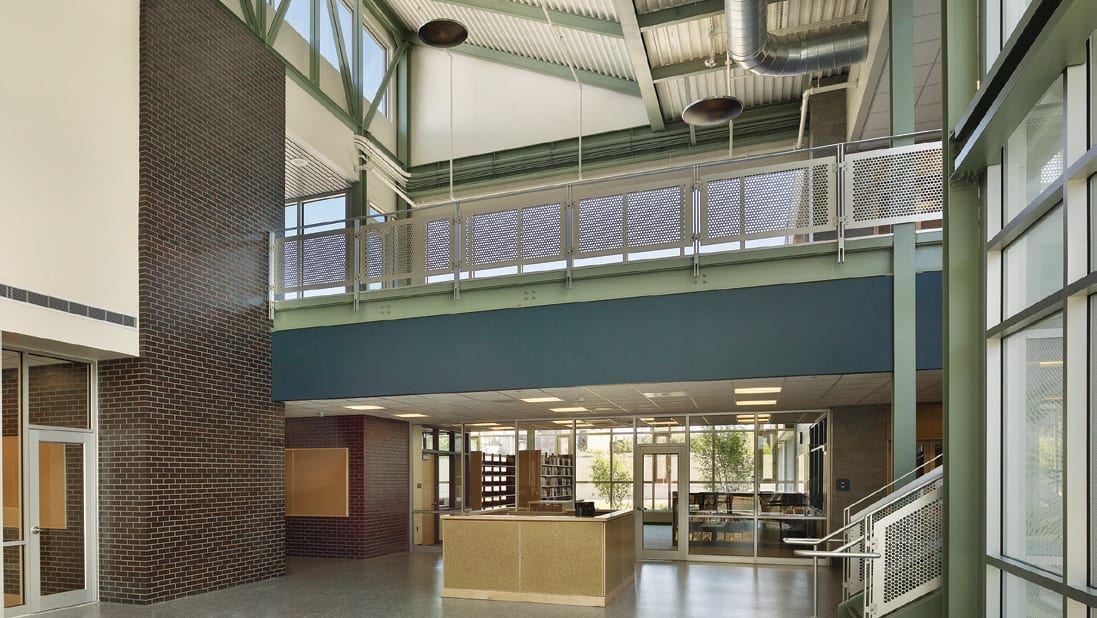 In partnership with Carrier, KCAPA installed 77 Aquazone™ water source heat pumps paired with custom dual-wheel energy recovery units to provide sustainable geothermal comfort and fresh air to each classroom. As a result of the building's sustainable renovations, KCAPA became the first high school in Pennsylvania to attain LEED® Platinum status. The sustainable environment additionally has led to an atmosphere that has quadrupled test scores and raised the graduation rate by 37%.
Here are a few examples of what facility managers may track at a school or district level.
Healthy Key Performance Indicators
Measuring School Health, Safety, and Sustainability
Facility managers contribute significantly to supporting the health and safety of school occupants by maintaining infrastructure and equipment and managing operations at either the school or district level. The COVID-19 pandemic along with other market trends including labor shortages, the introduction of new regulations, and budget cuts make it extremely challenging for facility managers to do more with less.
Understanding current state performance at a school or across a district can help facility managers and administrators balance trade-offs and allocate funds where they are truly needed. Carrier recommends identifying the right metrics to measure success upfront because you cannot fix what is not measured.
Frequently Asked Questions
Facility managers can act quickly to improve Indoor Air Quality (IAQ) in schools through low-cost "quick-win" solutions that can generally be completed in less than 30 days.
Some of these improvements include:
Opening doors and windows if outdoor conditions permit1
Adjusting room thermostat fan controls to "On" instead of "Auto"
Installing Room Air Purifiers2
Recommissioning HVAC equipment3
Upgrade filters in HVAC equipment and air purifiers1,3
Reduce chemical pollution indoors through use of low emitting materials and cleaners1
Vent combustion appliances outdoors (e.g., heaters, stoves, etc.)1
Check ventilation rates4
Install indoor air quality monitors
---
Carrier recommends a five-step process to get started1…
Assess IAQ and Building System Performance
Install Quick Win Solutions (Recommissioning, Enhanced Filtration, etc.)
Select a Layered Solution with Third-Party Support As Needed
Develop a Holistic Business Case
Engage the Community to Educate and Advocate for IAQ investments
The recommended first step to start improving IAQ in schools is to assess the current state of indoor air quality and supporting building systems like HVAC equipment. By understanding the gap between current state and desired outcomes or targets, facility managers are better positioned to select solutions that fit project budget, infrastructure constraints, and timeline.
It takes time to assess and create layered solutions to improve IAQ in learning environments. We recommend in the meantime that schools, when applicable, implement quick win solutions to begin having an immediate positive impact on IAQ without requiring significant investment. Please see the previous question for additional quick win solutions.
Layered strategies are recommended for reducing the risk of airborne disease transmission through improved indoor air quality.2 Selecting an optimal solution requires expertise and resources that often schools do not have or cannot allocate fully to the task. As a result, we recommend that facility managers and school districts seek third party assistance as needed in the form of engineers, consultants, and HVAC vendors, like Carrier.
To secure funding, a holistic business case is needed which requires facility managers to have several types of data. See below question for sample data. Strong business cases will consider total cost of ownership, including one-time and ongoing costs along with benefits. Benefits would be measured for both occupants and the school building itself.
Finally, to help IAQ and HVAC project proposals be prioritized for funding from the district, we recommend that facility managers, along with additional school staff and community members, educate the community on the benefits of IAQ. This enables the community to also act as advocates for IAQ investments.
Carrier can support facility managers across these steps to get started on improving indoor air quality (IAQ). If you are ready to get started, please contact us.
---
To select an optimal solution and to calculate the holistic benefits of HVAC and IAQ investments, facility managers will need several inputs including goal and target metrics, building metrics, and cost and performance metrics. Below we have listed sample metrics that can help facility managers and school districts realize returns on investment in HVAC.
Goal & Target Metrics
Indoor Air Quality (IAQ): Metrics include effective air changes per hour, pollutant concentrations, temperature, and relative humidity. For example, in schools it is often recommended to achieve 5-6 air changes per hour1 and relative humidity of 40-60%.2 To reference the IAQ KPIs please see section: Measuring School Health, Safety, and Sustainability
Energy Efficiency: Metrics include Green House Gas (GHG) emissions, energy use intensity per square foot, and energy consumption per square foot.3,4 "Energy costs are second only to personnel costs as the leading draw on K-12 school district operating budgets, totaling approximately $8 billion annually nationwide . . . . An estimated $2 billion of that total can be saved by improving energy efficiency in K-12 schools . . . ."3
Temperature: ASHRAE recommends schools maintain classroom temperatures between 68 to 76 degrees Fahrenheit (°F) in the winter, and 72.5 to 80 degrees (°F) in the summer.5
Building Metrics/Inputs
School Square Footage: Indoor square footage of occupied spaces of those requiring IAQ. Square footage informs solution capacity requirements.
Electrical or Other Energy Source Availability: Understand what energy sources are available to the school and where are they located to determine if additional electrical work will be required for preferred solutions.
Current Equipment Health: Assess current equipment health to understand performance and constraints to determine if the solutions require equipment replacement or upgrade.
Cost & Performance Metrics
Utility Costs: Current utility costs are required to measure a change in consumption following investment in HVAC.
Downtime Costs: Current downtime and associated costs are required to measure a change following investment in HVAC.
HVAC Products & Repair: Consider all products available in the ecosystem for HVAC, and maintenance services to support schools.
Absenteeism: Current absenteeism and Average Daily Attendance rate form a baseline for the project, in hopes that once solutions are implemented, they will improve.
Test Score Performance: Student test scores form a baseline of school academic performance that often affects future funding availability.6 The goal is to improve scores year over year.
---
Facility managers should consider key elements when choosing an HVAC vendor such as portfolio scope, geographic coverage, industry expertise, and customer service capabilities.
Portfolio (Product & Service) Scope: Vendors with broad portfolios can help reduce vendor complexity when they can be a "one stop shop" for solutions. For example, if vendors can provide solutions that consist of both products and services across product categories like HVAC, Fire & Security, and Digital Solutions.
Expertise: To reduce investment risk, facility managers may prefer established vendors with extensive industry-specific expertise and a strong reputation of past success and future innovation.
Geographic Coverage: Vendor coverage can depend on region and project application, so we suggest ensuring your chosen vendor can support your needs locally at both a school and district level.
Customer Service Capabilities: Large infrastructure projects will likely involve multiple vendors and will be complex. A preferred HVAC vendor may have existing relationships with engineering and consulting firms, along with co-operatives to better serve customers.
Indoor Air Quality (IAQ) can be monitored continuously or at a single point in time by using air monitors, sensors, or other solutions to measure the concentration of CO2, TVOCs, PM2.5, radon, air temperature and humidity. Continuously monitoring IAQ using solutions such as digital platforms like Abound, can enable facility managers to make informed decisions on how to better improve indoor environments at a classroom, school, or district level.
Carrier Solutions to Monitor IAQ
Best practices when implementing solutions include layering solutions, advanced planning, and comprehensive program management. Utilizing these best practices can support on-time, effective project execution.
Layered Solutions are holistic solutions that combine multiple independent solutions together to augment results.1 A recent analysis of ESSER III spending completed by the Center for Green Schools noted "districts that planned to spend in [filtration and HVAC improvements] also indicated plans to spend in at least one other facilities category, displaying a layered approach to addressing COVID at the building infrastructure level."2 These solutions are essential given "the average age of [America's] school buildings is over 50 years", which has resulted in poor school conditions where "20 to 35% of all school districts had serious deficiencies in at least half of their roofing, lighting, or safety and security systems."2
Advanced Planning for long-term solution feasibility and to meet project or funding deadlines.

Product Availability and Pricing: Due to ESSER funding, demand for HVAC equipment and services is high and the industry is still experiencing supply challenges from the pandemic and economic fluctuations. Understanding the latest product availability timelines and pricing, both of which may change over time, is critical to successful project execution.
Equipment & Maintenance Plans: Ensuring solutions account for near-term and long-term operations is key to feasibility and realizing desired results. This means understanding and planning for long-term requirements like equipment maintenance and training upfront can lower total cost of ownership.

Program Management begins with project definition and the selection of targets and goals and continues throughout initial ongoing operations once projects are executed.

Vendor Communication: Ensure clear and frequent communication with vendors to support project implementation, prevent lead time delays, and leverage expertise to reduce project risk.
Reporting & Continuous Monitoring: Consider reporting needs in project definition to ensure later feasibility, as some funding sources require outcome reporting.
---
Facility Managers typically manage a portion of school operating expense budgets to maintain and operate school building systems and other infrastructure. Small upgrade or retrofit projects may fit within normal operating budgets, but large-scale projects likely require additional capital. In that situation, facility managers can propose capital projects to be approved for funding by school administrators and officials. This is best done accompanied by a strong business case. Finally, facility managers, along with the rest of the school community, can advocate for funding for projects of interest.
For more information on funding sources for capital projects, please see the Administrator's page, Federal & State Funding Sources for Schools.
Facility managers can consider solutions, such as Abound™ and BluEdge™, to support with KPIs and insights to efficiently operate and maintain equipment. These solutions can predict and prevent failures to potentially reduce total cost of ownership, optimize operational budgets, and measure returns on investment.
BluEdge keyboard_arrow_right
BluEdge is designed to predict major failures before they arise, reducing costs and extending equipment life. BluEdge can determine if adjustments should be made to your school's HVAC system to minimize the risk of costly, complex breakdowns. The 3 different tiers available are Core, Enhance, and Elite, based on school needs.
Core: Offers on-demand specialists, annual maintenance, and 24/7 emergency support
Enhance: Offers additional features like preventive maintenance and remote monitoring
Elite: Offers complete support including unscheduled repairs and contingency planning
Abound keyboard_arrow_right
Abound, can allow facility managers, administrators, and occupants real-time metrics on how well building systems are supporting the health of occupants and sustainability of the school. Abound allows facility managers to better maintain equipment and ensure it's working towards intended outcomes.
Systems like WebCTRL and i-Vu provide building automation and controls for school environments including lighting, heating, cooling, etc. for optimal use. Costs such as utilities, repairs, etc. can be reduced and easily managed through automated usage.
Currently, school specific IAQ standards generally do not exist or are not required to be implemented; however, there are non-school specific standards set by agencies that are more widely used and accepted, while additional standards are in development.
Organizations such as American Society of Heating, Refrigerating and Air-Conditioning Engineers (ASHRAE), Carrier through its Certified Healthy Air System (CCHAS), and WELL have set standards to manage Indoor Air Quality (IAQ) which facility managers can use as guidance.
Select List of IAQ Building Standards
ASHRAE Standards: ASHRAE's guidance on buildings through Standards 62.1 and 62.2, note minimum ventilation rates.1 ASHRAE recently announced the accelerated development of an IAQ pathogen mitigation standard in buildings. These guidelines would recommend best practices to reduce air-borne disease transmission and improve air quality.2
Lancet Commission Standards: The Lancet COVID-19 Commission Standards provides guidelines on air delivery rates for indoor environments to reduce exposure to airborne infectious respiratory diseases, such as COVID-19, as part of a task force on "safe work, safe school and safe travel."3 These guidelines specify the best rate at >6 volumetric flow rate per volume (ACHe) for indoor environments to achieve, in order to minimize transmission risk.3
Carrier Certified Healthy Air Systems (CCHAS): CCHAS is a certification program that assesses the ability of building systems to support indoor air quality against an IAQ standard and makes recommendations on how to improve system performance. CCHAS can be used to guide facilities personnel on measures to take to impact to improve air quality.4
WELL™ Building Standard: The WELL Building Standard is a "performance-based system for measuring…the built environment that impact[s] human health", including standards for air quality.5 However, a WELL certification does not require a level of IAQ to be reached; it's recommended to prioritize IAQ while certifying your school.
Leadership in Energy and Environmental Design (LEED): LEED® is a certification body for buildings meeting their "framework for healthy, efficient, and cost-saving green buildings."6 To achieve a certification, buildings must earn points. Points can be earned by meeting IAQ criteria, but not all credits are needed for certification.7
RESET®: RESET is "set of standards…with the purpose of helping built environments become healthier…" using data.8 RESET requires data collection tools to meet its various standards and can be met on an individual standard basis, including IAQ. For RESET's Air Standard, air quality monitors are required to continuously monitor environments and KPIs.8
---