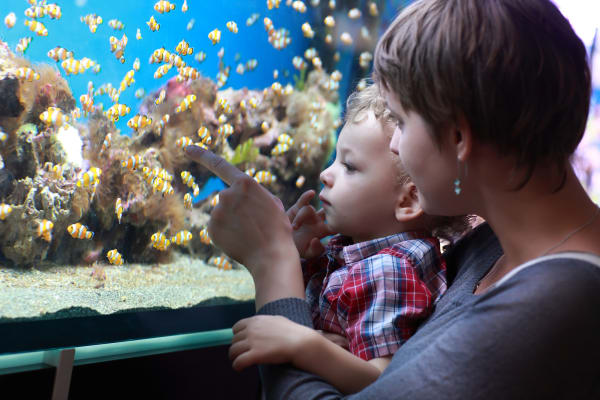 Modular to centrifugal. Carrier water-cooled chillers have tons of capacity.
With a wide range of water-cooled chiller types (scroll, screw, and centrifugal), capacities (16 to 5,500 Tons) and sustainable refrigerant options, Carrier is a leader in the industry. Whether it be non-ozone depleting refrigerant, simple or modular installation, superior efficiency and powerful controls, these chillers are ideal for both replacement and new construction projects.  Our innovative chiller solutions are designed to bring efficient, reliable cooling to all types of large commercial applications.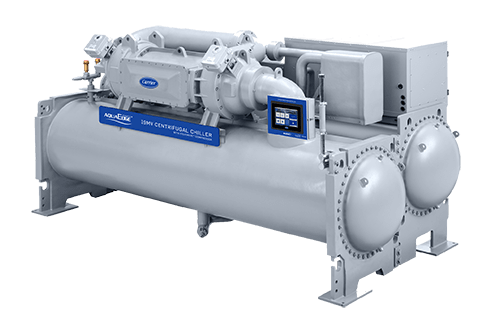 It's time to rethink what you know about chillers.
Introducing the all-new AquaEdge® 19MV Centrifugal Chiller
In the past, more operating range often meant less efficiency at design conditions. Now Carrier has created a chiller that delivers both, unconditionally. The all-new AquaEdge 19MV chiller leverages a 2-stage refrigerant economized design to combine best-in-segment efficiency at design and off-design conditions with the ability to operate reliably, even at severe conditions and heavy cooling loads. In other words, Carrier has created a chiller with performance you can count on – no matter what.  Available with oil-free magnetic bearings and a compact footprint. (Select models fit through double doors (72" x 80") with no disassembly required.)
---
Aqua Series Water-Cooled Chillers: The Right Choice for Today and Tomorrow
Carrier's comprehensive line of water-cooled equipment are designed to enable chiller plants to achieve superior efficiency at true operating conditions without compromising the environment. These units boast integrated part-load values (IPLV) to 0.288 and full load kW/Tons to 0.505 while utilizing either HFC-134a, HFC Puron® or HFO-1233zd(E). Aqua Series water-cooled units are ideal for replacement or new construction with small footprints and easy disassembly options. The newest addition to the Carrier water-cooled chiller product line, the 19DV, utilizes HFO-1233zd(E), an A1 refrigerant. Carrier chillers are also manufactured in an award winning, LEED® certified plant.
Leading Efficiencies
Chillers operate at design conditions less than one percent of the time. As a result, superior part-load efficiency is required in today's chilled-water applications. AquaEdge® 19DV, 19XRV and 23XRV units are equipped with a factory-installed, variable-speed drive, maximizing chiller efficiency by optimizing compressor operation. Electric power consumption drops dramatically when the motor speed slows. The 19DV and 23XRV deliver industry-leading IPLVs as low as 0.288 and 0.299, respectively. The 19DV pairs excellent full load and IPLV performance to reduce demand (peak kW) and energy (Kwh) consumption.
Seismic Compliant*
With Carrier's special seismic-compliant package, the Aqua Series product line meets or exceeds the California Office of Statewide Health and Planning Development (OSHPD) standards.
Revit®
To save time and help support engineers and architects in more accurate design, construction planning and fabrication, Carrier is able to provide Revit® Building Information Modeling (BIM) drawings for their entire line of products. Developed by Autodesk®, Revit BIM is a building design software which allows users to create multi-dimensional architectural models, evaluate building alternatives and work collaboratively before beginning construction. Carrier BIM objects are configured to the design and specifications of each piece of equipment.
BACnet® Capability*
With a factory-installed integrated communication card, connecting a Carrier unit to a BACnet® system has never been easier. Simply connect the UPC Open to the BACnet network, and Carrier equipment is ready to integrate seamlessly into Carrier's i-Vu® Open control system or any other BACnet building automation system. Pre-programmed to share equipment data, no onsite engineering is required.
Heat Recovery
An efficient means of generating hot water is through the heat reclaim capabilities of Carrier's 19DV and 30 series water-cooled units. Carrier equipment with heat reclaim capabilities can produce chilled water controlled to the necessary temperature while generating hot water as a by-product of the chilled water system. This heat reclaim captures energy that would otherwise be wasted to the atmosphere increasing overall system efficiencies. Unlike typical boilers with COP (coefficient of performance) less than 1.0, capturing waste heat from a heat reclaim chiller can result in COPs exceeding 5.0.
---
LEED® is a registered trademark of the U.S. Green Building Council.
Revit® is a registered trademark of Revit Technology Corporation.
Autodesk® is a registered trademark of Autodesk, Inc.
BACnet® is a registered trademark of the American Society of Heating, Refrigerating, and Air-Conditioning Engineers, Inc.
Underwriters Laboratories® is a registered trademark of Underwriters Laboratories, Inc. *Options available where applicable.