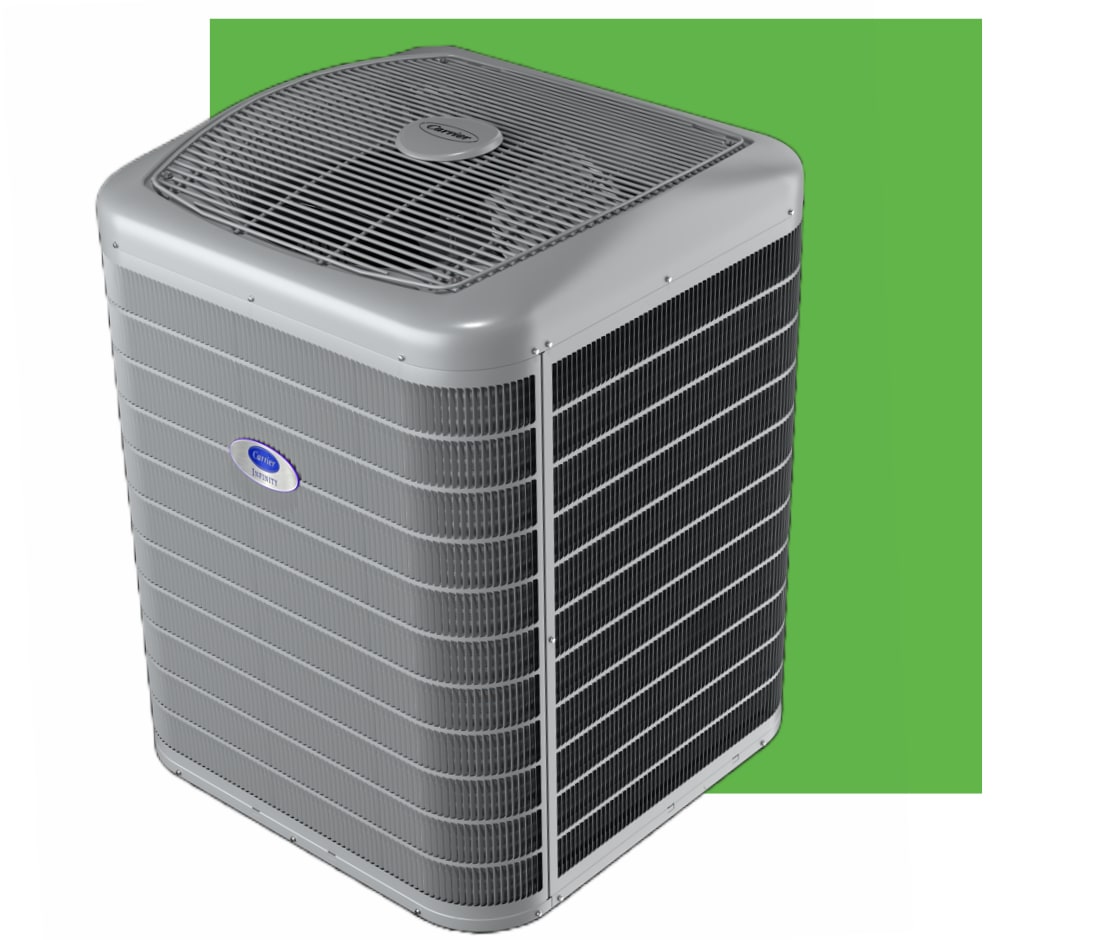 Overall Efficiency
<p>Efficiency within a model group will tend to vary by the size (capacity) of the unit. Some products, like furnaces, may also be affected by installation orientation (horizontal, upflow, or downflow) or even by the nozzle used in installation, as is the case with boilers and oil furnaces. The efficiency of an air conditioner or heat pump can even be affected by the furnace or fan coil it relies on inside the home to move air. Products that fall into the "Select sizes ENERGY STAR<sup>®</sup> qualified" category include within their model group some non-qualified units due to either size or potential installation factors.</p>
info
Sound Level (As Low As)
Quietest size within each model group during most common cooling operating condition.
info
Silencer System II Design
We couldn't find any products that match your search. Please
clear
or revise your filter selections. Having trouble deciding what product meets your needs? Visit our
system builder
or contact your
local Carrier Expert
.
WHAT TO LOOK FOR IN AN AIR CONDITIONER

Comfort
Features
Different central air conditioner products affect your comfort and the consistency of indoor temperature. A single-stage air conditioner is the most basic model, with airflow on or off. A two-stage model offers high- and low-stage cooling as conditions require and therefore can provide enhanced comfort levels. Variable-speed air conditioners include premium comfort features such as multiple stages for more precise temperature control and more consistent comfort.

Humidity
Control
Reducing the humidity levels within your home can dramatically improve your comfort. To help cool your home, your AC unit pulls heat and humidity out of indoor air, using your system's blower to circulate the air. Models with a variable-speed compressor provide excellent humidity control because they can operate at lower speeds for longer times. So, they spend more time pulling humidity out of the air than models with a two-stage or single-stage compressor.

Sound
Performance
Air conditioners with variable and multi-stage compressors provide ultra-quiet operation compared to models with single-stage compressors. In addition, models that include sound blankets and our Silencer System II™ design can further reduce noise levels. If your AC unit is located near a bedroom window or patio, for example, sound performance might be an important feature to consider.

Energy
Savings
Air conditioners are rated by their seasonal energy efficiency ratio (SEER). The SEER rating of an air conditioner is much like miles per gallon (MPG) for a car: The higher the SEER rating, the more energy efficient the system.
Unsure What Air Conditioner is Right for Your Home?
Convenient Monthly Payments With Financing
Learn more about flexible payments and lease options.
Ultimate Comfort and Control
Learn more about our Infinity System to personalize your home's indoor climate.
Heating and Cooling Basics
What is Central Air Conditioning and How Does It Work?
Wide Selection for Any Need or Budget
Carrier offers a variety of AC units to fit any budget and to keep your home comfortable. Your local Carrier HVAC expert can help you select the best split system to fit your needs.
Powerful, Precision Technology
Select an air conditioner equipped with technology that offers precise temperature balance and powerful performance. From the company that invented modern air conditioning, Carrier split systems have patented features that can maximize your home comfort.
Incredibly Quiet Air Conditioning Systems
Carrier offers incredibly quiet air conditioning systems that won't disrupt you in your backyard or on your patio. For ultra-quiet comfort, consider our Infinity 20 AC unit with Greenspeed® technology.
Energy Efficient
Carrier offers a variety of energy efficient central air conditioners. Your local Carrier HVAC expertcan help you choose an AC unit with an impressive SEER rating that might qualify for local utility rebates.
*Depending on model combination. Based on laboratory testing of Carrier's Infinity® 26 air conditioner model by Carrier engineers in Fall 2019 and AHRI sound level data for competitors' variable-speed outdoor units, published as of December 2019.