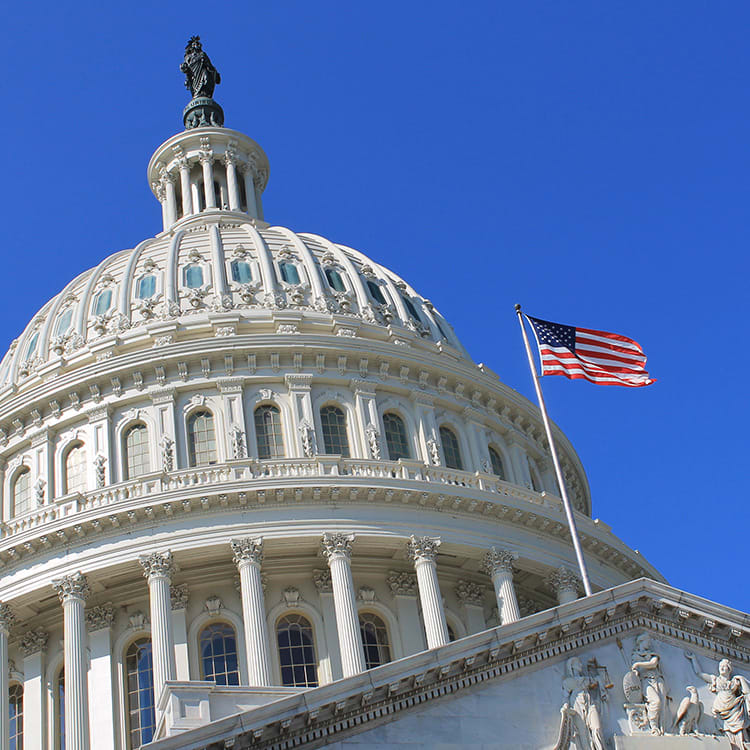 Meeting Increased Federal Facility Operating Standards
Federal facilities are under ever stricter requirements to:
Reduce energy consumption
Reduce greenhouse gas emissions
Decarbonize their site and supply chain
Improve resiliency
Control life cycle costs
Carrier is here to provide HVAC solutions for federal buildings by delivering technologies and services that meet any or all of these requirements. Our Federal Building team has extensive experience with the challenging and unique needs of government facilities.
We have developed tailored comprehensive solutions with an in-house design and engineer team to find the right solution for your federal facility. We can offer various financing options and help control life cycle costs with extended warranties and maintenance contracts.
Solutions for Complete Federal Building Optimization
As your government building evolves with the ever-changing environment, turn to Carrier for customized solutions to help face all your challenges with confidence.





Decarbonization HVAC Equipment Solutions
Carrier supports federal facilities' decarbonization requirements by offering HVAC solutions that produce useful heat without burning fossil fuels on-site. We are innovating solutions and services that enable our customers to achieve their sustainability goals, and we are continuously incorporating sustainable practices within our products and operations.
Carrier Decarbonization Equipment Solutions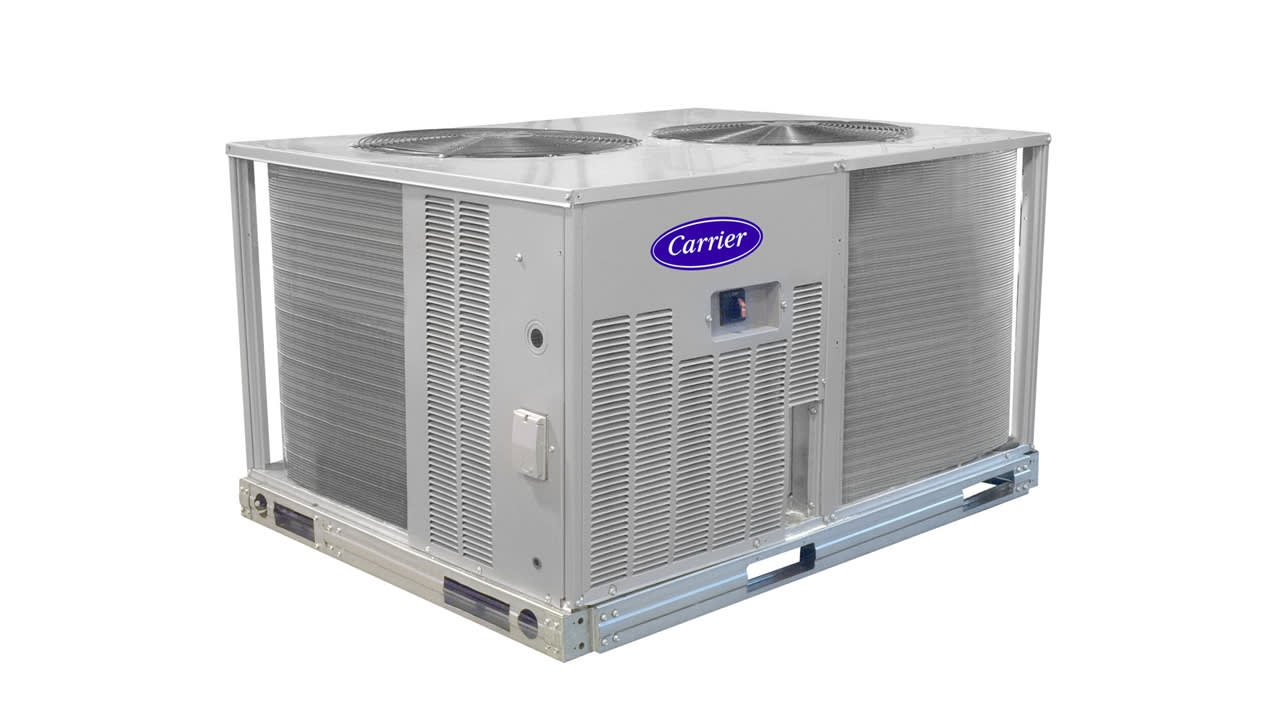 Commercial Heat Pumps, Split Systems
Outdoor air conditioners and heat pumps that work seamlessly with indoor air handlers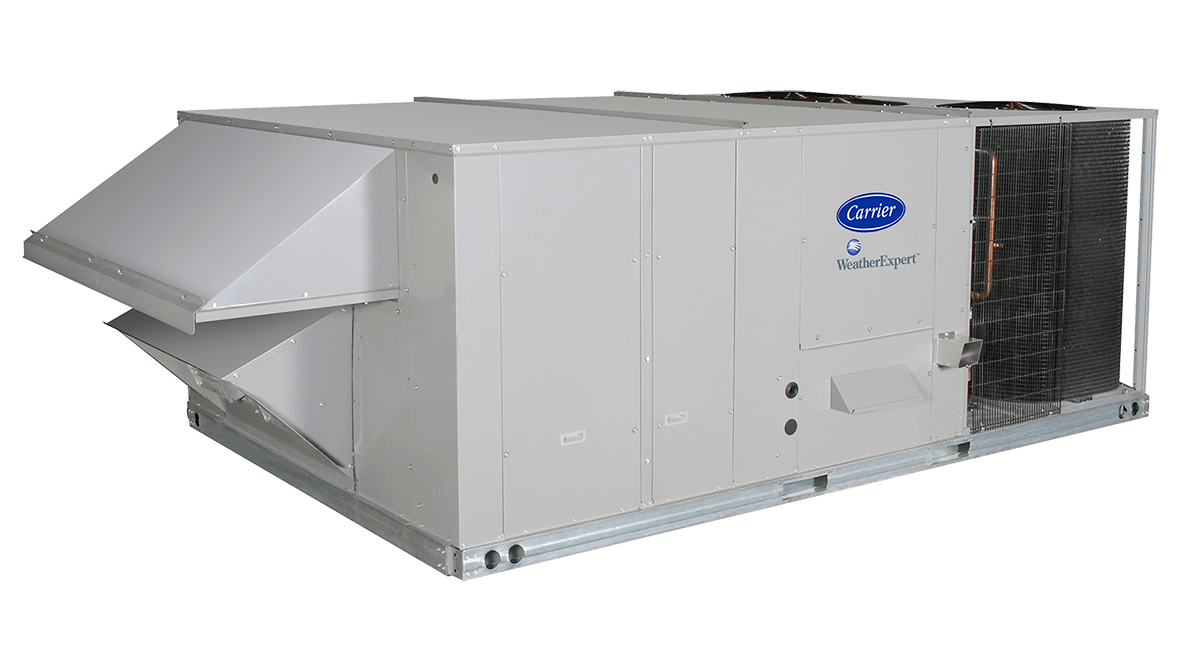 Commercial Heat Pumps, Rooftop Units
Packaged roof top units that are easy to install, maintain and operate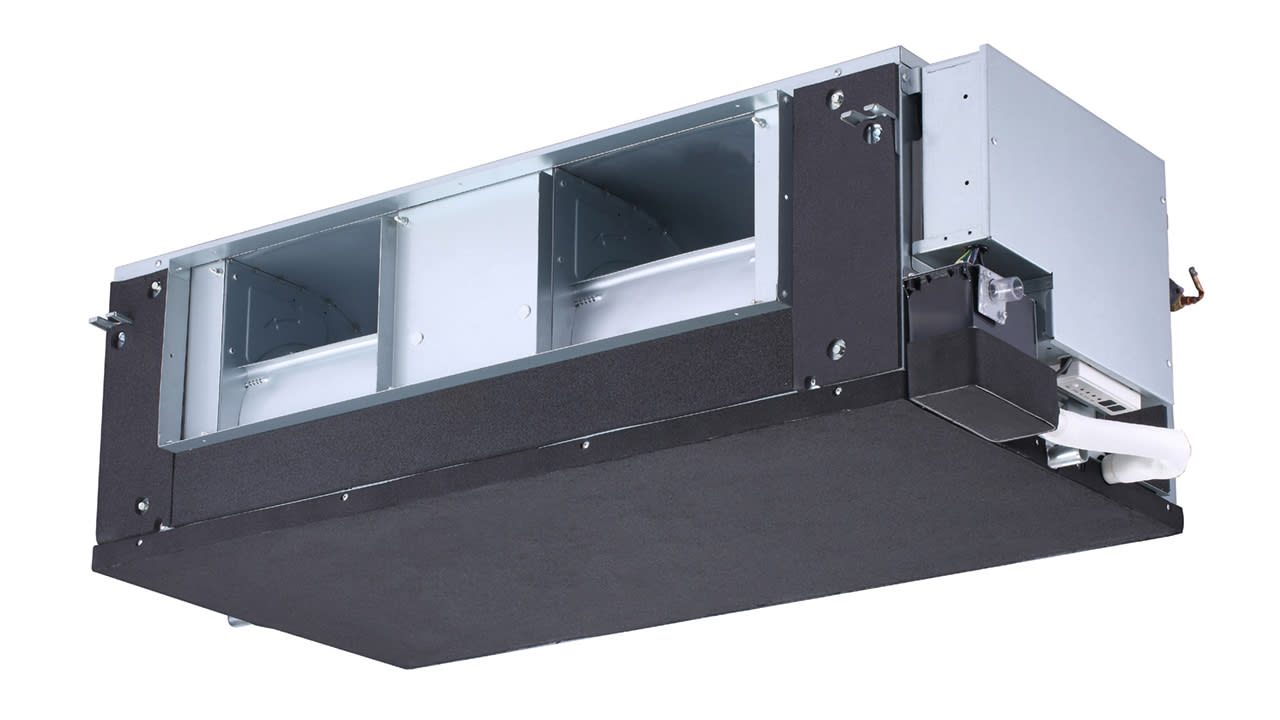 Variable Refrigerant Flow Systems
Systems that control temperatures with a range of heating and cooling needs
Heat Recovery Chillers
Chillers that reclaim heat reducing a building's carbon footprint
Carrier Next Generation New Refrigerant Options
Where permitted and commercially and technically feasible, Carrier is committed to delivering natural or very low GWP refrigerant solutions. We will continue to evaluate options to expand our offering of ultra-low GWP solutions and we have products available today to meet the demand for lower GWP solutions. The adoption of our high-efficiency and lower global warming potential refrigerant products has helped our customers avoid approximately 137 million metric tons of greenhouse gas emissions, which is equal to the annual energy use of more than 16 million U.S. homes.
Carrier Lower GWP Refrigerant Options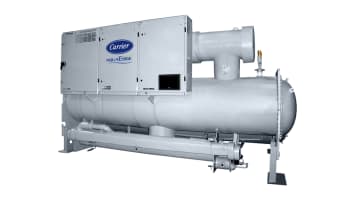 AquaEdge® 23XRV Water-Cooled Variable Speed Screw Chiller
New Refrigerant Options
R-513A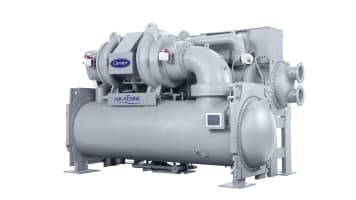 AquaEdge® 19DV Water-Cooled Centrifugal Chiller
New Refrigerant Options
R-1233zd(E)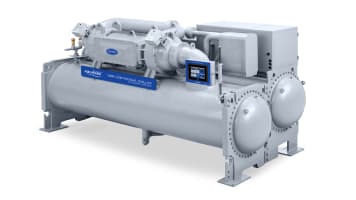 AquaEdge® 19MV Water-Cooled Centrifugal Chiller
New Refrigerant Options
R-513A & R-515B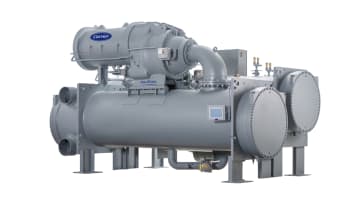 AquaEdge® 19XR Water-Cooled Centrifugal Chiller
New Refrigerant Options
R-513A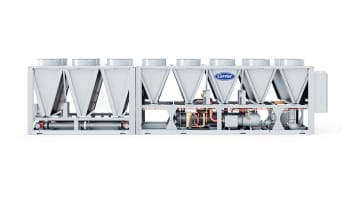 AquaForce® 30XV Air-Cooled Variable Speed Screw Chiller
New Refrigerant Options
R-513A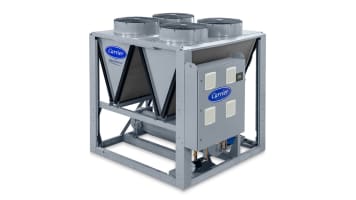 AquaSnap® 30RC Air-Cooled Scroll Chiller
New Refrigerant Options
R-410A & R-32
Chiller Resiliency
Federal facilities are under increasing pressure to be resilient to continue operating under severely compromised conditions. Carrier considers this resiliency requirement for every chiller designed and sold:
A high efficiency chiller can mean lower power consumption for the same cooling capacity, thereby leading to less need for standby generation.
Extended maintenance contracts with expert Carrier Service teams can ensure your units operate at that peak efficiency and can spot/fix any issues before the cause a problem.
General Services Administration (GSA) Evaluation
In August 2017, the General Services Administration published findings of an evaluation performed by their GSA Proving Ground program. In this evaluation, a Carrier variable speed screw chiller (AquaEdge® 23XRV) was compared side-by-side to what was then a state-of-the-art magnetic bearing chiller. Each chiller had the same cooling capacity, and the evaluation was set up such that the chillers took turns operating on the same condenser and chilled water systems at the Sidney Yates Building in Washington, DC.1
Findings from the GSA Evaluation
Carrier's chiller consumed 11% less electricity over the 2-year evaluation period, all while serving the same profile on both the condenser and chiller water loops.
An unusually warm period in February dictated that the chiller system be energized. Unfortunately, the cooling tower sump had cooled to 55°. The magnetic bearing chiller manufacturer was contacted and stated that starting their chiller under those circumstances would void the warranty. The facility operations team reached out to Carrier and started the unit successfully under this out-of-design condition.
The condenser water loop was also tested, allowing its temperature to slowly rise under controlled conditions during the summer. The magnetic bearing unit tripped off at 85.1°. The Carrier chiller operated all the way up to 95° condenser water temperature, at which time the test was considered complete.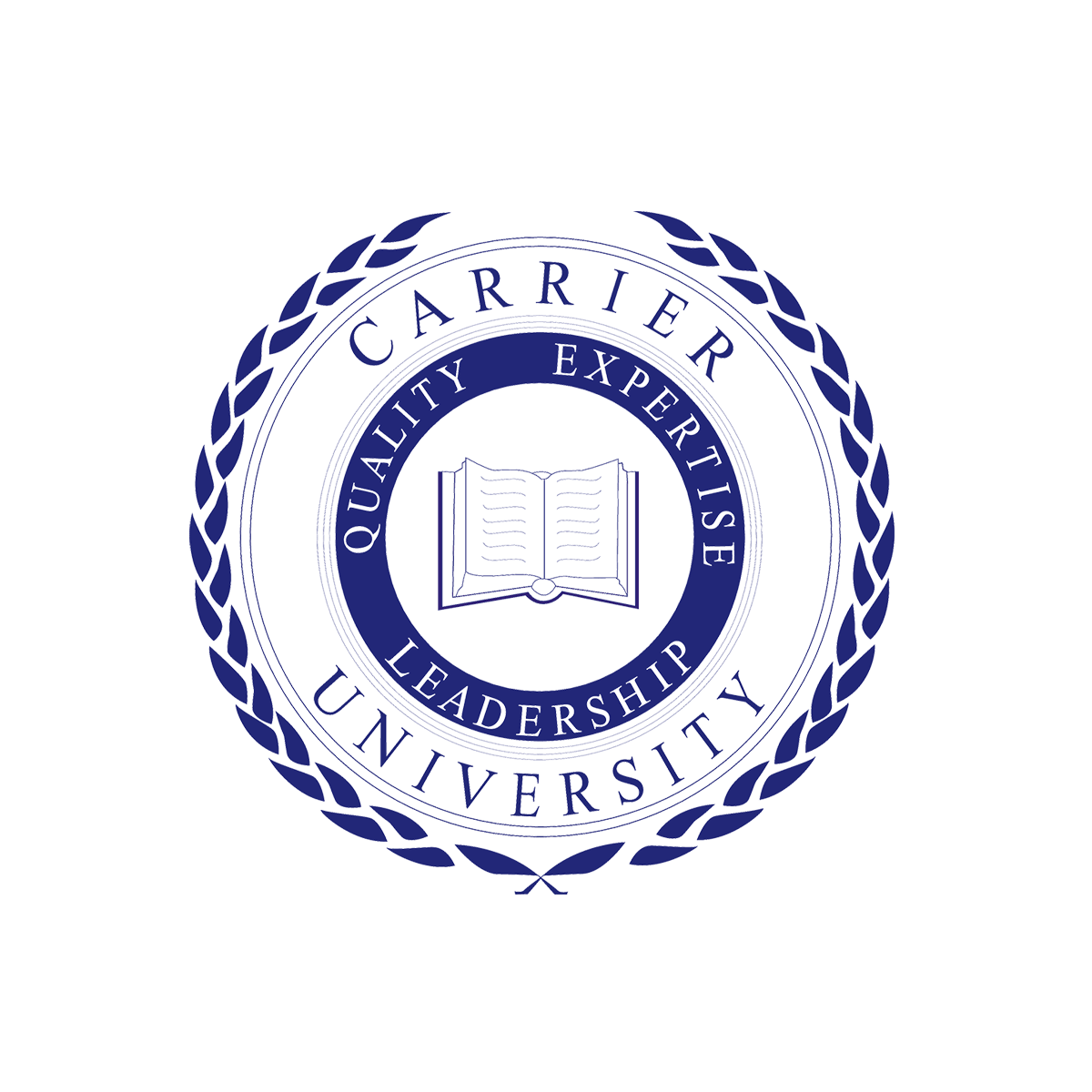 Training Options
Carrier University has trained the HVAC industry since 1929. Carrier University offers HVAC training courses and training materials for architects, building owners, consulting/specifying engineers, contractors, technicians, developers, facility managers and HVAC instructors.
Carrier University offers a host of training modules to support the HVAC industry
PDH courses for on-line learning
Hands-on training for maintenance technicians
Special training programs for larger groups
Pre-recorded and on-demand seminars
Talk with a Federal Solutions Expert Today
Carrier can help provide the solutions and confidence you need to operate your federal facility with optimized performance…no matter how your demands evolve. Contact your local Carrier expert or submit a contact request form here.