Our customizable solutions empower your team to visualize, advise, and optimize the lifecycle and outcomes of your HVAC system.
Ensure your equipment's peak performance and longevity is backed by unmatched expertise and the latest technology. Our digital offerings help you and your staff gain visibility, access expert advice, and effectively optimize the lifecycle outcomes of HVAC systems. Our service tiers are tailored to meet your HVAC system needs, providing peace of mind and improved bottom line.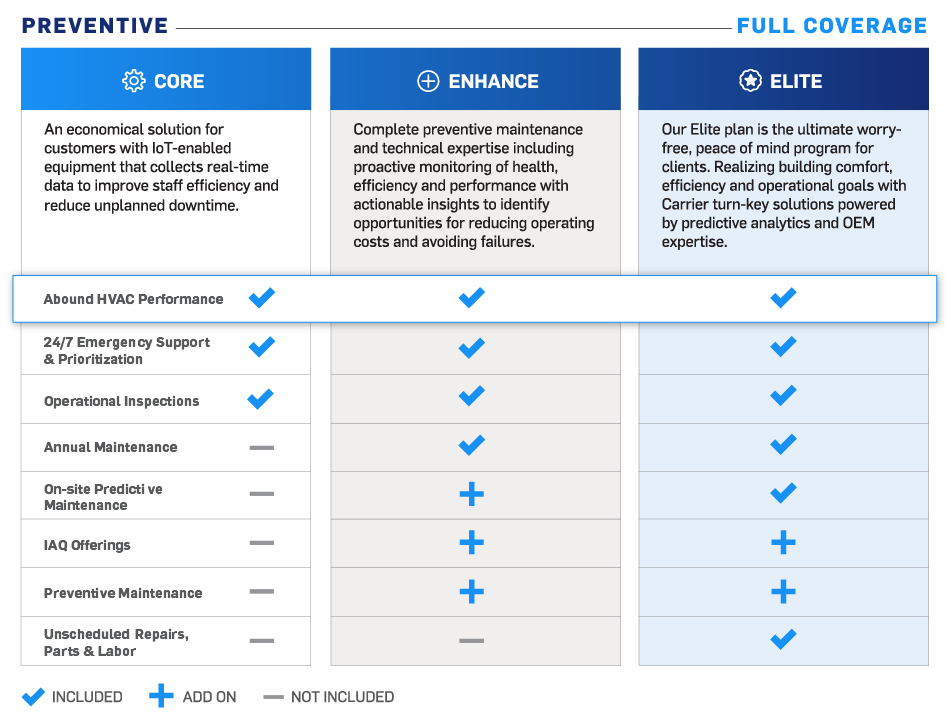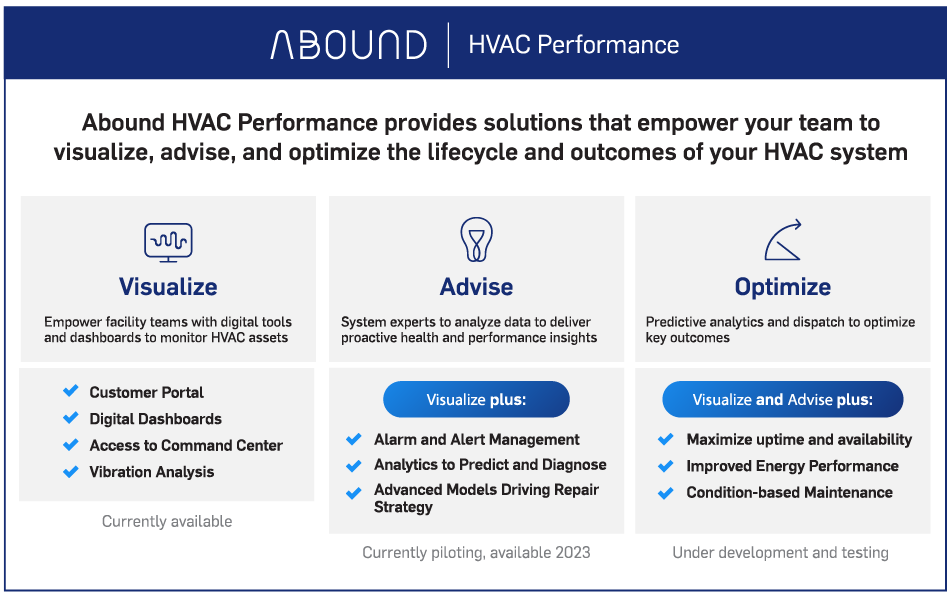 24/7 Emergency Support & Prioritization
Service agreement customers receive priority for emergency service calls, available 24/7.
IAQ Offerings
Continuously monitor various air quality parameters and conditions for changes so adjustments can be made to get indoor air quality to healthy levels.
Annual Preventive Maintenance
Our technicians perform thorough maintenance in machine shutdown mode that ensures longevity and higher reliability when placed back into service. Cooling and heating start-up services ensure optimal seasonal performance.
Operating Inspections
Carrier thoroughly inspects and adjusts your equipment to keep it running smoothly and efficiently.
Preventive Maintenance
Pre-scheduled recurring preventive maintenance performed once a year or as recommended. This maintenance is designed to maintain the machine at factory standards and prepares the equipment for effective, reliable, and efficient operation. Examples include but are not limited to coil cleaning, tube brushing, filter changes, and more.
On-site Predictive Maintenance
Advanced on-site diagnostic service options expose hidden problems before they become emergency issues and schedule repairs at times most convenient for you.
Unscheduled Repairs, Parts & Labor
Repair or replacement of moving parts and maintainable components that may have failed unexpectedly.
End-of-Life Retrofit
Achieve enhanced overall system efficiency with total chiller plant equipment and system replacement when approaching serviceable lifespan.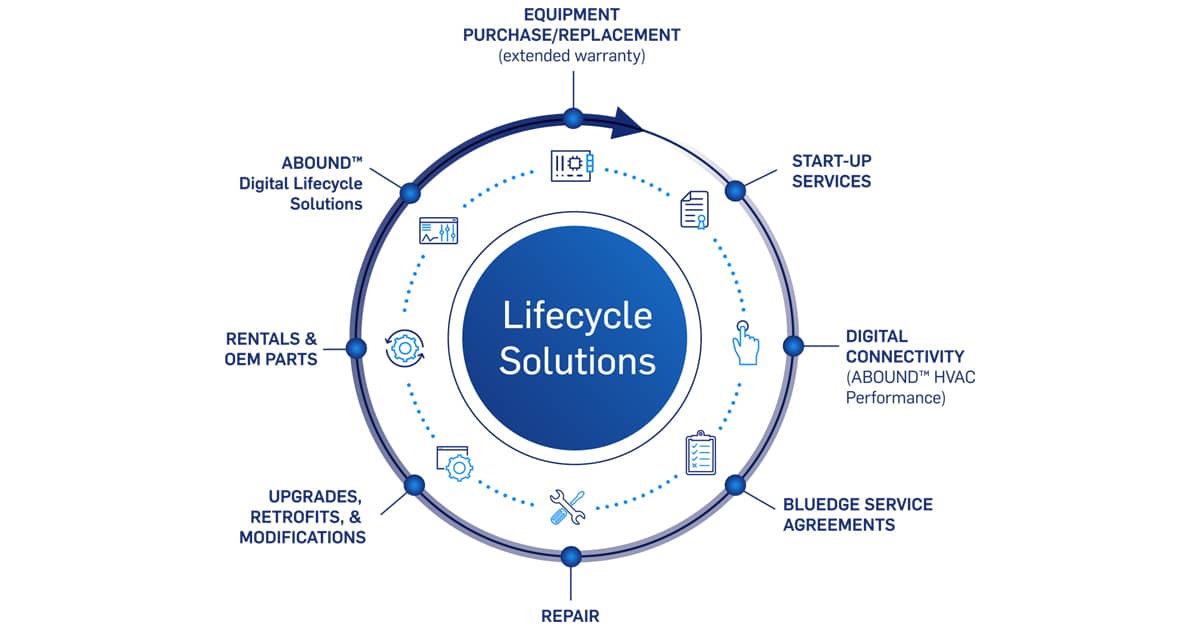 Flexible Service Options to Fit Your Needs
Commercial HVAC is a significant investment. Protecting it right after purchase with our Digital Enabled Warranty provides immediate connectivity and data reporting that enables visibility and proactive maintenance. This start-up offering also provides a seamless transition into a tailored plan.
Let our knowledge and experience guide you in finding the right service agreement for your facility; one that supports you with the proper servicing and upgrades to maximize up-time, extend the life of your equipment, and reduce your total cost of ownership.
Carrier BluEdge - Frequently Asked Questions
Abound HVAC Performance is a solution that is available within the three tiers of the BluEdge service platform (Core, Enhance, Elite). It provides digital solutions that empower your team to Visualize, Advise, and Optimize the lifecycle and outcomes of your HVAC system via comprehensive dashboards, and better advice on how to manage your HVAC equipment and system optimizations to achieve key outcomes like uptime and comfort.
Abound HVAC Performance can improve productivity with real-time machine health notifications and analytics for connected HVAC assets providing data-on-demand on mobile & web. Depending on the tier Abound HVAC Performance can offer a 24/7 Command Center, easy to view Customer Portal, digital dashboard with real-time data and more advanced analytics.
Abound HVAC Performance is a solution that complements service/maintenance agreements, and is available within the three tiers of the BluEdge service platform (Core, Enhance, Elite). The offerings vary depending on which overall BluEdge tier your team has a service agreement with. Abound HVAC Performance can be added to a BluEdge service agreement or purchased as a standalone offering.
Absolutely. Additionally, while our Abound HVAC Performance tiers can be added to any tier of service agreements, regardless of level.
Abound HVAC Performance is a digital service within the BluEdge Service Platform. You may have previously seen or used Carrier SMART Service, which will be renamed Abound HVAC Performance.
There is a wide range of chillers compatible with Abound HVAC Performance. Please contact your Carrier Commercial Service representative.
Every facility is different, and installation of the SMART panel takes just a couple hours for most facilities. After installation, onboarding is completed by our remote experts. Customers will receive an email with access details.
To purchase BluEdge please contact your Carrier Commercial Service representative, fill out our contact form or call 800-379-6484.