Johnston County School District Selects Carrier for Chiller Updates in Five Schools
CHARLOTTE, Nc. -
Johnston County Public Schools, located in Smithfield, North Carolina, chose Carrier to improve energy efficiency and comfort at five of its schools. Carrier is a part of Carrier Global Corporation (NYSE: CARR), global leader in intelligent climate and energy solutions.
Johnston County Public Schools (JCPS), located in one of the nation's fastest growing counties, is the seventh largest school district in the state. JCPS used money from the U.S. Department of Education's Elementary and Secondary School Emergency Relief (ESSER) Fund to replace a dozen chillers. The school district selected Carrier's AquaSnap® 30RB, an air-cooled liquid chiller offering an effective all-in-one package that is easy to install and maintain.
The new equipment replaced chillers that were between 20 and 25 years old at Cleveland Elementary, West Clayton Elementary and Clayton High in Clayton; McGee's Crossroads Elementary in Angier; and Glendale-Kenly Elementary in Kenly. According to the latest census data, the schools are in North Carolina's fastest growing county with 5,000 students enrolled at the five schools, and are part of a larger school system with more than 37,000 students in 48 schools.
In addition to the startup of the chillers, Carrier also provided on-site training for the school system's maintenance staff ahead of the new school year.
"Johnston County Public Schools appreciates that Carrier's AquaSnap Greenspeed® intelligence technology provides best-in-class part-load efficiency with quiet part-load operation," said Philip Samartino, Sales Specialist, Carrier. "The school district needed the reliability of the aluminum fin copper tube condenser coils and simplicity of the scroll compressor technology to handle compressor repairs in house. Many of the schools also have older piping infrastructure so they preferred the shell and tube evaporator as it is less susceptible to fouling and clogging up from dirty piping systems."
In addition to Greenspeed Intelligence, the AquaSnap 30RB features a rotary scroll compressor, Puron® refrigerant, a quiet AeroAcoustic™ fan system, easy to use ComfortLink™ controls, microchannel condenser coil technology and high-efficiency variable condenser fans.
"Carrier is working with school districts across the country to implement layered HVAC replacement and retrofit solutions that improve learning environments," said Meredith Emmerich, Vice President, North America Commercial HVAC, Carrier. "With solutions tailored to each schools' needs, Carrier is committed to helping foster the long-term well-being of students and staff and encourage the use of ESSER funds to make critical improvements that will impact generations of students."
For more information on how Carrier supports K-12 facilities, visit carrier.com/k-12. To learn more about Carrier's AquaSnap 30RB, visit carrier.com/30rb.
About Carrier
Founded by the inventor of modern air conditioning, Carrier is a world leader in high-technology heating, air-conditioning and refrigeration solutions. Carrier experts provide sustainable solutions, integrating energy-efficient products, building controls and energy services for residential, commercial, retail, transport and food service customers. Carrier is a part of Carrier Global Corporation, global leader in intelligent climate and energy solutions that matter for people and our planet for generations to come. For more information, visit carrier.com or follow @Carrier on Twitter.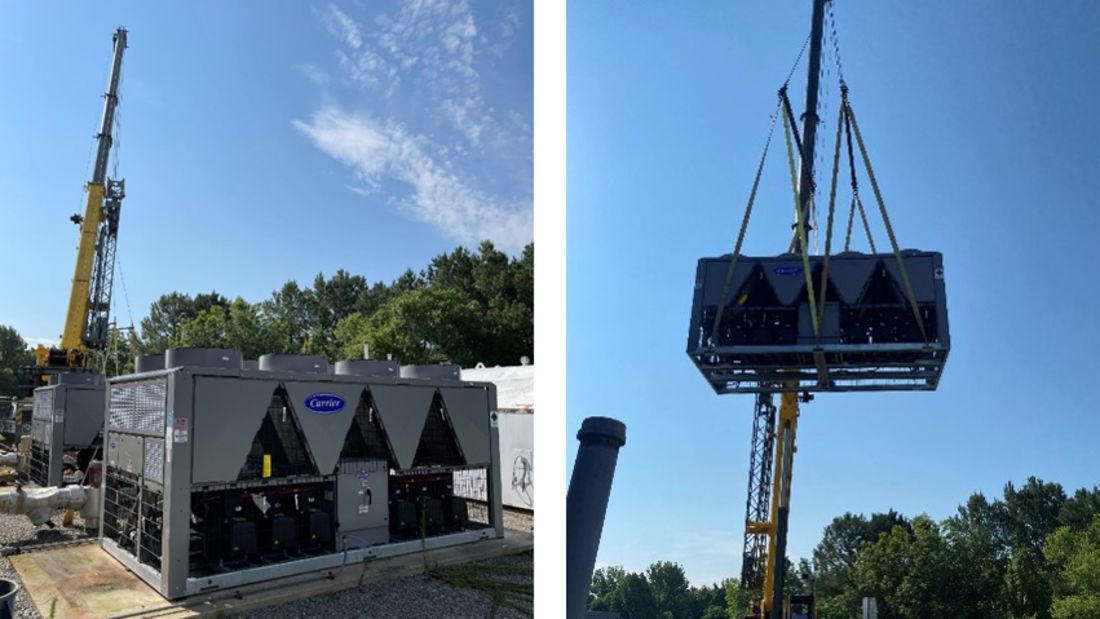 Johnston County Public Schools in Smithfield, N.C. chose Carrier to replace 13 chillers at five district schools. School officials selected the AquaSnap® 30RB air-cooled chiller.