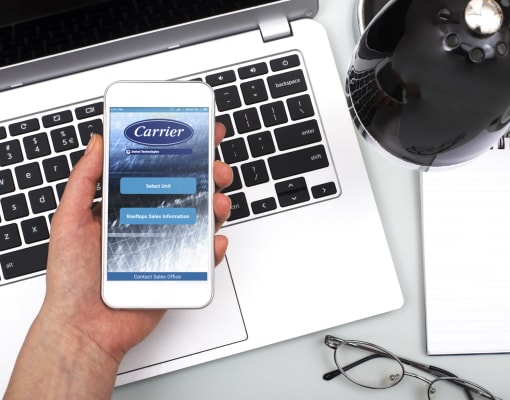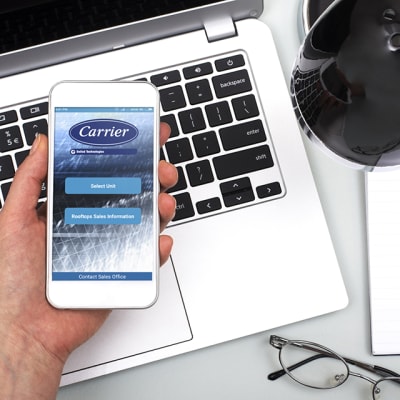 Carrier Rooftops Mobile App
The Carrier® Rooftops app is the first in the commercial heating, ventilating and air-conditioning industry (HVAC) to allow users anywhere in the United States and Canada to perform on the spot selection of rooftop units for both replacement and new construction, and estimate energy savings between Carrier® Weather Series units. Users can input an existing unit model number for Carrier® or competitive equipment, or desired unit specifications, and obtain the optimal Carrier® model for their requirements.
Mobile apps are available for Apple® iPhone® mobile digital devices and iPad® mobile digital devices. They are also available on mobile devices for Android™ on the Google Play™ store, and for Windows® devices.
---
Features
The updated version now provides:
Increased Device Compatibility

Compatible with smartphones and tablets running on the latest operating systems.

Faster Speed-to-Market with Operating System Updates

Going forward, operating system updates (such as the launch of the next version of iOS) will be implemented within a reasonable time. The app is now built on a development platform that includes a certain service level agreement, which means that we'll be able to keep the app updated to be compatible with the latest operating system versions.

Automatic App Updates

Instead of having to install an app update every time new product information is added to the app, the new version of the app features automatic updates. This means that the user will simply receive any updates automatically when the app is opened up and connected to the internet. This will allow users to receive more frequent product information updates to the app while maintaining a seamless user experience.
Support
For support, please contact [email protected].