Carrier Sponsors Habitat for Humanity's Carter Work Project
PALM BEACH GARDENS, Fla. -
Carrier Global Corporation (NYSE: CARR), global leader in intelligent climate and energy solutions, will once again participate in Habitat for Humanity's 37th Jimmy & Rosalynn Carter Work Project. This year's Carter Work Project, a signature build event of Habitat for Humanity International, will take place from Oct. 1-6 in Charlotte, North Carolina. Carrier leaders and employees will be among the future homeowners and hundreds of volunteers working alongside country music superstars Garth Brooks and Trisha Yearwood to build a community of new homes.
In addition to manpower, Carrier is contributing improved indoor air quality for the future homeowners through its donation of more than 20 energy-efficient HVAC home heating and cooling systems equipped with cutting-edge InteliSense™ Technology. InteliSense, Carrier's latest HVAC innovation in digitally enabled lifecycle solutions, offers remote diagnostics for easier maintenance and servicing. Carrier will also donate smart air purifiers with a HEPA filter, which capture 99.7% of particles sized .3 microns, such as pollen, smoke and other allergens. The donations are a part of Carrier's Healthy Homes Program and ongoing commitment to solutions that matter for people and the planet for generations to come.
"Creating a healthier indoor environment is critical to these new homeowners," said Justin Keppy, President of North America Residential and Light Commercial HVAC. "At the Carter Work Project, more than 20 newly built Habitat homes will have a Carrier system delivering comfortable, more sustainable and efficient homes. We look forward to continuing to do our part in helping make homeownership a reality across the country in partnership with Habitat for Humanity."
For decades, Carrier has donated hundreds of home comfort systems and its employees have helped build Habitat houses. The Carter Work Project marks this year's second large-scale team-up between Carrier and Habitat, following June's National Healthy Homes Month initiative with projects in six states - Florida, Georgia, Indiana, Massachusetts, New York and North Carolina. In total, in 2023, Carrier will provide Habitat for Humanity International and its affiliates with more than $1.5 million in cash and product donations.
To learn more about Carrier's commitment to making a positive impact in communities around the world, visit www.corporate.carrier.com/corporate-responsibility/social-impact/our-communities.
About Carrier
Founded by the inventor of modern air conditioning, Carrier is a world leader in high-technology heating, air-conditioning and refrigeration solutions. Carrier experts provide sustainable solutions, integrating energy-efficient products, building controls and energy services for residential, commercial, retail, transport and food service customers. Carrier is a part of Carrier Global Corporation, global leader in intelligent climate and energy solutions that matter for people and our planet for generations to come. For more information, visit carrier.com or follow @Carrier on Twitter.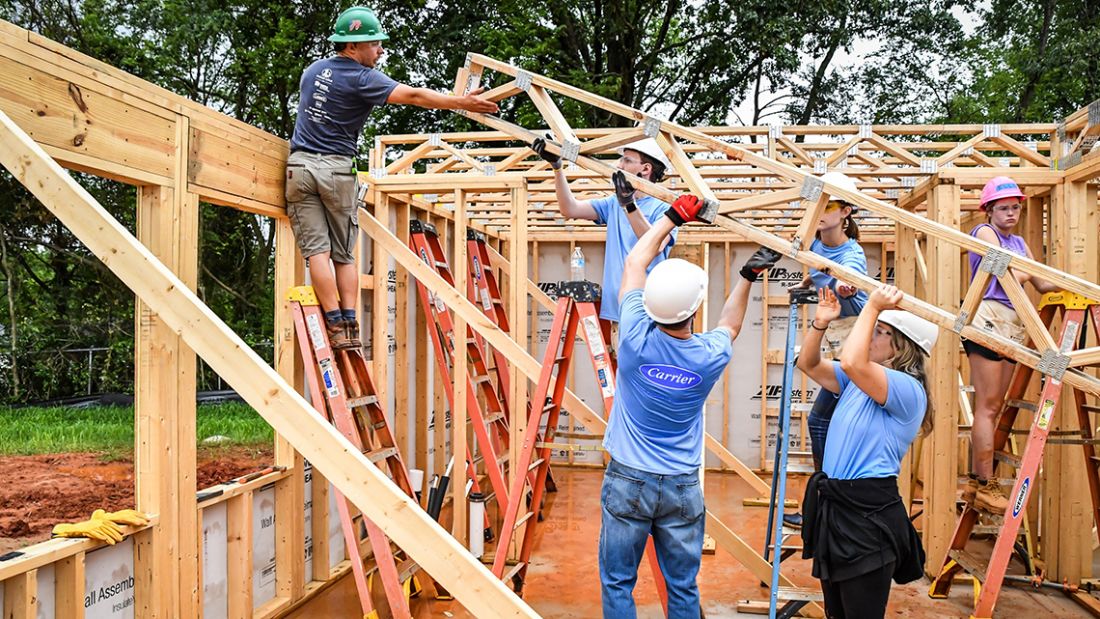 Home comfort system donations bring Carrier's total contributions to Habitat in 2023 to more than $1.5 million.