Carrier Releases New TruVu Dual IP Advanced Application Controllers
Charlotte, North Carolina -
 To meet the need for precise, reliable automated control in the most demanding HVAC zone applications, Carrier has released a new line of TruVu™ Dual IP Advanced Application Controllers for the i-Vu® building automation system. These controllers were designed to ease installation and enhance system control and monitoring. Carrier is a part of Carrier Global Corporation (NYSE: CARR), the leading global provider of healthy, safe, sustainable and intelligent building and cold chain solutions.
Designed for robust networking in single equipment and advanced zone control applications, the five new native Building Automation and Control Network (BACnet) controllers feature faster processors, dual IP high-speed communications ports and higher-capacity memory. All support the full line of Carrier's communicating and non-communicating sensors and actuators, and feature an expansion port designed to accommodate future communication cards. Options include basic control, BACnet or MODBUS integration, on-board air flow sensors and future support for Input/Output (I/O) point expanders. The new BACnet controllers also support sophisticated network redundancy via high-speed IP communication.
"By combining and connecting advanced hardware and software technologies in innovative ways, we wanted to create a new line of controllers and accessories with the connectivity, power, memory and flexibility needed for the most demanding control applications in the industry," said Mark Jones, Business Manager, Commercial Controls, Carrier. "The overriding goal was to make those HVAC systems more energy-efficient and cost-effective to operate. But we also wanted them to make life easier for everyone—from system designers and equipment installers to facilities managers and building owners—on a practical day-to-day basis."
Built-in, fail-safe dual Ethernet ports support daisy chain topologies to make installation easier, and support for IP network Ring topology using Rapid Spanning Tree Protocol (RSTP) facilitates network redundancy. All programs and historical data are stored in non-volatile memory, eliminating the need for batteries, while a capacitor-backed real-time clock keeps time for up to three days during power failures and network interruptions. USB ports provide local access for system start-up and troubleshooting.
All of the new models are fully compatible with Carrier's pre-engineered application libraries and support custom control sequences using the Snap graphical programming tool.
The new TruVu Dual IP Advanced Application Controllers and accessories are available for order today through Carrier sales offices worldwide, with shipments scheduled to begin the first week of October 2021. For more information on the i-Vu building automation system and TruVu controllers, please visit carrier.com.
About Carrier
Founded by the inventor of modern air conditioning, Carrier is a world leader in high-technology heating, air-conditioning and refrigeration solutions. Carrier experts provide sustainable solutions, integrating energy-efficient products, building controls and energy services for residential, commercial, retail, transport and food service customers. Carrier is a part of Carrier Global Corporation, the leading global provider of healthy, safe, sustainable and intelligent building and cold chain solutions. For more information, visit carrier.com or follow @Carrier on Twitter.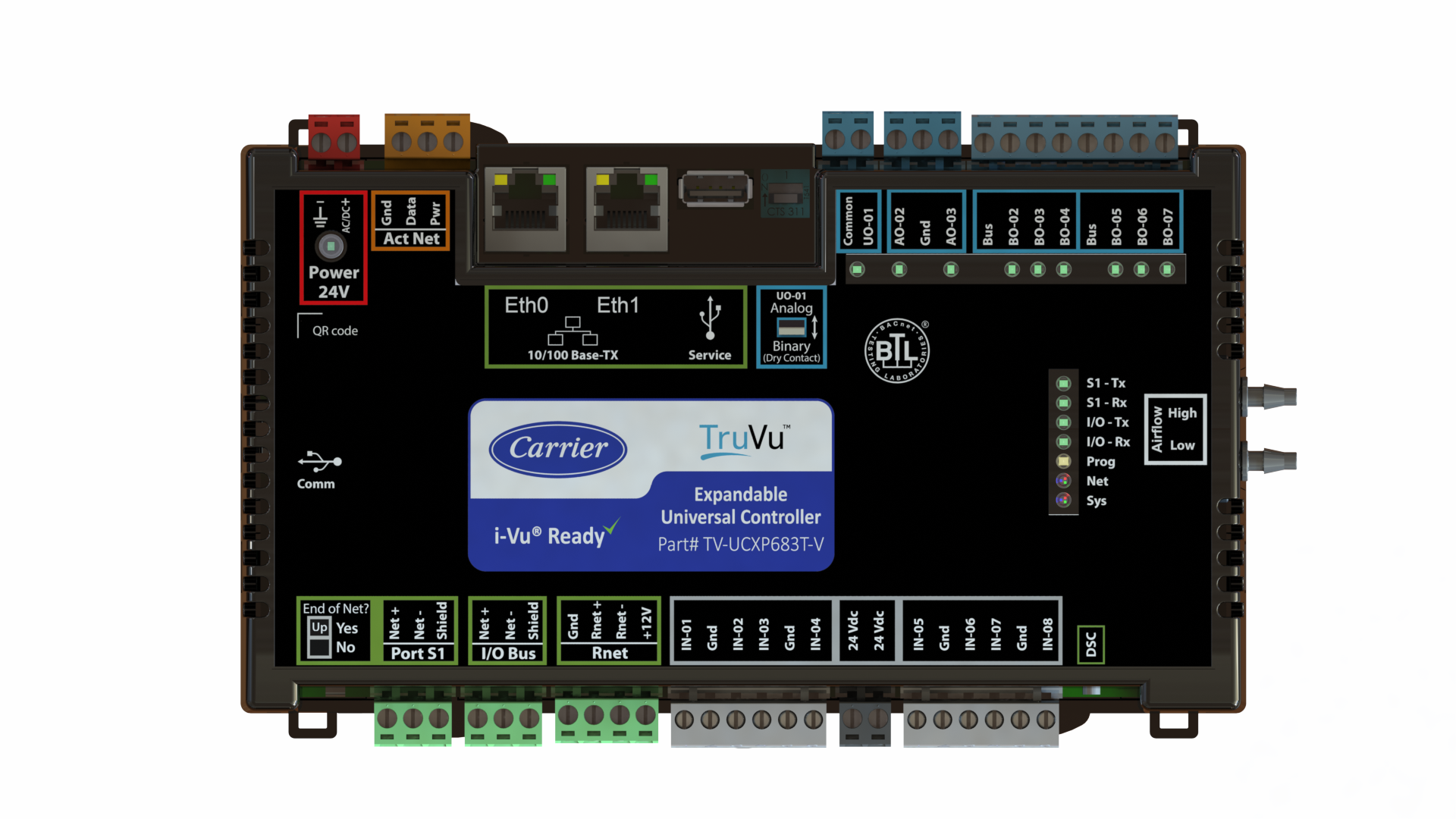 Carrier's TruVu™ controllers for the i-Vu® building automation system help provide comfort, control, and energy savings today, while also supporting the control networks of tomorrow.