Introducing the AquaEdge® 19MV – Carrier's newest centrifugal chiller built on a winning tradition and a game-changing compressor.
Carrier has a winning record of bringing to market some of the most efficient, reliable, high-performing chillers in the world.
Better Chillers Begin with Better Compressors.
Responsible for defining a chiller's operating range and performance, the compressor is the heart of a chiller. Intelligent compressor design builds a foundation for exceeding customer expectations.
Balanced is Better.
As more than half of a chiller's losses occur within the compressor, a naturally balanced compressor reduces internal losses while improving operating range.
The AquaEdge 23XRV High-Efficiency Variable-Speed Screw Chiller reached superstar status when field data revealed the chiller with its unique tri-rotor compressor had operated for over 12 hours with no functioning tower fan, confirming that with naturally-balanced load forces both efficiency and operating range could be simultaneously improved.
Applying this same engineering playbook to centrifugal machines, Carrier then introduced the award-winning AquaEdge 19DV with its game-changing EquiDrive™ back-to-back two-stage compressor. And operating flexibility became the norm.
Introducing the all-new
AquaEdge 19MV Water-Cooled Centrifugal Chiller

– designed to deliver high performance and reliability across a wide operating range.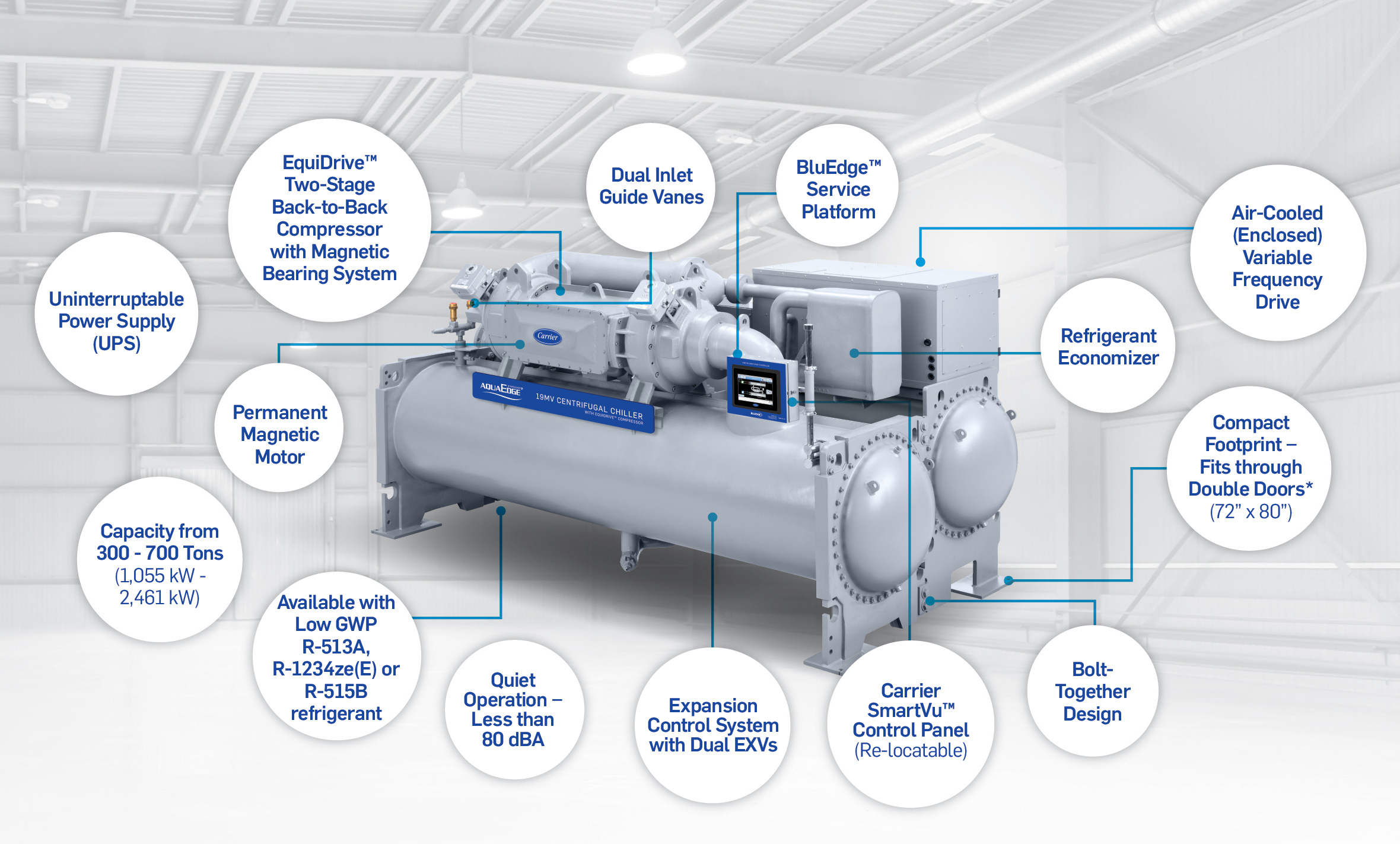 AquaEdge 19MV
Until now, more operating range often meant less efficiency at design conditions. The all-new AquaEdge 19MV chiller delivers both: combining best-in-segment efficiency at design and off-design conditions with the ability to operate reliably, even at severe conditions and heavy cooling loads.
EQUIDRIVE™ TWO-STAGE BACK-TO-BACK COMPRESSOR – For consistent operation across a wider operating envelope – now with magnetic bearings.
MORE OPERATING RANGE while maintaining best-in-segment efficiency at design conditions – Together, its revolutionary EquiDrive compression and drive train technology provide an improvement in both chiller energy efficiency and building resiliency.


• Achieves <0.52 kW/Ton and <0.31 kW/Ton (IPLV) at AHRI conditions




• Operating range of 40°F to 95°F entering condenser water down to 10% load

COMPACT FOOTPRINT – For easy installation, select models fit through double doors (72" x 80") with no disassembly required. (Bolt-together construction allows for easy disassembly and reassembly, if required.)
INTEGRATED INNOVATIVE CARRIER SMARTVU™ CONTROLS – For intelligent control of all aspects of your cooling system, along with easier tracking and analysis of operational data.
QUIET OPERATION – Operates at less than 80 dBA.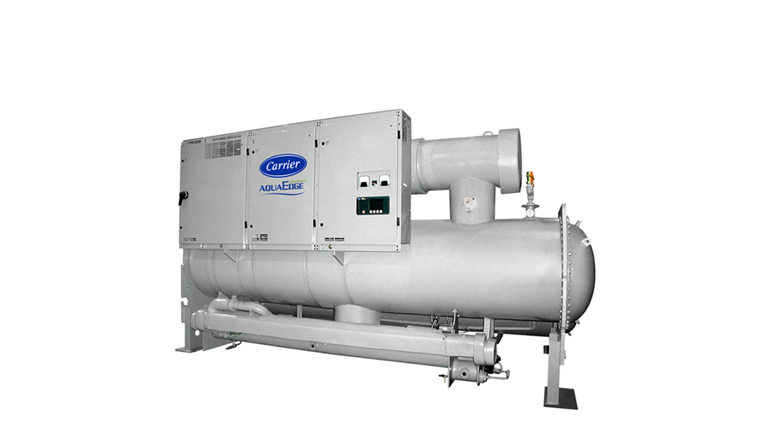 AquaEdge 23XRV
High-Efficiency Variable-Speed Screw Chiller
The robust dependable performance of the this chiller stems from Carrier's advanced compression technology, a variable speed, positive displacement tri-rotor screw compressor. Brilliant in its simplicity, the only moving parts are the screw rotors and variable speed electric motor. Other innovations include:
Positive displacement compression ensures stable operation under all load conditions without the possibility of compressor surge
Leading efficiency certified to 0.299 kW/ton (AHRI* IPLV)
Chlorine-free HFC-134a refrigerant
IEEE-519 compliance for harmonic distortion (units equipped with LF-2 VFD)
An ideal solution for constant and variable flow pumping systems
23XRV Product Video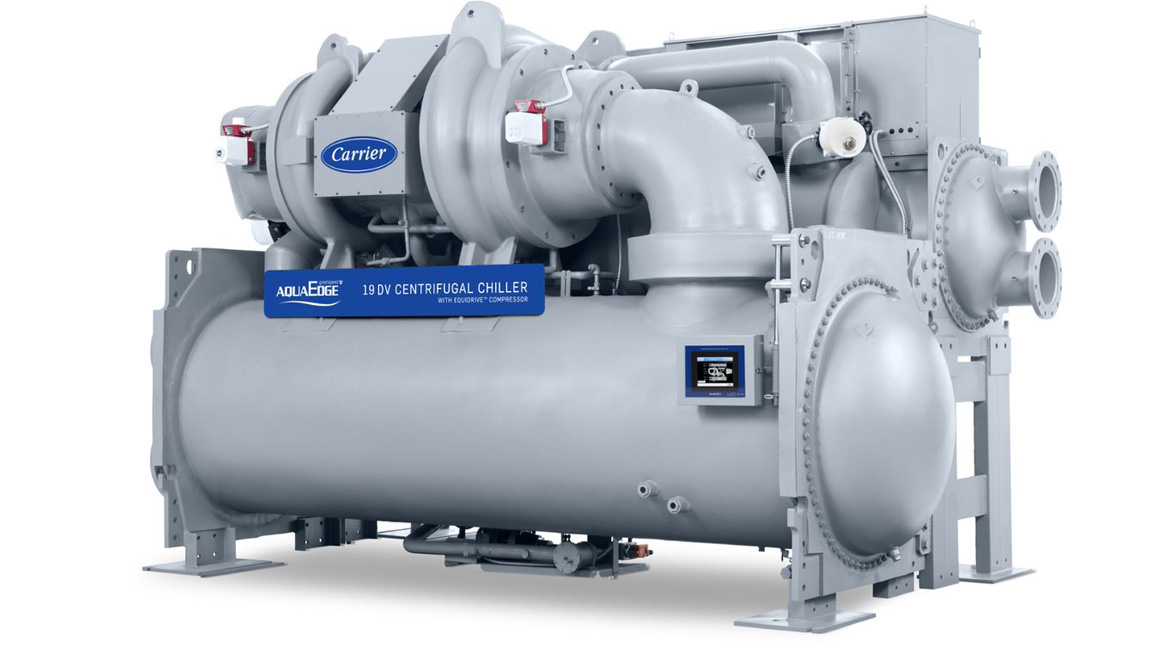 AquaEdge 19DV
Water-Cooled Centrifugal Chiller
Delivering ultimate performance, leading efficiency and environmental responsibility, this award-winning chiller features Greenspeed® intelligence (VFD), a low global warming potential (GWP) refrigerant R1233zd(E) with a GWP of ~1, and these breakthrough technologies:
EquiDrive™ two-stage back-to-back compressor load cancellation technology
MaxFlex capability for operation in demanding conditions
Variable orifice for robust refrigerant metering
Carrier SmartVu™ intelligent controls and integration with the Carrier lifecycle data management system
Carrier SMART Platform service and connectivity solutions
Claims noted may not be available on every model. A Carrier expert can provide guidance regarding your specific application needs.