The all-new AquaEdge® 19MV chiller combines best-in-segment efficiency at design and off-design conditions with the ability to operate reliably, even at severe conditions and heavy cooling loads.
Click on a scenario below to learn more about how the 19MV handles different types of building load/weather conditions.

Situation
One hour of operation at full load has the same ton-hour impact of 4 hours at 25% load.  Be mindful of your efficiency at design conditions on the schedule.
Focus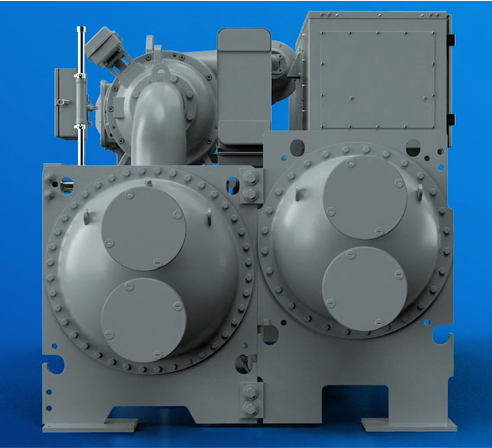 Benefit
In many replacement jobs, scheduled high load efficiency may be limited by what fits.  The 19MV's economizer provides more performance per square foot, enabling the design efficiencies you need to be scheduled.

Situation
The hotel has 3 chillers. Currently one (1) chiller is operating, and it is at 25% load. What are the odds the entering condenser water is 65°F and not colder?
Focus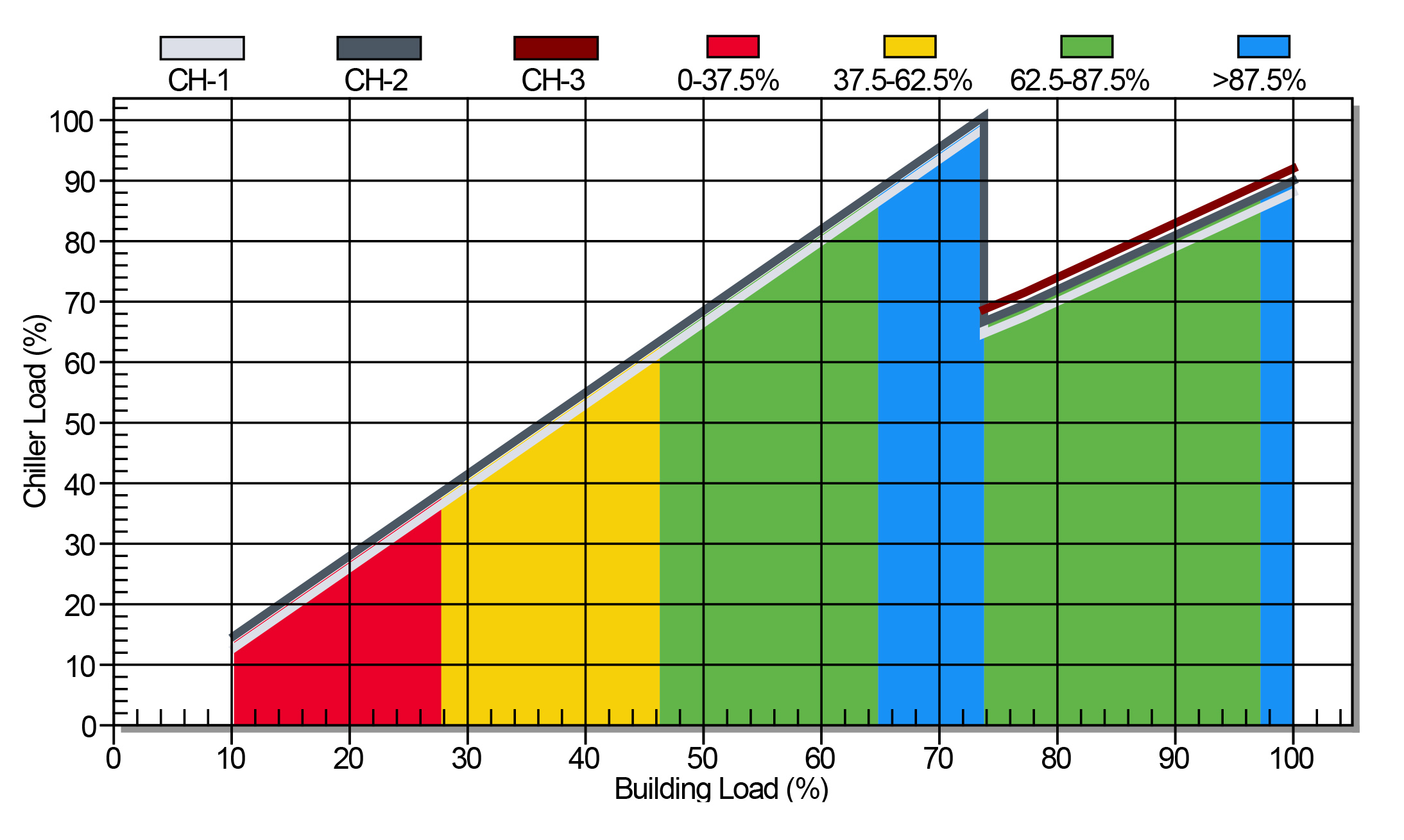 Benefit
By the time a 3 chiller plant is running 1 chiller at 25% load, the building is 8% loaded (1/3 ÷ 25%). At 8% building load, the cooling towers are likely capable of much colder than 65°F … are your chillers? 19MV operates down to virtually no lift for more energy savings.
Low Load, Hot Weather Operation

Situation
Guests may not understand a complete HVAC system, but what they do know is that when you hit the button on the wall that says COOL, … it should.
Focus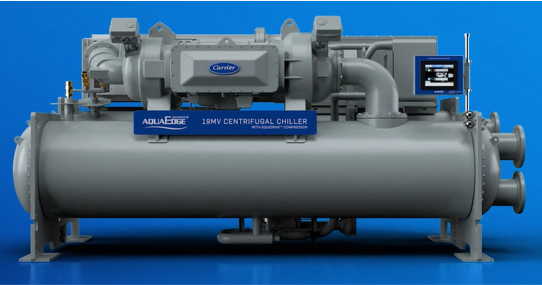 Benefit
The 19MV can operate from 10% - 100% load with a condenser water temperature range from 40°F to 95°F so your guests never have to think about it. The 19MV is an ideal hot weather and cold weather chiller.
High Load, Hot Weather Operation

Situation
Your clients demand unconditional comfort, and your bottom line depends on energy efficiency.
Focus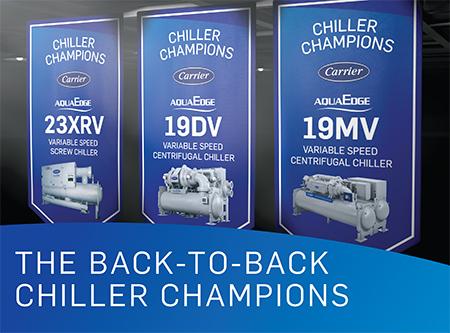 Benefit
The 19MVs two-stage back-to-back compressor enables a refrigerant side economizer that results in up to 4% efficiency improvement at high loads without increasing the footprint of the chiller. 
Low Load, Cold Weather Operation

Situation
Fall weather provides a great opportunity for a plate frame water side economizer to handle most of the load, can your chiller handle the remainder?
Focus
Benefit
The 19MV can operate at low load with cold condenser water to trim the economizer, restarting frequently if needed. Without this capability, the water side economizer would be shut off, and many hours of free cooling would be lost.
High Load, Cold Weather Operation

Situation
The ball rooms are full of guests listening to a presentation on the fundamental advantages of dual inlet guide vanes as the leaves fall from trees outside.
Focus

Benefit
With two inlet guide vanes, the compressor provides more efficiency at off design conditions.

Situation
Your hotel is located on a pristine beach with exceptional weather.
Focus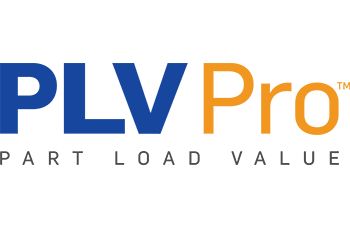 Benefit
If IPLV weather is typical … why are you using it in your life cycle analysis (LCA) if your weather is exceptional? PLV Pro uses your weather for exceptional results.
Energy Impact of Chiller Staging

Situation
The operator wants to run one chiller at 100% and trim with the other.
Focus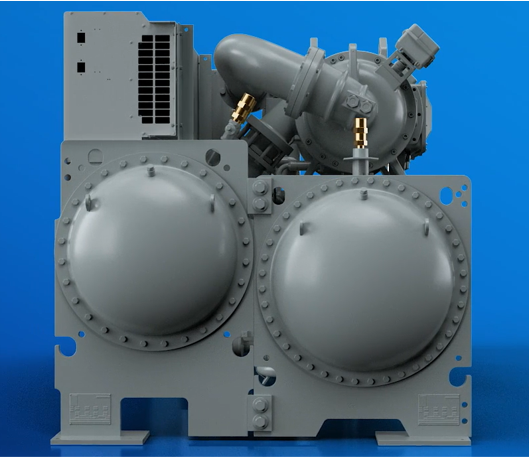 Benefit
For one chiller to operate at 100% and the other 50% , one would require full evaporator delta T and the other just half. However, since the return water is fixed, this would result in one chiller making far colder water than the other, wasting energy.

Situation
When can I save energy employing variable condenser flow?
Focus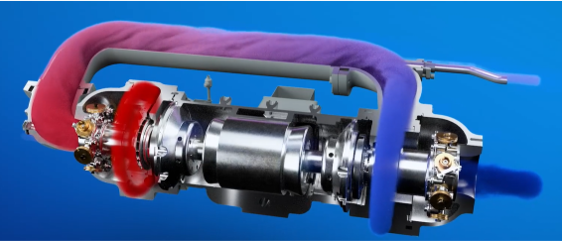 Benefit
Variable condenser flow works well when the weather is cold and chiller compressor energy is already low. Variable condenser flow is more difficult to apply during hot weather. Operating a chiller at low load with high lift is perhaps the toughest thing for a chiller to do. When condenser flow is reduced, lift becomes even higher. The 19MV divides the lift between two compressor stages, enabling high lift operation, even at low load, enabling a wide range of variable condenser flow opportunity.