The all-new AquaEdge® 19MV chiller combines best-in-segment efficiency at design and off-design conditions with the ability to operate reliably, even at severe conditions and heavy cooling loads.
Click on a scenario below to learn more about how the 19MV handles different types of building load/weather conditions.

Situation
Once you've filled out your data center, your chillers are likely running at or near high load around the clock.
Focus

Benefit
The 19MV's two-stage economized compressor excels at the higher loads associated with data centers.

Situation
You have a sensible only load, so your chilled water temperature may be 55°F or higher.  What condenser water temperature can your chiller accept?
Focus

Benefit
When your chilled water is elevated, the old rules of minimum condenser water temperature no longer apply.  Knowing the minimum lift limit for sustained operation is critical.  For 19MV, it is virtually zero.
Low Load, Hot Weather Operation

Situation
You need to do some tests isolating various parts of the system today.
Focus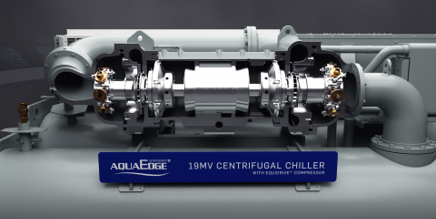 Benefit
Low load, no problem, even on a design day. The 19MV's two-stage back-to-back compressor is stable to 10% load wihtout hot gas bypass even with design entering condenser water temperature.
High Load, Hot Weather Operation

Situation
It is unseasonably hot. The wet bulb is peaking as are your server loads.
Focus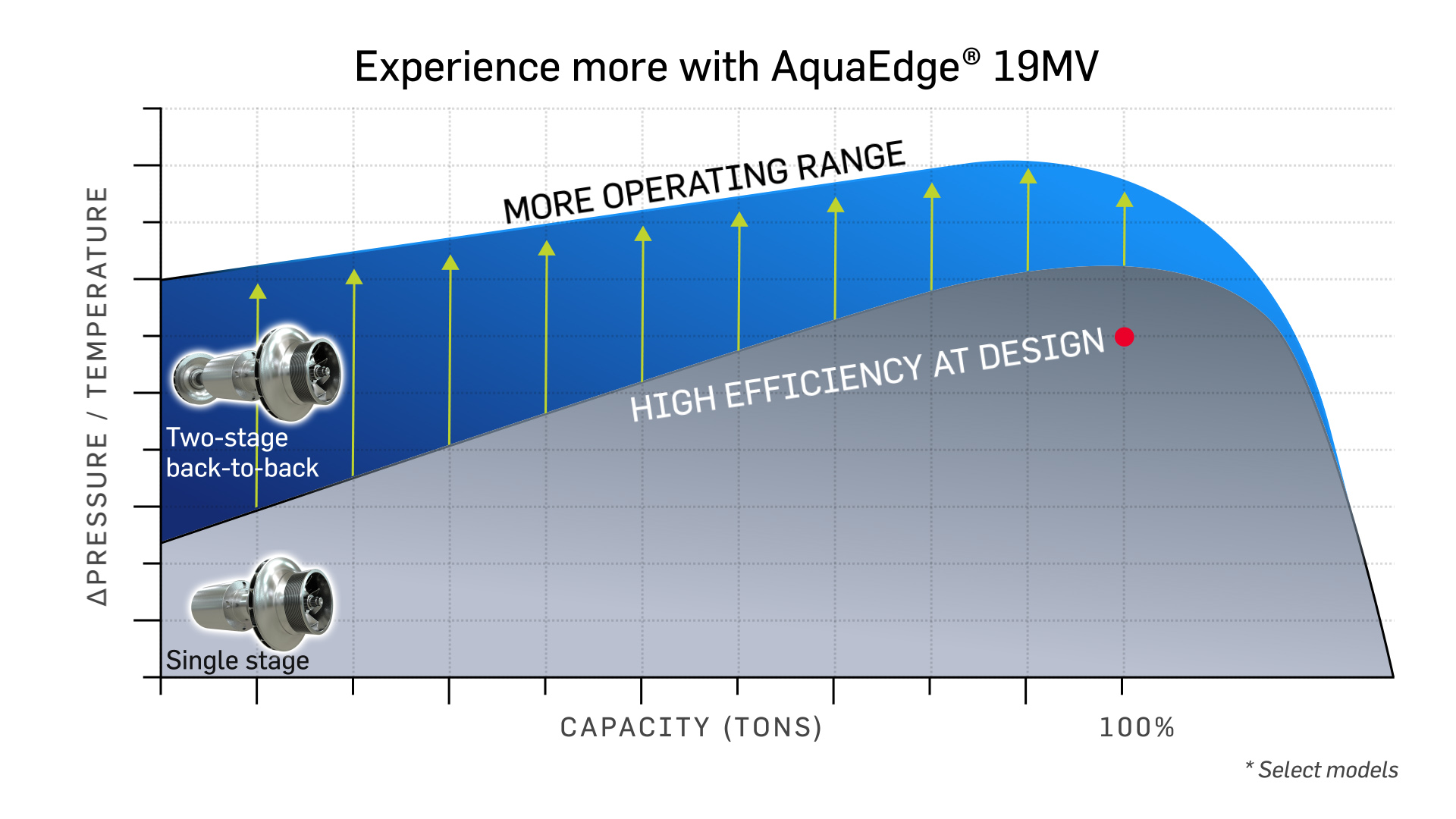 Benefit
The 19MV combines a condenser water temperature range from 40°F to 95°F with high efficiency at design, ensuring efficient operation for data centers in the summer too.
Low Load, Cold Weather Operation

Situation
Your new facility hasn't filled out yet, the mechanical plant must support a constant, but small fraction of design load this winter.
Focus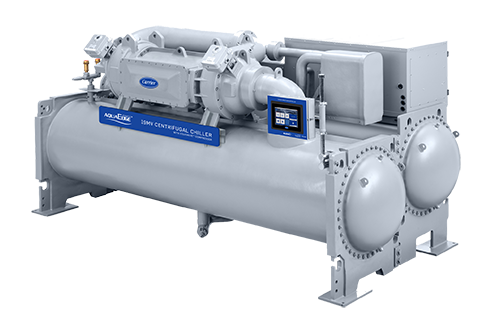 Benefit
The 19MV features an air-cooled VFD that does not require differential pressure to move refrigerant for cooling. This enables the VFD to operate continously when the chiller is lightly loaded, even when being supplied with cold condenser water.
High Load, Cold Weather Operation

Situation
It's winter and this data center is operating its chillers at full capacity despite the cold weather outside.
Focus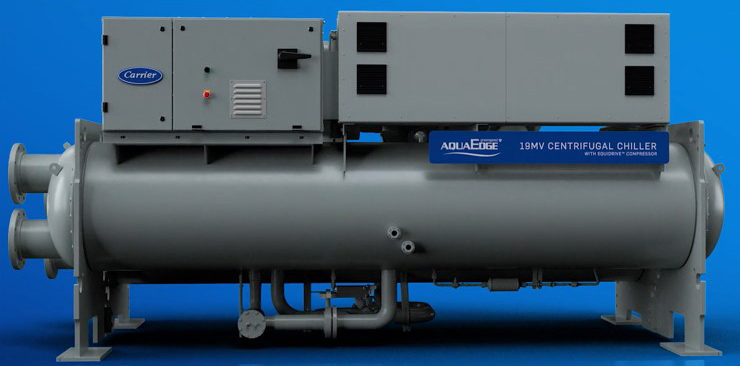 Benefit
Data centers taught the industry that VFDs are first and foremost part lift devices. With high load and low lift, variable speed chillers provide 30%+ better efficiency than constant speed chillers … even at full load.

Situation
You're testing back up systems and the chiller must re-start quickly.
Focus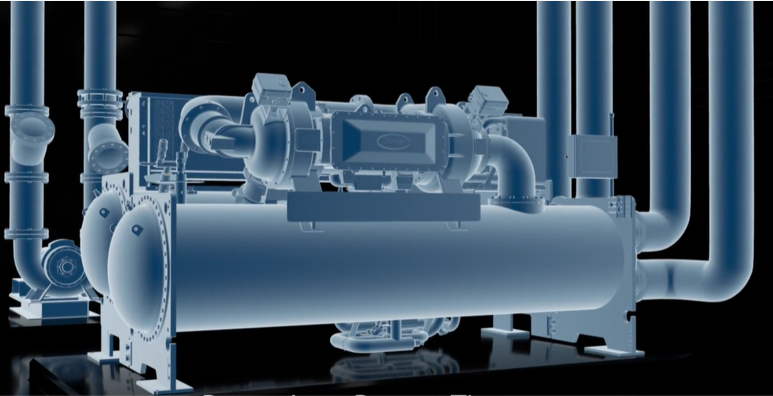 Benefit
The 19MV was designed to start swiftly after a power loss, reaching full design capacity in as little as 150 seconds after power is restored.
Energy Impact of Chiller Staging

Situation
IPLV puts 57% of the weight at 50% and 25% load … this is why it is rarely used as a basis for chillers in data centers.
Focus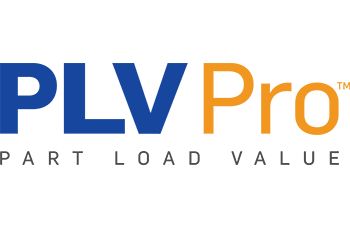 Benefit
The 19MV provides balanced performance, ensuring your high load points (75% and 100%) efficiencies aren't sacrificed for low load performance. The 19MV delivers both because you shouldn't have to choose between them.

Situation
What is chiller staging? What is the best way to sequence oil free, magnetic bearing chillers?
Focus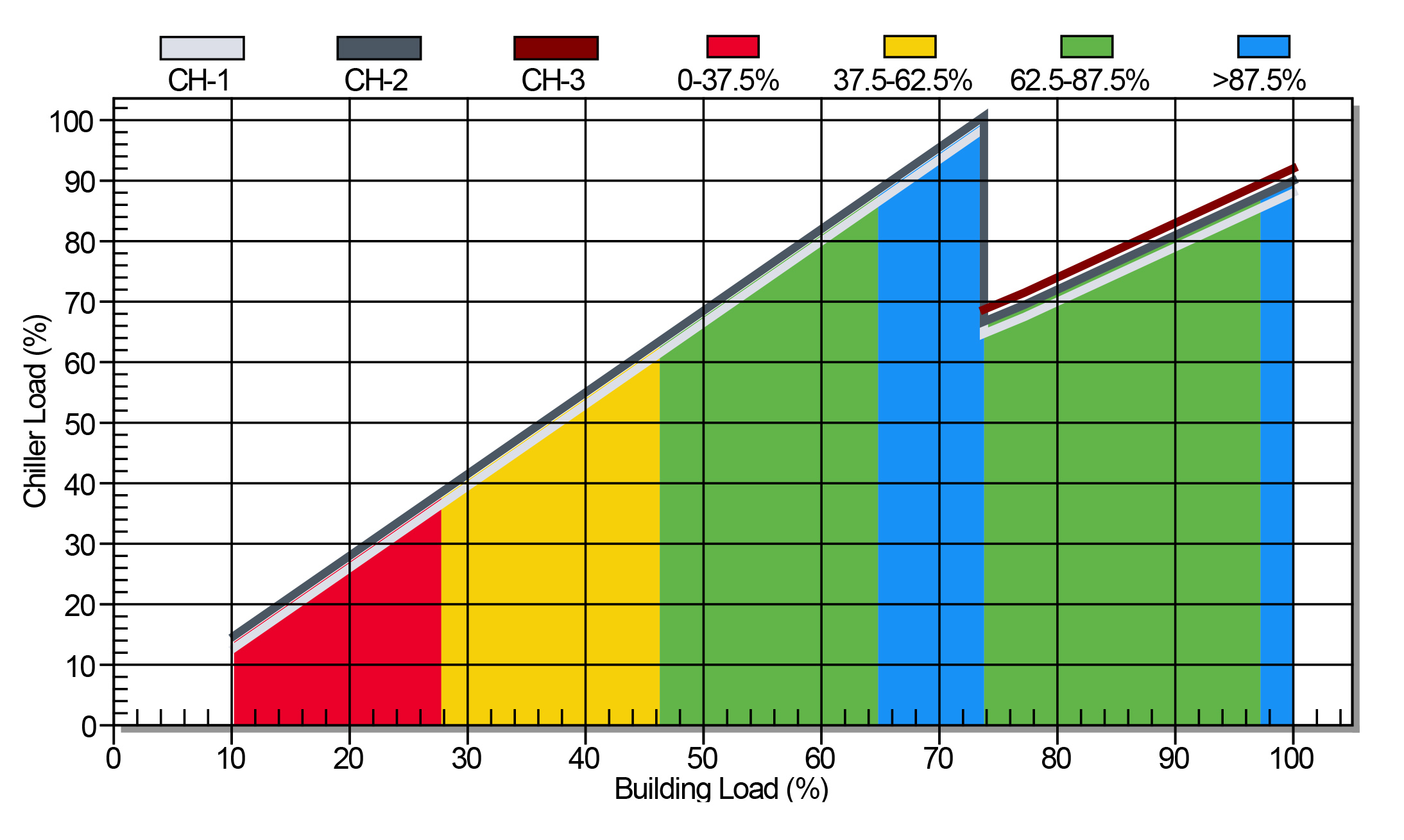 Benefit
Chiller staging describes how chillers are turned on and off in a plant as the building load changes. PLV Pro performs calculations with both traditional staging and equal unloading chiller control strategies. It is important to understand the impact your chiller staging strategy has to pump energy as well.