The all-new AquaEdge® 19MV chiller combines best-in-segment efficiency at design and off-design conditions with the ability to operate reliably, even at severe conditions and heavy cooling loads.
Click on a scenario below to learn more about how the 19MV handles different types of building load/weather conditions.

Situation
The schedule lists full load efficiency and IPLV. I've been told chillers run part loaded 99% of the time … should I buy based on IPLV?
Focus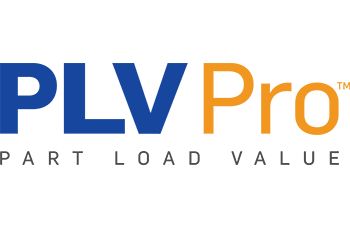 Benefit
57% of the weighting in an IPLV formula is based on 65°F entering condenser water and chiller loads of 50% or less. Is this typical of your building location? PLV Pro uses local weather and DOE load profiles as the basis for energy comparisons.

Situation
Your equipment was specified for a design day, was it designed for "having a bad day"?
Focus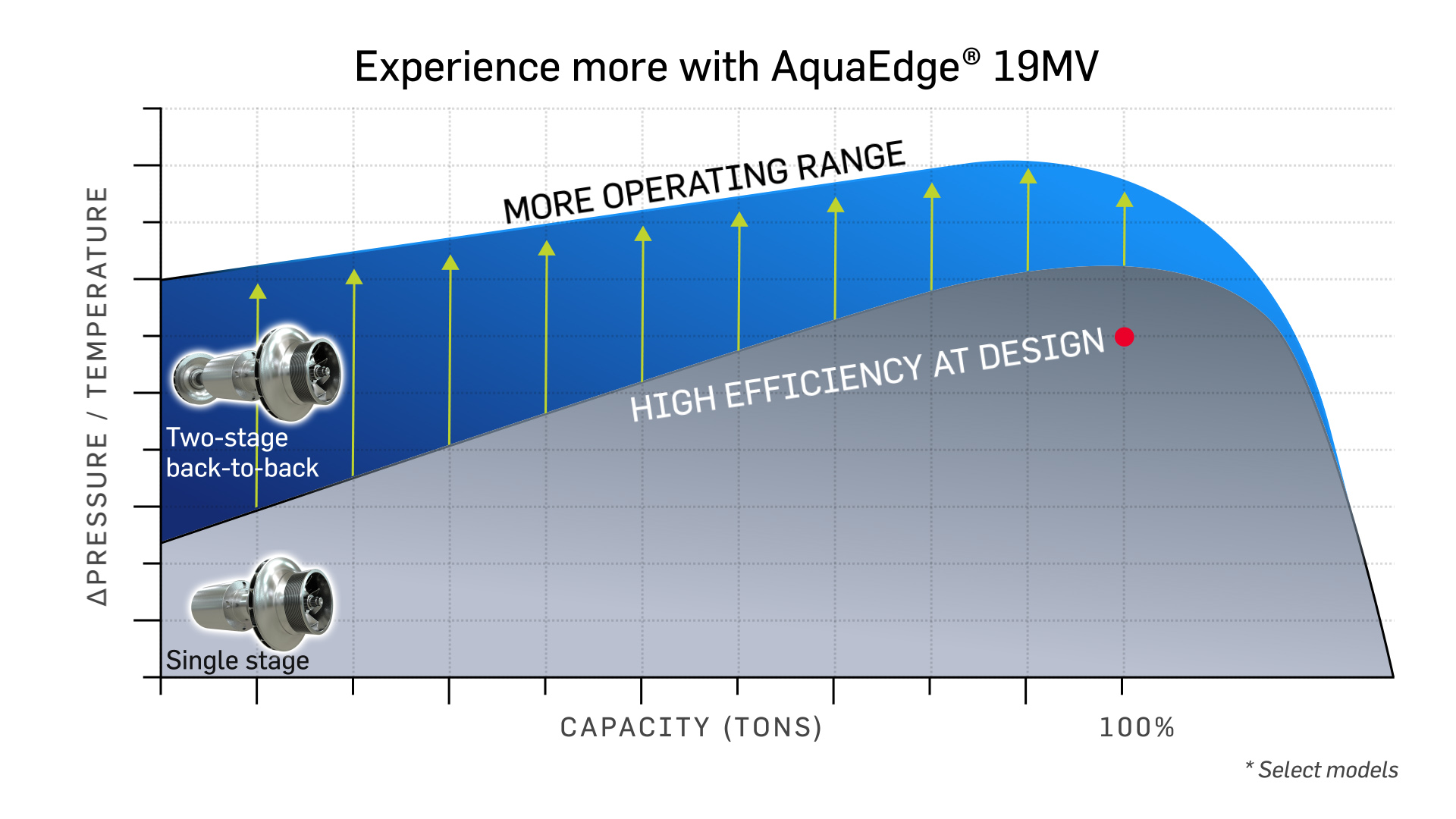 Benefit
The mechanical schedule defines the minimum requirements … is that what you really want today? The 19MV can provide more operating range while providing high efficiency at design conditions.
Low Load, Hot Weather Operation

Situation
Have you ever turned on cooling to an unoccupied floor just to keep the chillers running at low load? Well you may not need to anymore.
Focus
Benefit
The 19MV was made to run at low loads. The versitile variable speed compressor and dual EXVs provide the stability and control needed to run at low loads through hot or cold weather.
High Load, Hot Weather Operation

Situation
Be mindful of the impact of demand on your total annual energy bill.  Chillers with good full load efficiency can help keep demand in check.
Focus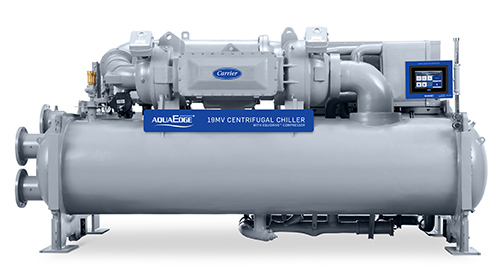 Benefit
The full load of a 19MV can be 18% closer to its IPLV than an ASHRAE 90.1 2019 compliant chiller.
Low Load, Cold Weather Operation

Situation
The aesthetic design requirements of your headquarters building made an air side economizer inpractical. The chiller is going to have to handle this small load.
Focus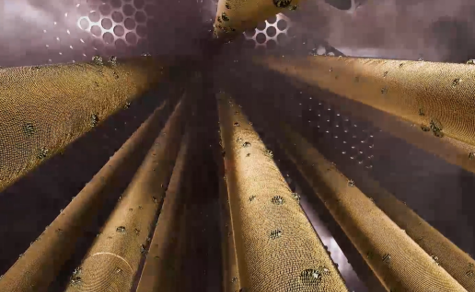 Benefit
High compression efficiency enables optimal heat exchangers with plenty of flow turndown. This enables the condenser pump to slow with load resulting in more chiller plant energy savings than just saving on the chiller alone.
High Load, Cold Weather Operation

Situation
This mixed use building is full of holiday cheer … let's keep it that way!
Focus

Benefit
The BluEdge service platform is there to support you with unmatched expertise and superior service throughout the the lifecycle of your HVAC equipment.

Situation
You have an airside economizer, what does this mean for your average chiller load?
Focus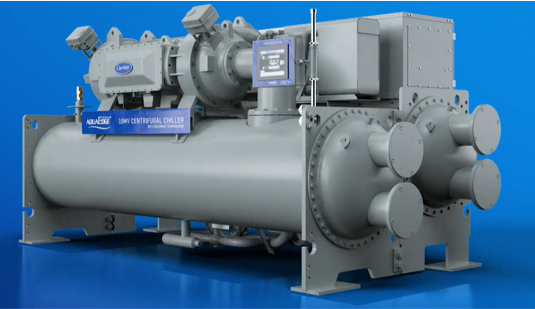 Benefit
The airside economizer eliminates a vast majority of low load chiller ton hours.  What remains are highly loaded points.  Be sure to get a chiller that also has very good kW/Ton at 75% load and above.
Energy Impact of Chiller Staging

Situation
I have enough load to keep one chiller highly loaded. Why is it more efficient to run fewer chillers when the chiller submittal shows lower kW/Ton at 25% load?
Focus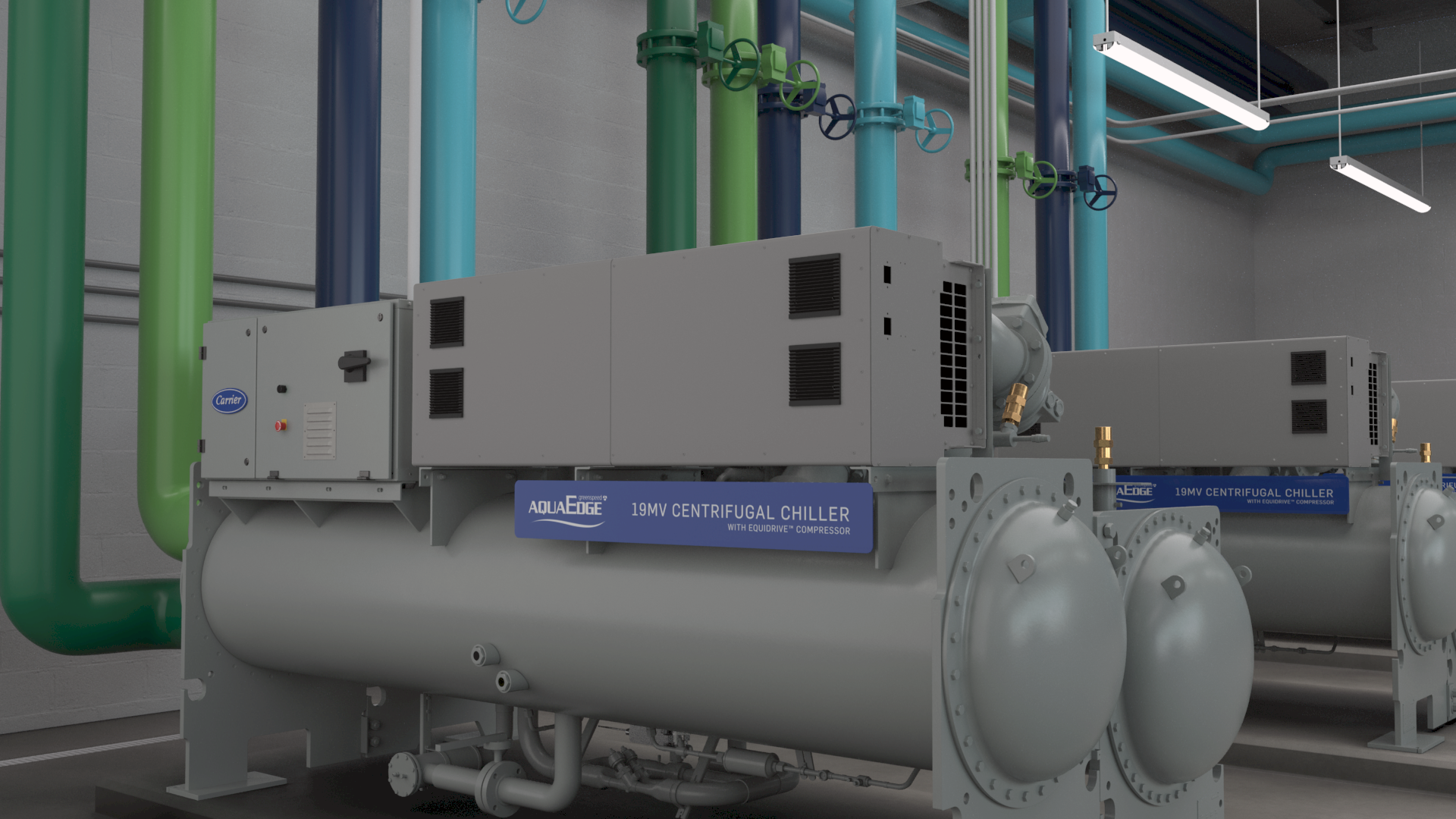 Benefit
AHRI allows for test day tolerances.  At full load, a chiller must be within ~5% of the submittal kW/Ton, but at 25% load this tolerances is ~15%.  Furthermore, the 100% point on the submittal is at 85°F condenser water versus 65°F for the 25%  point.

Situation
What does "Chiller Lift" mean?
Focus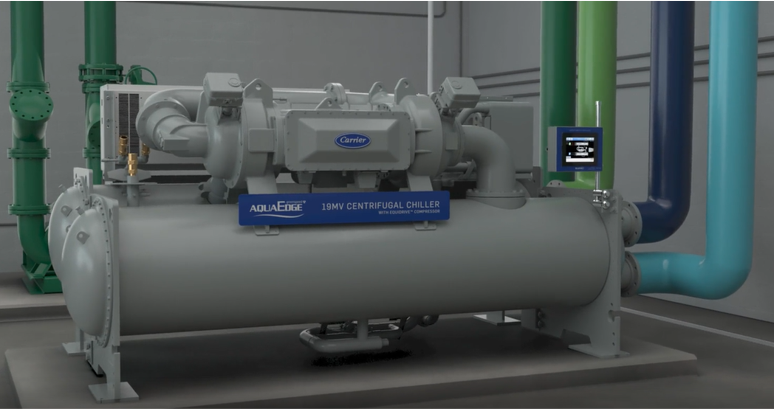 Benefit
Chiller lift is related to the difference between evaporator and condenser leaving water temperatures. Power consumption increases with lift. High lift is analogous to running up hill. The higher the lift the steeper the hill.