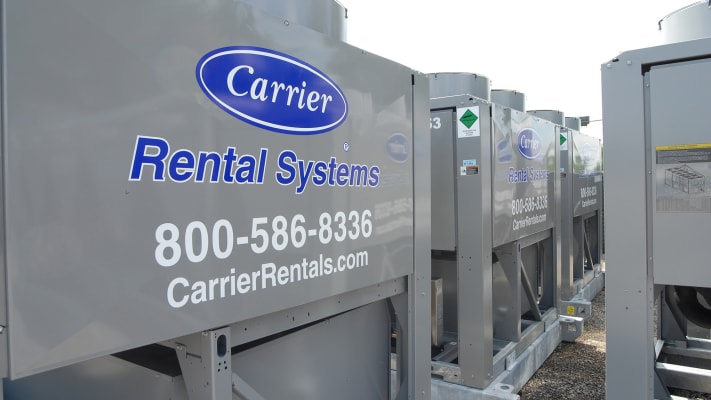 Water-Cooled Chiller Rentals
Reliable rental HVAC equipment is crucial to the needs of our customers who may need a HVAC solution for supplemental temperature control, power generation, emergency scenarios, etc. With that in mind, we purchase new HVAC equipment and modify it for portability for the harsh rental environment.
Water-Cooled Chillers Applications & Optional Features
The water-cooled chiller cooling process involves the absorption of heat from the process. The heat is then transferred to a cooling tower to reduce return water temperature. Industrial and larger tonnage applications typically use water-cooled chillers due to increased efficiency and size of the discharged heat load is a factor.
We inventory water-cooled chillers ranging from 300 tons to 1,000 tons.
Applications
Supplemental cooling
Emergency response
Industrial/specific operating conditions
Food processing
Process cooling
Cold storage/warehousing
Refinery and chemical production projects
Scheduled outages and turn-around projects
Testing requirements
Standby services
Low-temp cooling
Optional Features
Low temperature (-0°F)
Explosion-proof
Skid-mounted; trailer mounted
Voltages: 208/230V, 460/480V
Call Us » 800-586-8336
Request a Quote
Carrier Rentals Equipment Line Up
We have a diverse and modern fleet of rental equipment and the expertise to apply them.
Download our Linecard