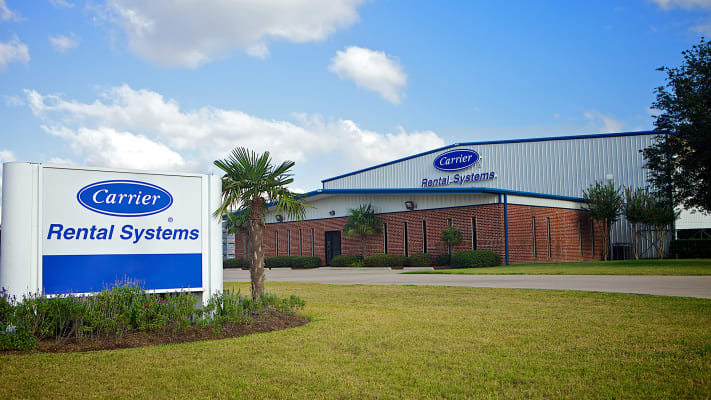 About Carrier Rental Systems
Carrier Rental Systems is a leading provider of specialized cooling, heating, dehumidification and power generation rental equipment. With locations across North America we are available 24 hours a day 7 days a week to provide customers fast and reliable service.
As a twenty-first century service with deep American roots, Carrier Rental Systems delivers optimized turnkey solutions rather than simply renting equipment en masse. Our highly trained and qualified technicians take the time to become thoroughly acquainted with you as a leader, your facility and its use, and your individual project needs. After evaluation, the complete solution we recommend to you will not only meet and exceed your logistical parameters but will act as a valuable cost control measure, trimming needless spending to stay within your budget. Whether you require an extensive designed chiller rental or a straightforward spot-cooler rental, we are the company to serve you.
Among those who trust us for their temporary and ongoing rental partnerships are corporations in heavy and light industrial manufacturing, commercial buildings, colleges and universities, hospitals and healthcare, and special event host organizations. Your need may involve a future event or project, but often it is triggered by unexpected circumstances that risk lost profits or uncomfortable working conditions. With the speed of the latest technology and locations throughout the United States, Carrier Rental Systems deploys rental temperature control and power solutions within 24 hours or less when necessary.
Our unwavering commitments to quality, performance, responsibility, innovation, customer care, and employee opportunity are why we still stand as the most established national brand in the space.
Carrier Rentals Equipment Line Up
We have a diverse and modern fleet of rental equipment and the expertise to apply them.
Download our Linecard
Delivering Complete Rental Solutions
Carrier Rental Systems can deliver complete, temporary application specific HVAC solutions - whenever and wherever needed.
Learn more