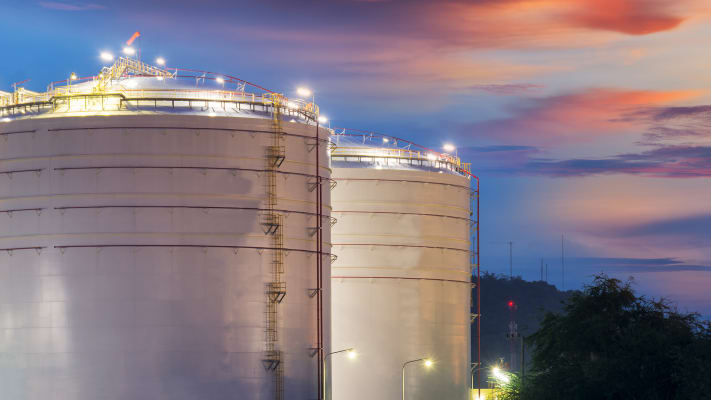 Carrier Protects Timeline and Expenditure of Roof Tank Project
The Setup
A large, 196-foot diameter, floating roof tank was due for maintenance which included taking the tank's structure through a "white blast" and replacing the inner lining. The contractor working with the industrial manufacturer solicited Carrier Rental Systems to assist with climate control during the project.
The Story
Partnering with the contractor leading the project, Carrier designed applications for the two main phases. The first phase addressed control of relative humidity during and after the blast. The contractor asked Carrier to create a dehumidification system to keep the relative humidity level below 20% and maintain it for three days. The extensive equipment and personnel the contractor needed consumed a tremendous amount of space which meant that any temporary system would have to be positioned at quite a distance from the entry and exit points of the tank. The first phase of the project proceeded without incident.
The second phase of the project focused on the interior coating application. An unexpected challenge arose when unseasonably low outside temperatures threatened to extend the tank lining's curing time. Extended curing times meant lost productivity and revenue for the facility. Carrier agreed to provide additional heat application to the interior of the tank to force cure the lining. Due to the substantial size of the tank and the distance the air would have to travel, Carrier had engineered a system utilizing its own boilers and air handlers to provide 160°F air. 
Carrier's design to force cure the lining was atypical for this type of project where traditional generators and electric heaters would be used. This unconventional approach provided a tremendous cost savings to the plant, and the boiler and AHU package cut the cure time from 72 hours to 24 hours. The strategy also drastically reduced the amount of fuel used to provide the same level of warmth as traditional heaters. Carrier's use of high static air handlers enabled the entire system to be placed approximately 100 feet from the project, creating safe working conditions for the contractor and team as they installed the lining.
The Upshot
Not only did Carrier Rental Systems keep the project on schedule and shield the contractor from a potential lag due to inclement weather which would have lost the plant valuable production time, Carrier also handed back appreciable savings by devising a system that both cost less and required less fuel to run.
Delivering Complete Rental Solutions
Carrier Rental Systems can deliver complete, temporary application specific HVAC solutions - whenever and wherever needed.
Learn more
Be Ready for Any Situation
Carrier Rentals can help building owners and facility managers to develop a contingency plan to add to their existing emergency response programs.
Download our Brochure