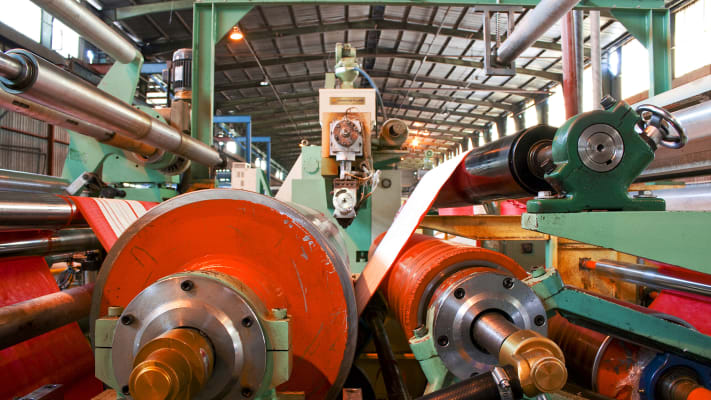 Carrier Produces Cool Results for Data-Driven Manufacturer
The Setup
A flexible packaging manufacturer experienced a dip in productivity and poor working conditions as a result of increasingly hot and humid summer conditions on the plant floor. Because this had a specific impact on quality against stringent regulatory standards in place, the manufacturer turned to Carrier to engineer a solution.
The Story
This packaging plant employed solvent-based ink to print flexible packaging for its food and pharmaceutical customers. Solvent-based ink is particularly vulnerable to humidity and heat, but regulations for both industries demand that doors and windows remain closed during production to prevent possible contamination. These conditions resulted in decreased production and increased waste, especially when pest infiltration ransacked the building during the summer months. 
After receiving the request for aid, Carrier worked with the facility team to create a detailed schematic of the current conditions and develop an appropriate solution. A tour of the premises helped Carrier determine the placement of equipment and approved it with the facility team. The system utilized a chilled water application with air handlers and pumps along with a separate system for a more remote area of the plant.
After installation, the packaging plant requested permission to monitor the performance of the temporary system in order to collect extensive data and quantify the benefit of the rental. With help from Carrier technicians, they attached temperature and humidity sensors to chart the results achieved. The data was collected over the course of the summer season, compiled, and analyzed in conjunction with the corresponding production data.
The results of the comparison demonstrated that the temperature and humidity levels remained well within the desired range during the entire project, and the comfort level of the production team was substantially impacted which caused them to be very complimentary of Carrier. The particularly impressive data focused on the pest control effect that the rental system exerted: the packaging plant's facilities team revealed a reduction in pests from over 27,000 to around 200 post-installation.
The Upshot
The packaging manufacturer was so pleased with their experience that they performed a final cost analysis between the Carrier-provided system versus attempting to produce the same results with new equipment of their own. Their findings showed conclusively that Carrier Rental Systems produced too high a return on investment for them to attempt anything like it independently, and they made the relationship a permanent feature of their production environment.
Delivering Complete Rental Solutions
Carrier Rental Systems can deliver complete, temporary application specific HVAC solutions - whenever and wherever needed.
Learn more
Be Ready for Any Situation
Carrier Rentals can help building owners and facility managers to develop a contingency plan to add to their existing emergency response programs.
Download our Brochure