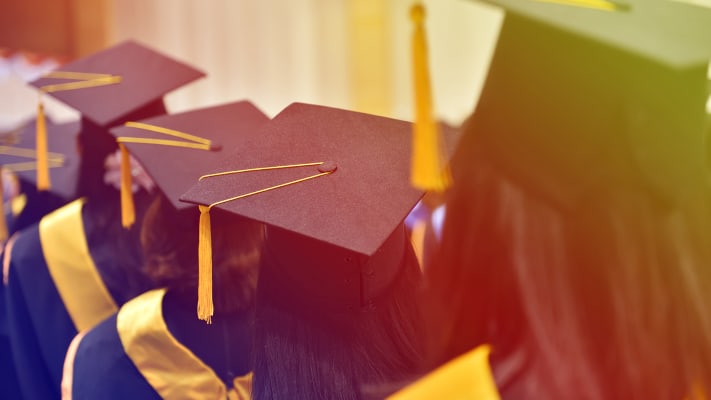 Carrier Oversees Cooling for Massive University Graduation
The Setup
A university planned its June graduation ceremony on campus in the gymnasium and expected a total of 9,000 to 12,000 people at the event. In coordinating the logistics of the event, the university accounted for a need for temporary cooling and contacted Carrier.
The Story
Once this university estimated that, in attending three graduation ceremonies at 9am, noon, and 3pm with 3,000 to 4,000 people at each ceremony there would be a likely total of at least 10,000 people coming through the gymnasium, they became confident that the aging building cooling system would not be sufficient and that supplemental cooling would be necessary.
Carrier Rental Systems devised an impressive temporary system that used 600 tons of air cooled chillers, 140,000 CFM of air handlers, 1.5 MW of power generators with auxiliary duct, hose, and necessary accessories. Technicians reasoned that, in aiming for a continual internal temperature of 75°F throughout the day, after the inflow from open doors admitting attendees and the heat generated by the crowds, the space should be pre-cooled to 67°F prior to the event.
With considerable setup requirements demanded by the system, Carrier arrived on campus a week before the ceremonies on a Saturday to begin installation. Because of pre-ceremony activities and setup by the university, they needed the system to be fully operational by Thursday morning. Carrier supplied labor 24 hours a day to meet the deadline and provided oversight and monitoring throughout the weekend until take down began Sunday morning. All equipment had been removed from campus by the following Monday.
The Upshot
With Carrier's thorough planning and a strategic labor schedule to ensure immaculate climate conditions for the graduation, the weekend was another success for the university. Accommodating the school's schedule meant that Carrier delivered with utmost convenience and reliability.
Delivering Complete Rental Solutions
Carrier Rental Systems can deliver complete, temporary application specific HVAC solutions - whenever and wherever needed.
Learn more
Be Ready for Any Situation
Carrier Rentals can help building owners and facility managers to develop a contingency plan to add to their existing emergency response programs.
Download our Brochure