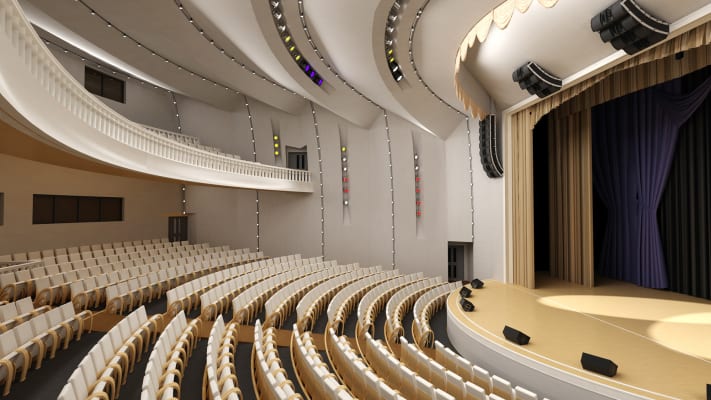 Carrier Keeps Event Going in Sizzling Temperatures
The Setup
A large city function was slated to be held at a historic local high school auditorium. Anticipating 2,700 people over the course of three days, the city became apprehensive as temperatures outside climbed to an unusual 98°F, and the auditorium had no central air. With temperatures pushing triple digits, the event was in jeopardy with no alternate location and the potential to expose attendees to oppressive, even dangerous heat.
The Story
Having had the major event on the books for months, the city watched in dismay as temperatures posted record highs in the week approaching the event. With no central air in the high school auditorium, the city was left with few options to navigate the situation except to explore the possibility of a rental system. They reached out to Carrier Rental Systems for help.
After examining the aging building, Carrier technicians designed a solution employing a single 100,000 CFM air handling unit accompanied by air cooled chillers to resolve the challenge. When assessment tests determined that the high school could not supply sufficient power for the setup, Carrier arrived with a single 800 KW generator to power the entire project. To compensate for limited space for the equipment outside of the auditorium, Carrier set the equipment on trailers.
The Upshot
Despite blistering temperatures outside, Carrier cooled the auditorium to a comfortable 73°F in time for the first day of sessions and maintained a pleasant environment for the 2,700 participants throughout the conference. Without Carrier's intervention, the city would have been compelled to postpone the event as they had no other alternative for venue.
Be Ready for Any Situation
Carrier Rentals can help building owners and facility managers to develop a contingency plan to add to their existing emergency response programs.
Download our Brochure
Delivering Complete Rental Solutions
Carrier Rental Systems can deliver complete, temporary application specific HVAC solutions - whenever and wherever needed.
Learn more