Updated Vector™ 1350 from Carrier Transicold Offers More Power for Improved Cold Chain Performance
RUEIL-MALMAISON -
Carrier Transicold's Vector™ 1350 trailer refrigeration unit uses new software to increase system power and lower noise levels.
Carrier Transicold, which operates in Europe as Carrier Transicold, helps improve global transport and shipping temperature control with a complete line of equipment for refrigerated trucks, trailers and containers, and is a part of UTC Building & Industrial Systems, a unit of United Technologies Corp. (NYSE: UTX).

Now with 13,100 Watts of refrigeration capacity, the updated Vector 1350 provides even more power for the transportation of perishable goods. Achieving a lower noise level of just 69 decibels, the Vector 1350 unit provides added comfort for drivers and neighbors during deliveries. At the same time, the Vector 1350 unit's light weight of approximately 643 kilograms enables haulers to carry larger payloads, offering greater reliability as a result of the new software.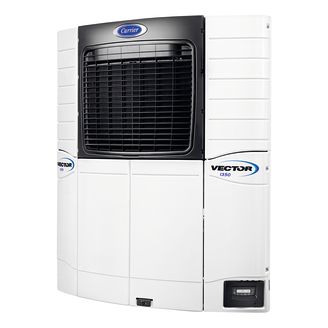 As the CEN Partial Load Test Norm proved, the 1.1-liter engine reduces fuel consumption by up to 30 percent compared to the previous unit. The engine drives both a compressor and a generator to power the ventilation system. Three electric fans significantly improve system reliability. By using a microchannel condenser coil, the Vector 1350 unit requires about 27 percent less refrigerant than its predecessor.
The Vector 1350 unit offers a new, user-friendly control interface. Key features include dedicated buttons and universal symbols that are easy for operators to understand, regardless of language. They help to avoid potential costly mistakes when choosing the proper temperature settings inside the trailer.
For more information on Carrier Transicold, please visit www.carriertransicold.eu or follow us on Twitter @CarrierGreen.
About Carrier Transicold
Carrier Transicold helps improve transport and shipping of temperature-controlled cargoes with a complete line of equipment and services for refrigerated transport and cold chain visibility. For more than 40 years, Carrier Transicold has been an industry leader, providing customers around the world with the most advanced, energy-efficient and environmentally sustainable container refrigeration systems and generator sets, direct-drive and diesel truck units, and trailer refrigeration systems. Carrier Transicold is a part of UTC Building & Industrial Systems, a unit of United Technologies Corp., a leading provider to the aerospace and building systems industries worldwide. For more information, visit www.carriertransicold.de or follow Carrier on Twitter: @CarrierGreen.