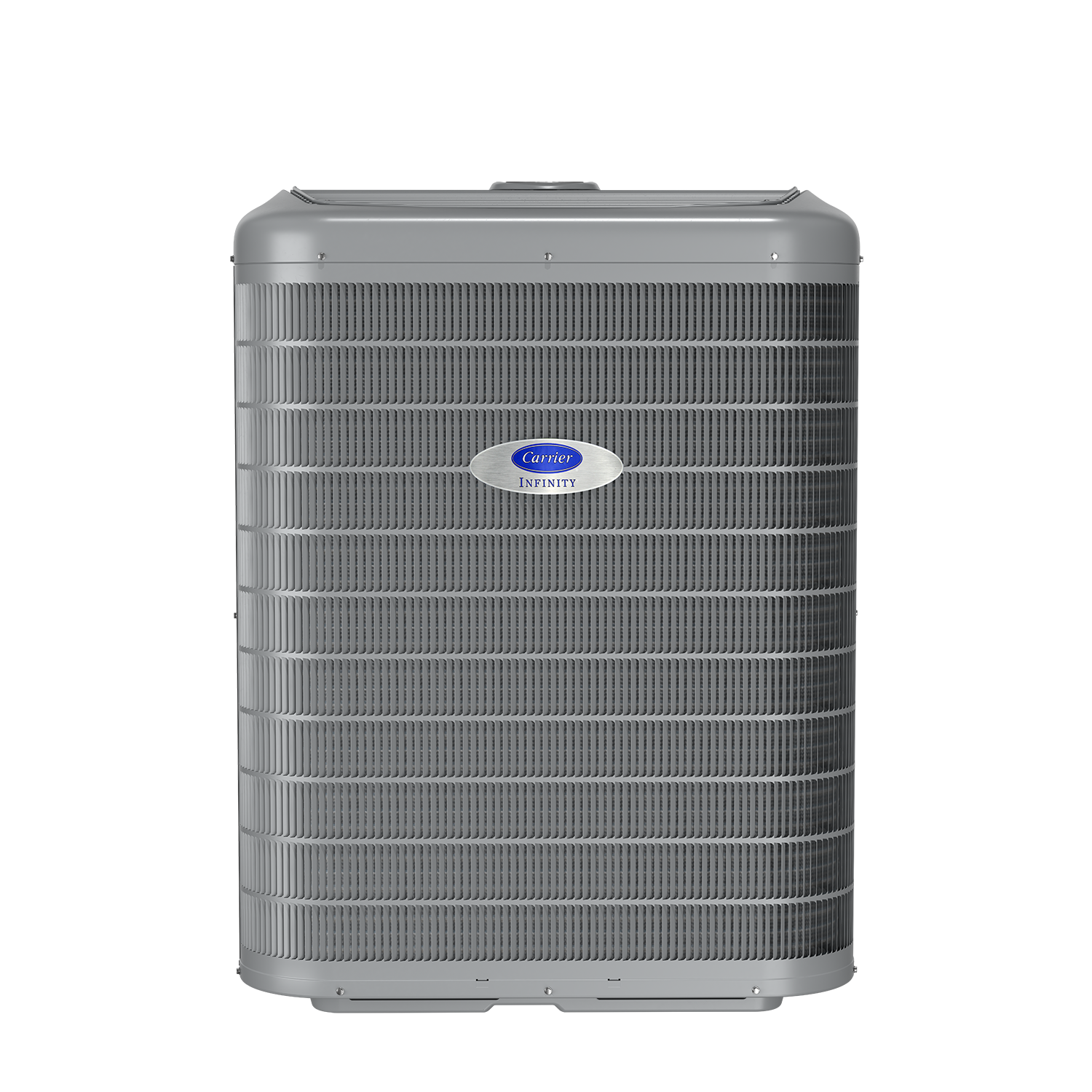 Infinity® 24 Heat Pump With Greenspeed® Intelligence
25VNA4
Our highest efficiency and most advanced heat pump with up to 22 SEER2 for premium energy savings with extremely quiet performance and premium comfort features.
Connect With a Local Expert
Overview
The Infinity 24 heat pump with Greenspeed intelligence takes Carrier's most advanced technology to the next level. If it looks like next-gen technology, that's because it is.
Greenspeed intelligence is created by pairing adaptable-speed technology with the Infinity® System Control. The unique, variable-speed compressor of this unit, allows it to literally adapt its output to the needs of the home. With tiny adjustments between 25 and 100% capacity, it gives the home only the amount of cooling or heating necessary.
This allows the system to operate longer at steadier, lower capacities, which ensures incredible energy efficiency and quiet operation with tighter temperature control than standard systems.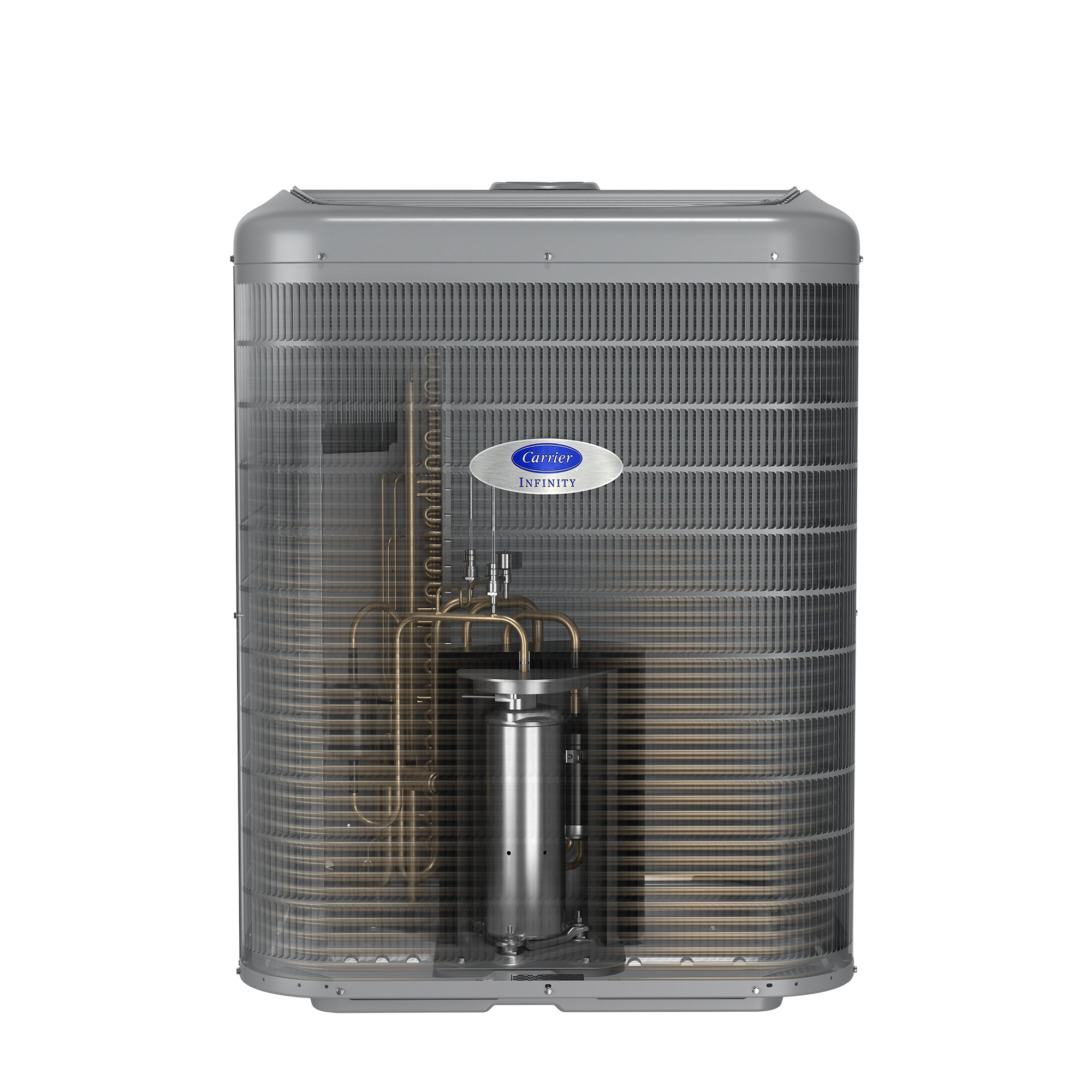 WHY THIS HEAT PUMP IS RIGHT FOR YOU


Energy Savings
Up to 22 SEER2 and up to 10.5 HSPF2 for premium energy savings. This is the most efficient heat pump we make.


Comfort Features
Premium comfort features for more precise temperature control and fewer temperature swings.


Humidity Control
Offers excellent humidity control and is capable of removing up to 400% more moisture than standard systems.1


Sound Performance
Extremely quiet operation. Includes a sound blanket and is up to 50% quieter than our nearest competitor.2


Warranty
10-year parts limited warranty upon timely registration and 10-year unit replacement limited warranty.5
You Might Also Like
Up to 18.5 SEER2 for premium energy savings with premium comfort features
Ideal for coastal areas and features up to 17.5 SEER for enhanced energy savings with enhanced comfort features.
1 Based on Carrier testing, all data was run with the systems cycling once they met the assumed home load. The assumed load at AHAM conditions (80/70, 80) is the capacity of the variable-speed running continuously in dehumidification mode. The difficult conditions load was determined by a Wrightsoft® load calculation for a home in Florida at 69 OD 72/63 ID. This condition was provided by a customer in Florida as "worst case"
2 Depending on model combination. Based on laboratory testing of Carrier's Infinity® 24 heat pump models by Carrier engineers in Fall 2019 and AHRI sound level data for competitors' variable-speed outdoor units, published as of December 2019.
3 Limited time offer. Terms apply. See your participating dealer for details.
4 The Infinity Air Purifier has demonstrated effectiveness against the murine coronavirus, based on third-party testing (2020) showing a >99% inactivation, which is a virus similar to the human novel coronavirus (SARS-CoV-2) that causes COVID-19. Therefore, the Infinity Air Purifier can be expected to be effective against SARS-CoV-2 when used in accordance with its directions for use. Third-party testing (2012, 2007) also shows ≥99% inactivation for the type of virus that causes common colds, Streptococcus pyogenes and human influenza. Airborne particles must flow through your HVAC system and be trapped by the Infinity filter to be inactivated at 99%. Learn how it works at Carrier.com/purifier.
5To the original owner, when product is used an owner-occupied residence, a 10-year parts limited warranty upon timely registration of your new equipment. Warranty period is 5 years if not registered within 90 days. Jurisdictions where warranty benefits cannot be conditioned on registration will automatically receive a 10-year parts limited warranty. See warranty certificate for complete details. 10-year unit replacement limited warranty for compressor failures only, to original purchaser with timely registration, except where restricted by jurisdiction. See limited warranty certificate for details and restrictions.