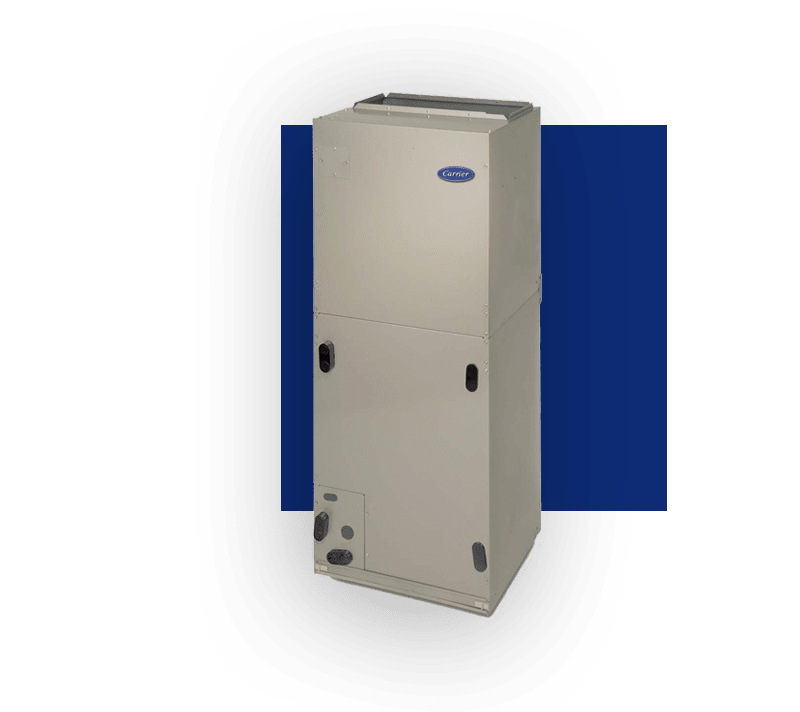 Fan Coil Units
A
fan coil
is an indoor unit of a heating and cooling system. It controls your home environment by moving air inside your home and can also affect your indoor humidity. As a complement to your air conditioner or heat pump, our variable-speed fan coil units can give you premium comfort and energy-saving performance.With an optional electric heat strip, a fan coil can also provide heat to your home if you live in milder climates.
View all fan coils keyboard_arrow_right
Need help with service or repair? keyboard_arrow_right
What to Look for in Fan Coil Units

Air Quality
While fan coils operate, they can help improve your indoor air quality by preventing buildup and circulation of mold, select viruses, bacteria and other airborne pollutants. Variable-speed and two-speed fan coils can improve airflow, resulting in enhanced control of your indoor air quality.

Comfort Features
The humidity level in your home affects your comfort. Variable-speed and two-speed fan coils remove more humidity, resulting in more consistent home comfort.

Energy Savings
Variable-speed and larger sized fan coils can help maximize the Seasonal Energy Efficiency Ratio (SEER) rating (link to glossary page) and Energy Efficiency Ratio (EER) rating for your Carrier air conditioner or heat pump. They can also improve the Heating Seasonal Performance Factor (HSPF) (link to glossary page) rating for your heat pump.
Which Fan Coil Unit Is Right for Your Home?
Essential companion to your Infinity System:
Ultimate comfort and quiet operation
Advanced humidity and temperature control
Air purifier- and humidifier-compatible
Efficient, reliable performance:
Variable-speed blower for improved comfort
Improved humidity and temperature control
Quiet comfort
The most economical and reliable companion:
High efficiency
Simple operation
Budget friendly
We couldn't find any products that match your search. Please
clear
or revise your filter selections. Having trouble deciding what product meets your needs? Visit our
system builder
or contact your
local Carrier Expert
.
Convenient Monthly Payments With Financing
Learn more about flexible payments and lease options.
Ultimate Comfort and Control
Learn more about our Infinity System to personalize your home's indoor climate.
Heating and Cooling Basics
What is Central Air Conditioning and How Does It Work?