HVAC Education, Buying Tips, Furnaces, Heat Pumps, Technology
What is an HVAC Split System?
A split HVAC system is an air conditioning system or heating system that has both indoor and outdoor units that are connected with copper tubing.
Traditionally, the outdoor portion of the unit contains the compressor and condenser, and the indoor portion of the unit contains an evaporator coil and indoor air handling unit that sends the air through the ductwork in your home. These types of HVAC systems are different from HVAC packaged units, where all parts are packaged together in one unit.
There are many different types of split systems, which can include heat pump systems or air conditioning systems (larger homes might require multiple air conditioners) installed outside your home, paired with either a gas furnace or a fan coil located inside your home.
Different Types of Heating and Cooling Split Systems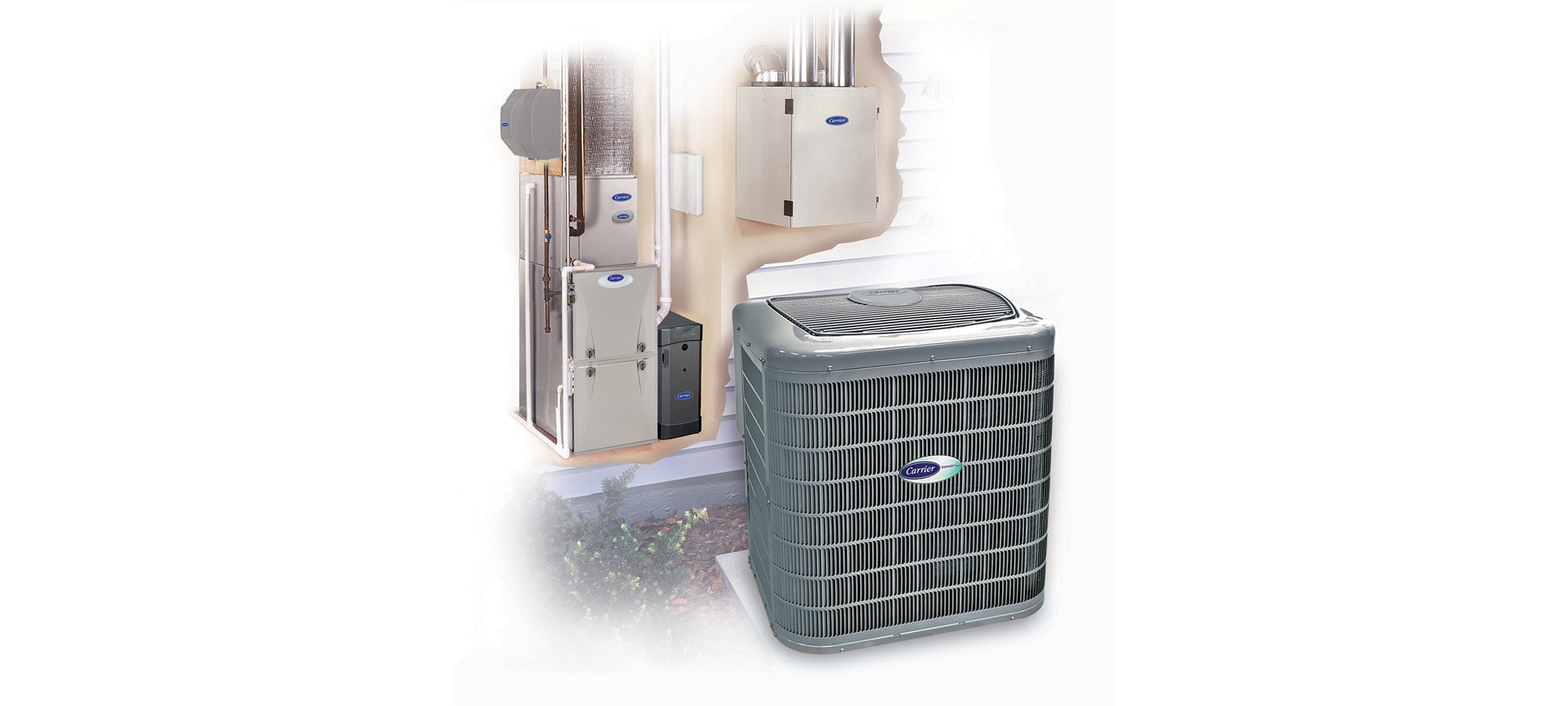 Heat pumps
Heat pumps run on electricity and draw heat from outside air—even cold air—and transfer it indoors. The outdoor unit houses a compressor and heat exchanger, and the indoor unit has an air handler and fan that circulate the air inside the home.
Air conditioners
Split-system air conditioners are units with the condenser and compressor placed outdoors, and an indoor unit containing the evaporator, furnace, air handler, and filters.
Furnaces
Furnaces are indoor units that burn fuel, like gas or propane, to heat up the air, then distribute it through ductwork in your home.
Fan coils
Fan coils are indoor units that move air over the coil, heat or cool it depending on the weather and season, then distribute it through ductwork in your home.
Ductless vs. Ducted Systems
Split-system HVAC can be ducted or ductless. Ducted split systems use ductwork to circulate the warm air generated from your furnace, fan coil, or heat pump, and the cool air generated by your air conditioner, heat pump, or fan coil. Ductless mini split systems use small air handlers located in specific areas in your home to heat or cool that individual space.
What Is A Split Air Conditioner's Benefit?
Split HVAC systems have many benefits compared to HVAC packaged units. However, it is important to keep in mind that different types of HVAC systems have benefits for different types of homes, apartments, and condos. While one HVAC system might be best suited for one type of home, it may not be best for another. Our dedicated team of Carrier experts can help you determine the best type of HVAC system for your home and budget.
Efficiency
The efficiency ratings for HVAC split systems can range from the minimum efficiency allowed by the Department of Energy (DOE), to high-efficiency systems with ratings up to 24 SEER2. Split systems that are Energy Star® certified are considered much more energy efficient than those that rated the DOE minimum efficiency standards. Having a more energy-efficient unit can help you to save money on heating and cooling costs, which are traditionally the most expensive parts of your energy bill.
Customization
HVAC split systems have two separate components, which allows for more customization in the setup of the system.
What Is A Split System's Downside?
More Expensive Installation
Since there are two separate units that comprise the system, split HVAC systems tend to be more expensive to install compared to HVAC packaged units. The installation costs can also increase if the two separate units have to be installed farther apart. The installation costs can vary widely for different types of HVAC split systems, and ductless systems can have more expensive units, but don't require any air ducts to be installed in your home.
Outside Noise
If the outdoor compressor is not properly maintained, the unit can be pretty noisy, which can hinder your experience in your yard or on your patio. This can also cause problems if you're a light sleeper and the outdoor unit is placed close to a bedroom.
The Outdoor Unit Requires Space
Since part of the system lives outdoors, there is space needed for the outdoor compressor. This makes it difficult to install these systems if you have a small yard or outdoor space.
Contact an HVAC Expert About Your Carrier Split System
Our dedicated team of HVAC professionals can help you to determine the best type of HVAC system for your home and can properly install your new unit in your home. Find a dealer near you to get started on your new HVAC system today!
Get Carrier Comfort in Your Home