Carrier Commercial Refrigeration has been awarded the Czech Business Superbrands Status in the commercial refrigeration category. Recognized worldwide, the Superbrands Status is given to the most outstanding brands in their respective fields. Superbrands, the world's largest independent arbiter of branding, operates in 88 countries, across five continents, focused on identifying and showcasing exceptional brands throughout the world. It has been operational in the Czech Republic since 2013.
"Carrier Commercial Refrigeration continuously aims to provide high efficiency turnkey refrigeration systems and services within all climate zones in the food retail industry," said Juraj Hrubo, managing director, CCR Distribution Czech Republic & Slovakia. "We are honored to receive the Czech Business Superbrands Status."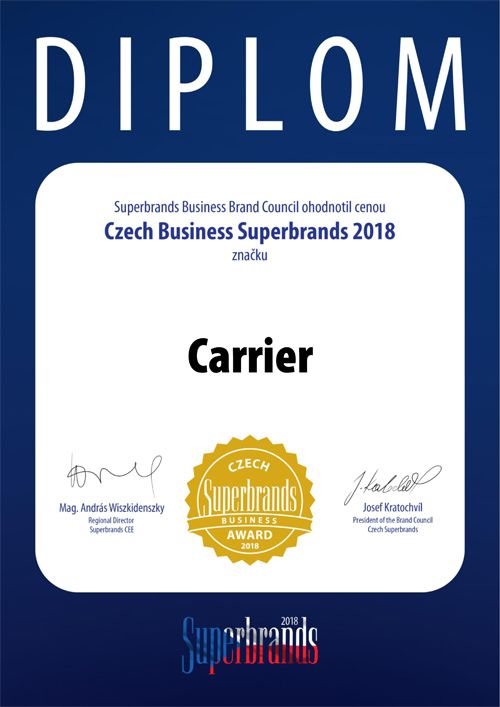 Superbrands are identified annually through an extensive and robust research process that measures the equity of both direct-to-consumer and business-to-business brands. Superbrands nominees are initially selected based on business data and results, and narrowed down based on customer research. The final decision is made by the Superbrands Council, an independent committee comprised of marketing experts and business leaders in the local country.
CCR will be showcased in the Superbrands 2018 Yearbook with an article highlighting Carrier's history, innovation, brand value, achievements and social responsibility. The book will be issued in September. Carrier will also begin using the "Superbrands Award Seal" to symbolize its Superbrands Status in advertising and marketing materials within the Czech Republic.
"I am delighted to welcome Carrier to the Czech Business Superbrands family," said Roman Sovjak, brand director, Czech Superbrands. "The Czech Superbrands Council believes that Carrier is one of the most respected, innovative and socially responsible B2B brands in the Czech Republic and represents the best in its field of commercial refrigeration."