Furnaces
Furnace Repair and Service
Your furnace is one of those "out of sight, out of mind" items that sits tucked away in a furnace closet, basement or attic, and magically supplies comfort during the heating season. Every winter it delivers that warm, soothing wave of heat from the registers on cold, blustery days. Until one day, maybe it doesn't... and suddenly you and your family are uncomfortable and inconvenienced. While furnaces are developed and tested to run reliably for years, routine furnace service is the keys to keeping your heating system running efficiently and improving its life expectancy. Ignoring routine furnace service can cause higher utility bills and reduced comfort, and make the furnace components work harder, leading to reduced life expectancy and in some cases, a total shutdown. Whether your home needs routine service or quick furnace repairs to get your furnace back up and running, Carrier has a solution.
While most average homeowners can handle simple DIY furnace maintenance such as cleaning or replacing your air filter, calling a local, qualified HVAC system professional for regular furnace repair service and equipment checks can help ensure reliability and optimum efficiency, as well as prevent larger issues from developing. Either way, if you want to keep your furnace heating air for years to come, don't forget to keep it serviced and maintained regularly - and reach out as soon as possible if your furnace needs to be repaired to keep your heating system running smoothly. Call your local Carrier expert today for advice and quick service on your furnace.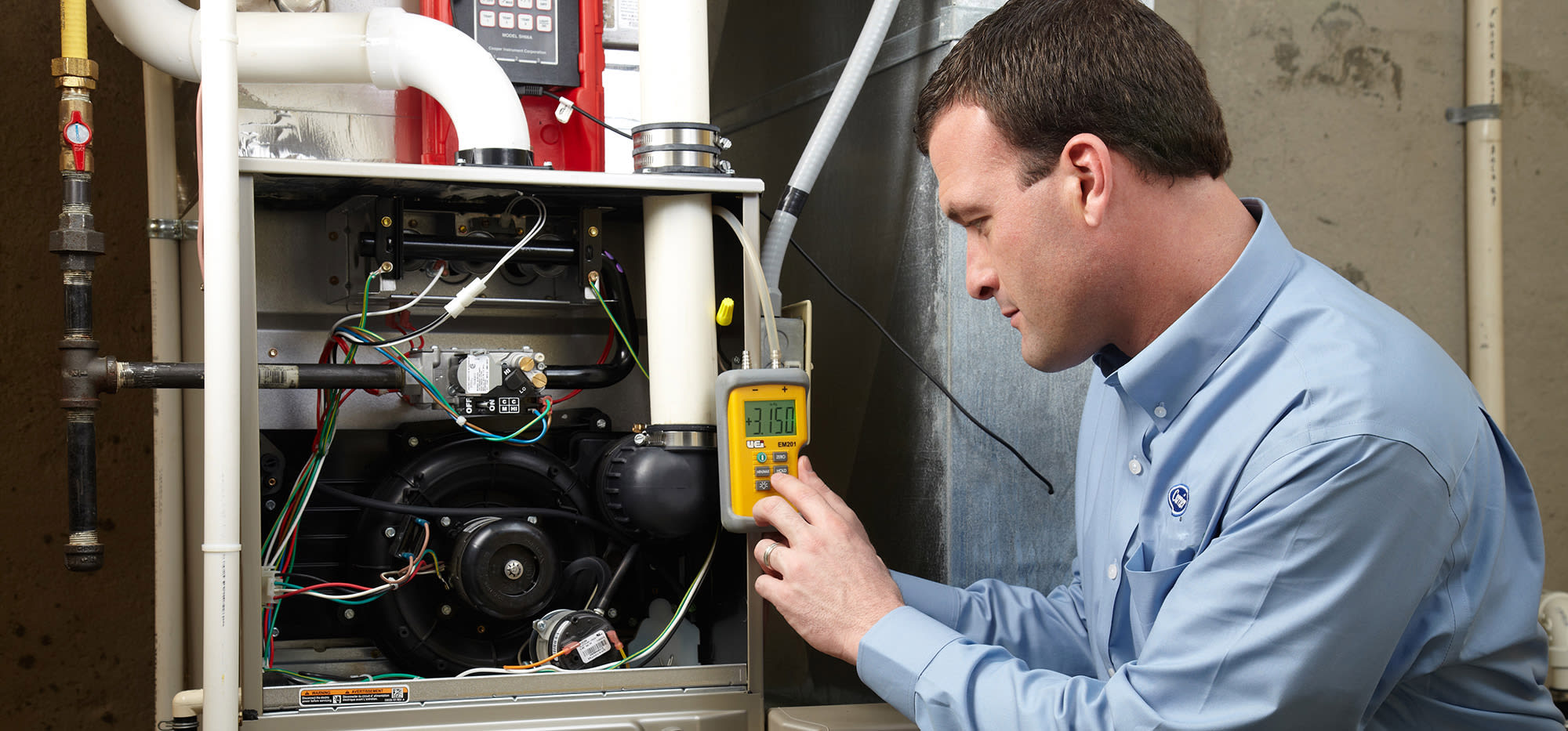 CARRIER FURNACE REPAIR SERVICE
Is your Carrier furnace acting up, leaving you shivering in the cold? Don't fret; your local Carrier expert offers comprehensive furnace repair services. These trained professionals are ready to diagnose and fix any furnace issues, ensuring your home stays warm and comfortable all year round.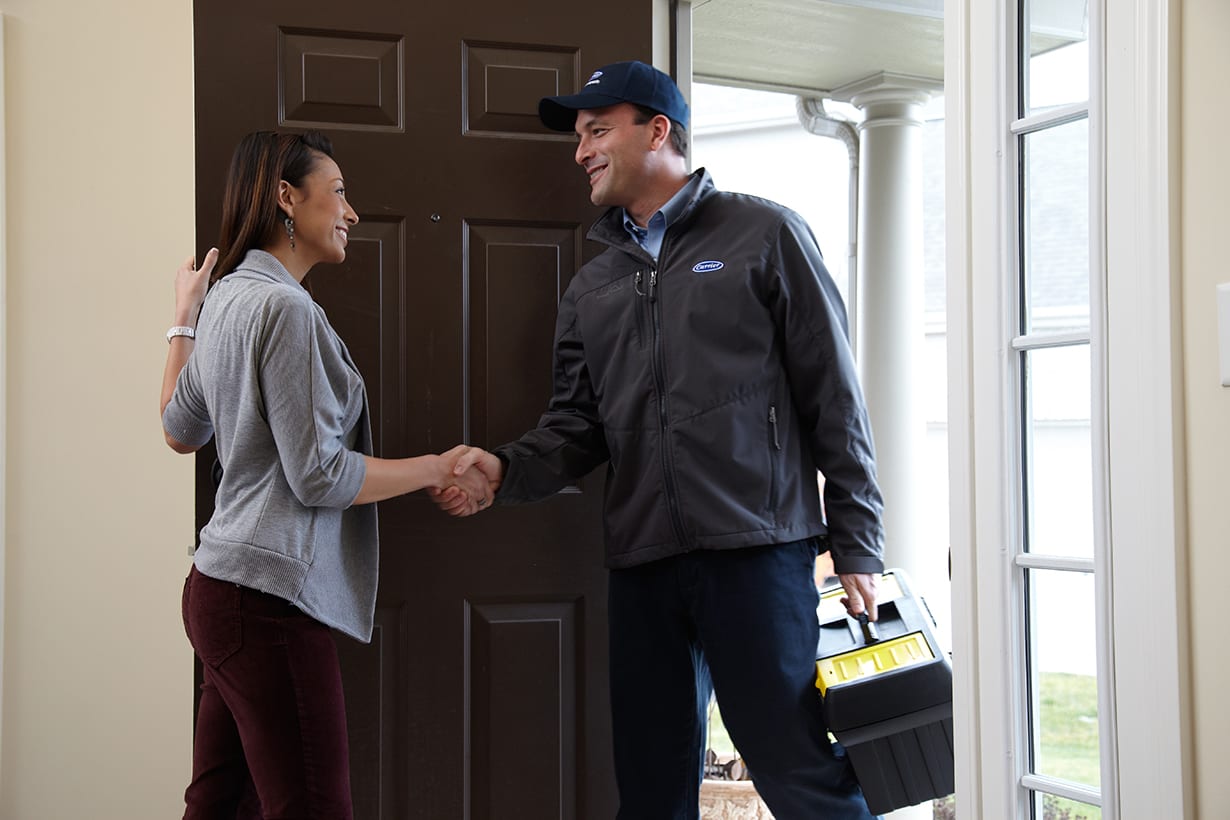 How to Know if Your Furnace Needs to be Repaired?
The first step to a cozy and efficient home is recognizing when your furnace needs repair. Keep an eye out for signs like strange noises, uneven heating, frequent cycling, or a sudden spike in energy bills. If you suspect any of these issues, it's time to call in the experts.
What Can Cause a Furnace to Stop Working?
Furnaces can stop working for a variety of reasons, from simple fixes to more complex issues. Faulty thermostats, a tripped circuit breaker, a malfunctioning pilot light, or a dirty air filter are common culprits that can disrupt your system's performance. But don't worry, a Carrier trained technician can help to identify these problems swiftly and provide solutions.
What are Common Problems that Occur with Furnaces that Need Professional Repair?
Common furnace issues that necessitate professional repair include a malfunctioning flame sensor, a faulty ignitor, or problems with the blower motor. These issues can impact your system's performance, leading to inadequate heating, reduced energy efficiency, and even safety hazards. Don't take chances with your family's comfort and safety – contact your local Carrier dealer for expert assistance.
What Kind of Repair Services Do Carrier Dealers Offer?
Most local Carrier experts offer a wide range of furnace repair services to address any issue, big or small. Their technicians are equipped to handle everything from routine maintenance and minor repairs to resolving systemic or long-term problems. Your local Carrier experts are dedicated to restoring your furnace's peak performance, ensuring your home remains warm and inviting.
When it comes to furnace repair, trust the name that's synonymous with innovation and reliability. Don't let a malfunctioning furnace disrupt your comfort – contact your local Carrier dealer today. Our team will swiftly diagnose the issue and provide a tailored solution to get your furnace back in working order.
For professional furnace repair services, contact your local Carrier dealer. Don't let furnace issues leave you in the cold. Trust Carrier to keep your home warm and comfortable.
HOW MUCH WILL REPAIRING MY FURNACE COST?
The cost of repairing a furnace can vary significantly, depending on the nature and severity of the issue, as well as the type and age of the furnace in question. According to Forbes a typical furnace repair might cost between $150 - $300, with minor repairs being as low as $50 and severe issues topping over $1,200.1 Additionally, the cost may also fluctuate based on the make and model of your furnace, as well as its age and the availability of replacement parts. To get an accurate estimate for your specific furnace repair needs, it's best to reach out to your local HVAC dealer or technician, who can assess the situation and provide you with a tailored quote. Don't hesitate to contact them for a more precise understanding of what it will take to get your furnace back in working order.
FURNACE REPAIR OR REPLACE?
A regular furnace tune-up can maximize efficiency and provide longer-lasting home heating. However, there are times when a simple maintenance call can identify an issue that will require a significant investment to remedy. Then, it's decision time. Do you make the expensive heating tune-up and enjoy continued comfort from your current heating system? Or do you make an even bigger financial commitment and consider buying a furnace? The decision to repair or replace is up to you, and often it's a matter of comparing the cost of the furnace repair, taking into account the age of the equipment, versus the cost of a new furnace that likely offers higher energy efficiency and comes with warranty coverage. Our guide on repairing vs. replacing furnaces gives a full breakdown of all the factors you should consider when choosing the future of your home's heating systems.
WHY IS REGULAR FURNACE SERVICE IMPORTANT?
During normal furnace operation, dust, dirt, moisture from humidity or condensation, and microbial growth can build up on internal components. Over time, important components can begin corroding, leading to reduced performance and carbon monoxide leaks. Without a regular furnace service, these issues can lead to loss of efficiency and a shorter furnace lifespan.
A regular furnace tune-up every year can minimize issues caused by build-up of dirt and debris, and the inspections allow your contractor to monitor longer-term issues and take proactive steps to help prevent premature failure or inconvenient breakdowns during the heating season. Annual furnace service may also be a requirement to keep your furnace warranty valid as well. Many manufacturers state on warranty documentation that installation and maintenance by a licensed HVAC service provider are a part of the warranty conditions. When you have a ten-year parts limited warranty as is standard on Carrier® furnaces, you'll want to be sure you keep that coverage valid for the full ten years.2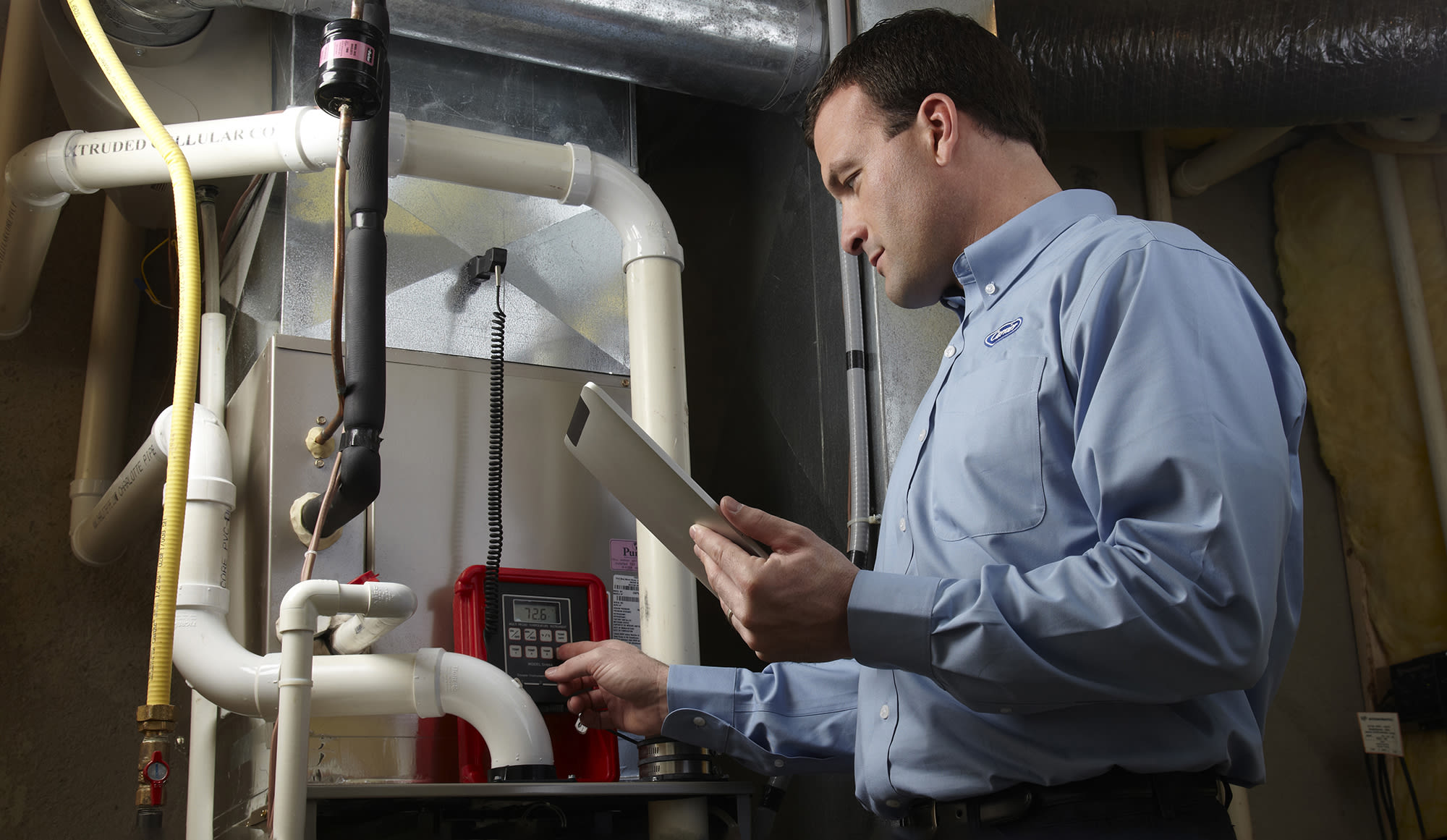 WHAT TO EXPECT DURING A FURNACE TUNE-UP
During a routine maintenance service call, your local dealer will likely evaluate furnace performance in various modes of operation, then shut off the gas and electrical power to execute a number of cleaning and inspection tasks, following guidelines from the Air Conditioning Contractors of America (ACCA®) or the American National Standards Institute (ANSI®). Furnace tune-up services will vary from contractor to contractor, but most HVAC dealers will perform similar tasks as part of a standard "clean and check" appointment. To learn more about furnace maintenance, visit our dedicated page on that topic.
HOW MUCH SHOULD I EXPECT TO PAY FOR A FURNACE TUNE-UP?
Pricing for furnace service and maintenance will vary widely from dealer to dealer, for a number of reasons. Some dealers will provide a more in-depth service with stated performance guarantees, while others might do a more basic service at a special rate to generate new business. Both approaches can yield the desired result of keeping your furnace heating system performing well as long as the service is provided by a reputable HVAC contractor. A Carrier furnace dealer can quickly and easily give you a quote for heater service and get you scheduled for your annual maintenance.
If you need a quick furnace repair, are getting your furnace replaced, are looking for a quote for your annual furnace tune-up, or anything else, contact your local Carrier dealer for expert advice.
1https://www.forbes.com/home-improvement/hvac/cost-to-repair-furnace/
2To the original owner, when product is used in an owner-occupied residence, a 10-year parts limited warranty and lifetime heat exchanger parts limited warranty upon timely registration of your new equipment. Parts limited warranty period is 5 years and heat exchanger warranty is reduced to 20-years if not registered within 90 days. Jurisdictions where warranty benefits cannot be conditioned on registration will receive the extended registered parts limited warranty and heat exchanger parts limited warranty period. See warranty certificate for details.