Furnaces, Pricing Guide
Fix the Old or Buy a New? – Cost of Furnace Replacement
It's never a good day when your trusty old furnace flames out. And while sometimes the fix is simple, a more expensive estimate often jump-starts the age-old debate of "Should I repair it? Or should I replace it?" Because the cost of furnace replacement and the cost of furnace repair can vary widely, it may help to look beyond the bottom-line price before making your decision. Consider whether your old furnace still heats your home adequately or struggles to keep you comfortable. Are your energy bills higher than they used to be? Are you frequently calling your local HVAC contractor for furnace maintenance or furnace service?
When the repair bills start adding up, it might be time to start looking more seriously for a new furnace to heat your home. And when you make that decision, the experts at Carrier are here to help with a nationwide network of heating and air conditioning professionals and a complete line of high efficiency furnaces to fit virtually any home. Before you make that call, we'll walk you through many of the variables to consider so you can make the best choice for your family.

When to Replace Furnace – Variables to Consider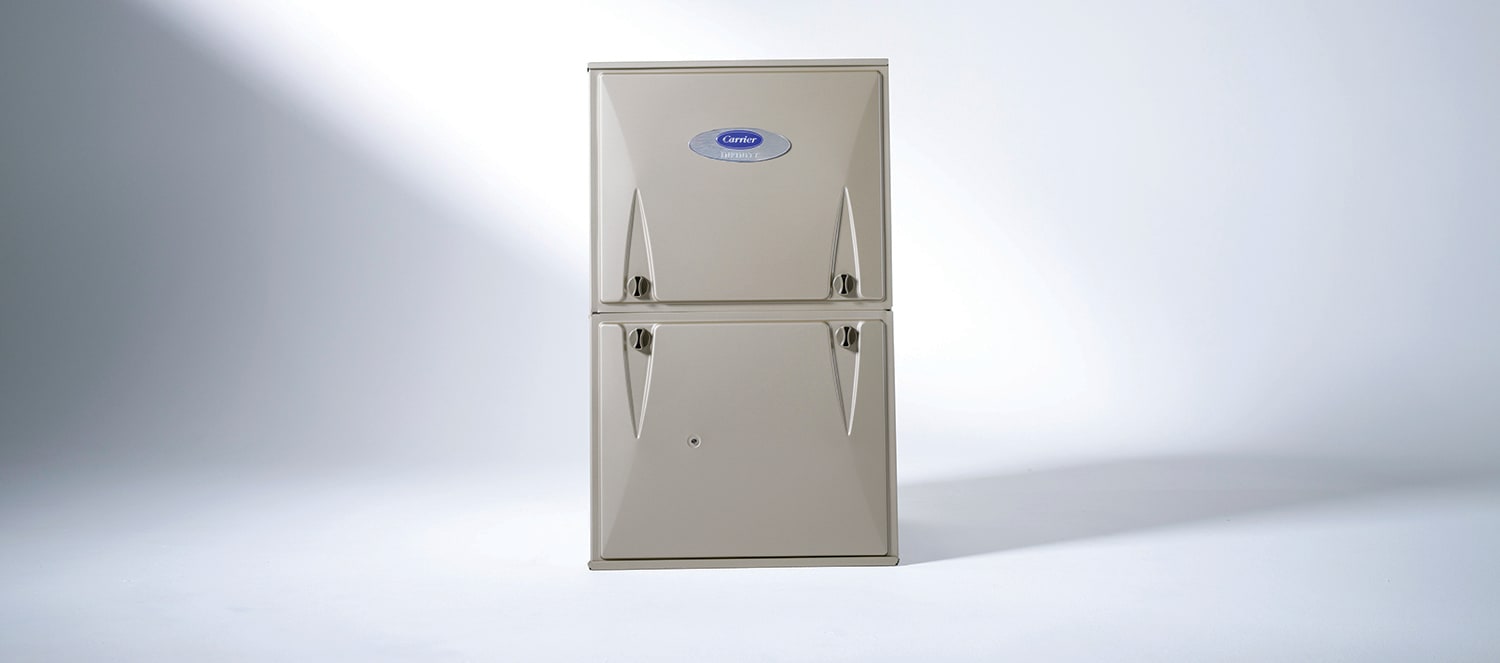 Making an informed decision on when to replace a furnace involves determining the actual replacement cost; comparing the life expectancy of your current model versus a new one; and taking into account your history of furnace problems with the existing system.
Average replacement costs
The best way to get an accurate cost estimate for installing a furnace is to call a qualified HVAC professional such as your local Carrier expert. An experienced professional can assess your home and identify the type of furnace you need and any unique installation challenges that may not be reflected in published cost averages. That being stated, let's take a look at the average cost of furnace replacement as posted by HomeAdvisor.com:
Gas Furnaces: If you have a natural gas furnace in your home, average pricing can range between $3,800 - $10,000, which includes labor costs starting at $1600.1 This is based upon an 80,000 BTU furnace in a 1,600 – 2,000 square-foot home. Higher furnace efficiency and higher heating capacity models for larger homes can add to these cost estimates.
Oil Furnaces: If your furnace relies on heating oil for combustion, the average price can range between $6,750 - $10,000 or more.1 This range is based upon an oil furnace sized to heat a 1,600 – 2,000 square-foot home.
Electric Furnaces: If you live in a moderate climate that rarely experiences temperatures below the freezing point, you may have an electric furnace. Expect to pay about $2,000 or more1 for a new electric furnace appropriate for an approximately 1,500 square-foot home. Due to the high cost of heating using an electric furnace, you may want to consider replacing the furnace with an energy-efficient heat pump.
As you consider these costs of buying a furnace, another important factor is the cost of operation. Your new furnace should provide years of reliable and energy efficient heating comfort. However, costs for natural gas, propane, heating oil and electricity vary widely and can impact your long-term cost of ownership and use. The best way to get an accurate estimate of operating costs will be to work with an HVAC professional such as your local Carrier expert.
Life Expectancy
A new furnace can reasonably be expected to have a lifespan of fifteen to thirty years. And keep in mind that a new furnace will be backed by new product warranties for the first 5-10 years of its life. Routine maintenance, including regularly changing furnace filters, can help maximize the life expectancy of the furnace. Your personal comfort preferences, temperature settings, the climate in your area and indoor air quality can all have an effect on the life of the furnace as well. So, as you consider the cost of furnace replacement vs. the cost of furnace repair, take into account the age of your current model. If it's 15 years old or more, it might be time to look more seriously at replacement. If you don't know the age, you may be able to use the model and serial number of the furnace to obtain its approximate age. You can also look for tell-tale signs of an older furnace such as rust on the cabinet or older technology inside such as a pilot light.
Repair and Maintenance History
In addition to the age of your current furnace, take into account its history of service and maintenance. If you have had your system cleaned and inspected annually, and have followed the manufacturer's recommendation on filter replacement, you may be able to count on it for several more winters of reliable comfort. On the other hand, if your system has a history of needing service, even minor repairs, this may be an indicator of bigger failures – and expenses – to come. If you have an established relationship with a professional HVAC dealer or technician, they may be able to advise you on the condition and estimated remaining lifespan of your particular model.
When you come to the conclusion that a new furnace makes the most sense, we encourage you to read our Furnace Buyer's Guide for tips on purchasing a new furnace, and our Cost of a New Furnace page may be helpful as well.
Not Ready to Replace? – Cost of Furnace Repair
Due to the variety of types and sizes of home heating systems, generalizing the cost of furnace repair can be tricky. And that makes knowing when to replace furnace parts – or the whole furnace – tricky as well. Keep in mind that the best way for you to get an accurate assessment of your system is to contact a trusted, professional HVAC technician. And while more sophisticated heating systems such as Carrier Infinity® furnaces include built-in troubleshooting assistance, sometimes just locating the cause of the issue can be time consuming. That being stated, repairing a furnace while it still has years of reliable service remaining can be a more affordable option than simply giving up and investing in a new furnace.
According to HomeAdvisor.com, the average furnace repair bill is about $300, 2 with repairs reportedly as low as around $65, and up to $1500 on the higher end. Repairs can be as simple as replacing an inexpensive flame sensor to replacing a major component such as the blower assembly or heat exchanger. After troubleshooting/assessing your current furnace, a trusted HVAC technician can not only provide you with a cost estimate, they can also offer an opinion on the long-term health of your heating system. For reference, here is a list of some standard furnace components and average replacement costs per HomeAdvisor.com:
Flame sensor - $75 - $250
Ignitor - $150 - $300
Electronic control/circuit board - $200 - $600
Gas valve - $200 - $1,000
Draft inducer motor - $200 – $1,500
Blower motor - $400 - $1,500
Heat exchanger - $500 - $1,500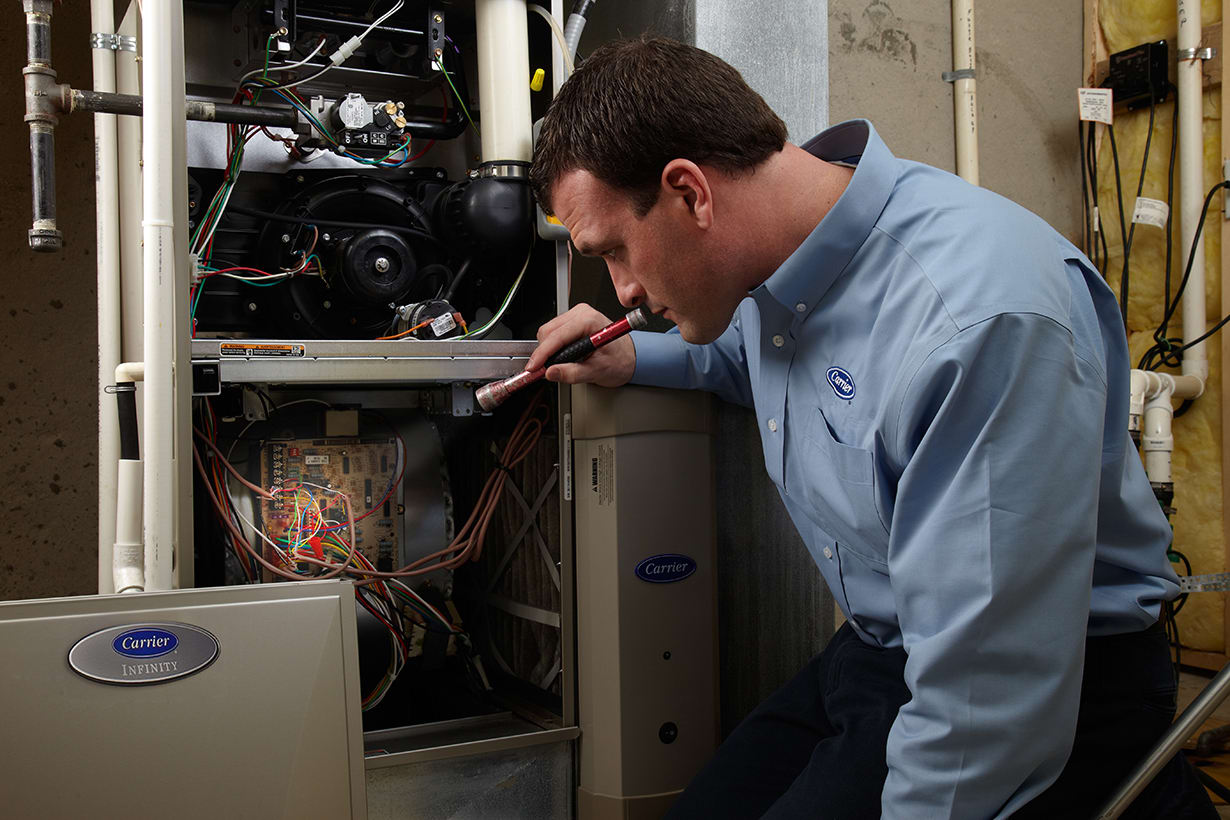 Can't Decide? – Contact a Professional
The decision to repair or replace your furnace usually isn't easy. To help put the decision off as long as possible, regular maintenance is the key. Your local Carrier expert can help keep your current system running efficiently and hopefully prevent unexpected breakdowns or more expensive repairs. And when you do decide it's time for a full replacement, they can help you understand furnace AFUE ratings and have access to some of the best, most updated HVAC systems in the industry.
Contact a Carrier Dealer today for an assessment of your system, and if needed, an estimate for updating your home comfort equipment.
1 https://www.homeadvisor.com/cost/heating-and-cooling/install-a-furnace/
2 https://www.homeadvisor.com/cost/heating-and-cooling/repair-a-furnace/