Furnaces, Pricing Guide
Furnace Buyers Guide | 10 Things to Consider When Buying a Furnace

During the wintertime, your furnace is the unsung hero of your home. After all, there's nothing quite as comforting as the feel of warm, heated air on a cold, blustery day. And while you may be comfortable with the health of your current heating system, there will be a day when buying a furnace lands squarely at the top of your to-do list. Whether it's due to rising energy bills, lackluster performance, frequently required service, or it quits working altogether, that day will arrive. And when it does, you might need a little help navigating the many options available for keeping your home comfortable. There are plenty of choices out there, including a full line of furnaces from the experts at Carrier.
This furnace buyer's guide will provide some insight on the types of furnaces available, ten questions you should ask when buying a new furnace, and some insight in locating a qualified furnace dealer for installation and maintenance of your new system.

Questions to Ask Before Buying a New Furnace
Buying a new furnace can be a big commitment. And making the right choice can affect your comfort for years. That's why it's important to ask the right questions before making your decision. Understanding the types of furnaces available; the pros and cons of repairing versus full replacement; purchase and installation costs; and, ongoing maintenance needs will help you make the best decision for your family. Here are ten questions to consider when buying a furnace, and some insight that will help guide your decision making.
Are there different types of furnaces? The short answer is, yes there are. Gas furnaces, oil furnaces, electric furnaces and propane furnaces are commonly used options. While the basics of furnace operation will essentially remain the same regardless of the fuel source, your easiest (and probably least costly) path will be picking a new furnace that uses the same fuel source as your current one.
How do I compare energy efficiency between different furnaces? All furnaces sold in the United States are required by the federal government to display the yellow and black EnergyGuide label. This label will include estimated annual operating costs for that particular unit, and can be an easy way to compare different models. In addition, all combustion-type furnaces – natural gas, oil, and propane – are rated according to AFUE (annual fuel utilization efficiency). This highly regulated system can be used to compare furnace efficiency in much the same way MPG (miles-per-gallon) is used to compare fuel efficiency of motor vehicles – the higher the number, the better the efficiency. Furnace AFUE ratings represent the percentage of consumed fuel that is converted to heat for your home. The minimum allowed rating for any furnace in the United States is 80 percent AFUE. If you are interested in a high-efficiency model, condensing furnaces that utilize a secondary heat exchanger for added fuel ecomony achieve ratings in the mid-to-high 90% AFUE range. Carrier's top performing Infinity® 98 gas furnace with Greenspeed® Intelligence is one of the most efficient models available, offering up to 98.5% AFUE performance.
Are there other features I should consider when buying a new furnace? Today's furnaces offer more options than ever to enhance your comfort beyond the basics. If you are interested in more uniform heating throughout your home without the up and down temperature swings of traditional systems, consider a furnace with a variable-speed blower. A variable-speed blower can provide better control over airflow all year during both heating and cooling, it operates quietly on its lower speed settings, and it can help with humidity control as a part of your air conditioning system. Another comfort-enhancing option to consider is multi-stage operation. Multi-stage furnaces can adjust heating capacity as needed to match changing conditions to provide improved comfort and energy savings compared to a traditional single stage furnace which can only operate at one specified capacity.. As you might expect, the cost of a new furnace will vary based upon its capabilities, options, and efficiency ratings.
What size furnace do I need? This is a tricky question. There was a time when the physical size of a furnace was quite large. Today, most furnaces can fit into a small utility closet. While the dimensional size of a furnace can impact installation location within your home and installation costs, most conversations around furnace size are related to heating capacity – the amount of heat a furnace can generate. Furnaces come in different capacities, or sizes, measured in Btuh (British thermal units per hour). To determine correct furnace capacity for you, your installing dealer will assess your home, including square footage, number and quality of windows, insulation and more. Improperly sized furnaces can result in loss of comfort, loss of efficiency and even reduce the lifetime of the furnace, so be sure to have the sizing assessment performed by a qualified HVAC professional like your local Carrier dealer.
What are the average installation costs? According to HomeAdvisor.com, the cost to have a new furnace installed can range between $2,000 – 10,000 (including materials, equipment and labor). However, keep in mind that a number of variables can affect the total cost. Gas furnaces might skew a little higher while electric furnaces may trend lower. Other factors that may affect the cost include retrofitting the new furnace to existing ductwork, venting, and accessory equipment. Also keep in mind that most furnaces are vital to your central air conditioning system, so it may be time to replace your air conditioner as well. The same applies if you have paired a heat pump outdoor unit with your furnace to create a dual-fuel system for year-round comfort. To get an accurate idea of costs for your home, call your local Carrier dealer to assess your needs and provide a cost estimate tailored to your needs.
How long should my new furnace last? When you purchase a furnace from a leading manufacturer such as Carrier, you can reasonably expect it to last 15 years or longer. Some would suggest that with routine cleaning and maintenance, including filter changes according to the recommended schedule, you might enjoy up to 30 years of operation. Of course, the lifespan of a furnace can always vary based upon your personal temperature preferences, hours of heating operation, indoor air quality and more.
Am I better off repairing my old furnace? The answer to this question depends on a number of factors, including the age and condition of the furnace, the cost of the repair, and more. Typically, if it is a lower cost fix on an otherwise well-functioning furnace, repair is a great option. If you have an older model that needs an expensive fix, you might lean towards investing in a new furnace with new product warranties and potentially higher energy efficiency. We offer a more in-depth explanation in our cost of furnace replacement vs cost of furnace repair page.
Do I need to replace my air conditioner at the same time? Not necessarily. If your current air conditioner is reliably keeping you cool during the summer and has a history of routine cleanings and maintenance, it may still have several years of life left. However, if it struggles to keep you comfortable, if you've noticed higher electric bills during the cooling season, or if it's showing its age with exterior rust or starts making new and different sounds, you can save money on installation costs by replacing both the furnace and air conditioner at the same time.
What accessories should I consider? If your system does not include one already, you may be able to save energy with a programmable thermostat. A programmable thermostat can be set up to automatically adjust your home's temperature for better comfort when you are home, and for reduced energy usage while you are away or asleep. Some programmable thermostats can be connected to your home's Wi-Fi® network so you can make adjustments from a smart phone or other internet-enabled device. To improve indoor air quality within your home, consider upgrading from a standard furnace filter to a whole-home air purifier. Whole home ventilation, a humidifier, and UV lights are also popular accessories for enhancing your home's comfort and air quality.
What maintenance is required? The easiest way most homeowners can maintain a furnace is to replace the system's air filter per the manufacturer's instructions. Standard 1" filters typically require monthly replacement while thicker, four-inch media filters typically require less frequent replacement of once every three months or so. Carrier also recommends scheduling an annual furnace service which includes a cleaning and inspection of your furnace by an HVAC professional. A qualified HVAC contractor can help ensure that your system is operating at its best. By maintaining your furnace on a regular basis, you can potentially improve your chances of enjoying dependable home heating for the lifespan of your equipment.
How to Buy a Furnace | Finding a Dealer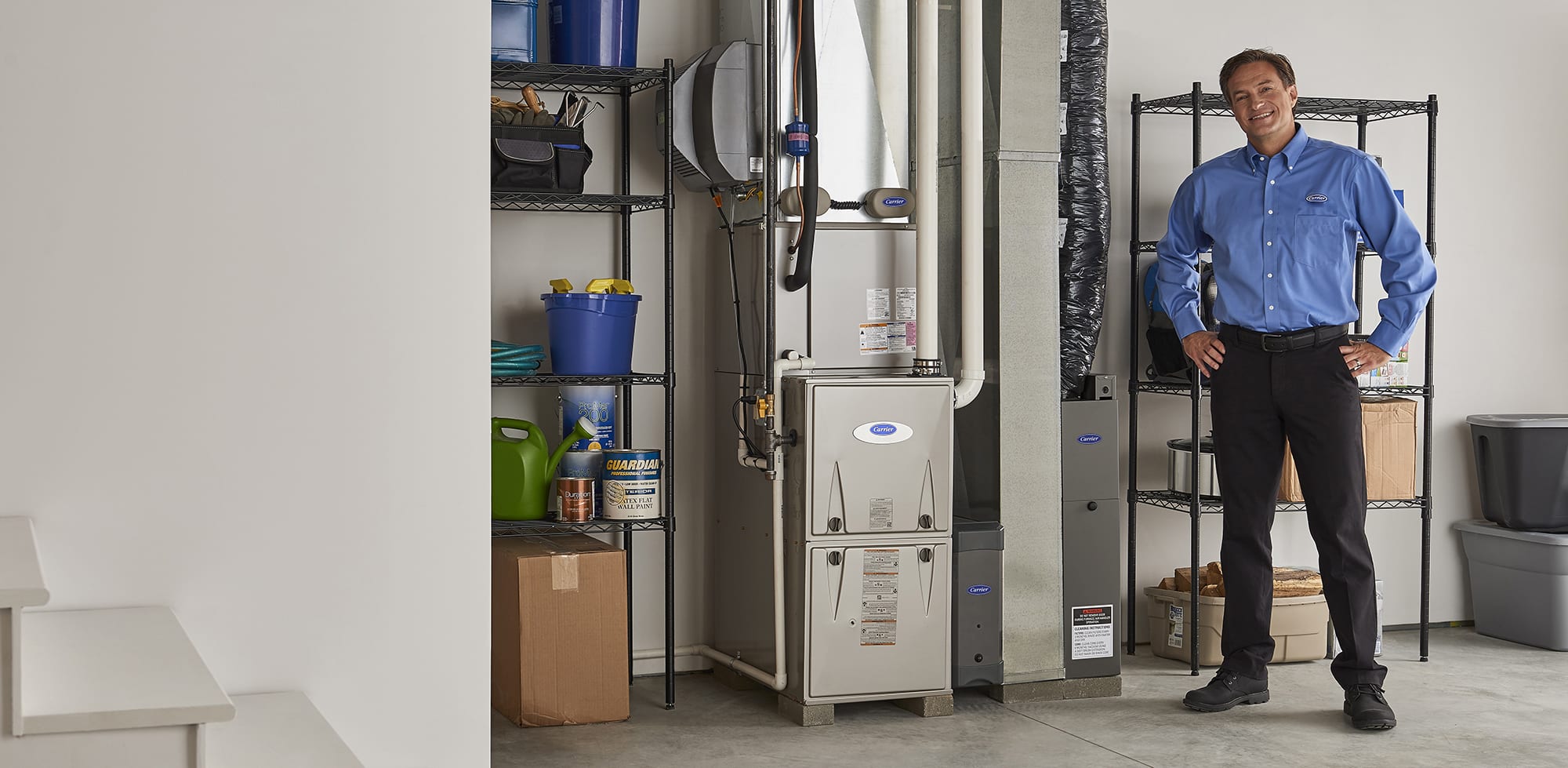 Now that you have a basic understanding of furnace types, sizing, efficiency, costs, accessories and maintenance, learning how to buy a furnace is the next step. Carrier offers a complete family of furnaces for nearly every home and budget, starting with our Comfort Series models and including our top-of-the-line Infinity® 98 gas furnace with Greenspeed® Intelligence. If you do not already have an established connection with and HVAC professional, your local Carrier expert can assess your home and work with you to find the right Carrier furnace for your home. Carrier has well over a century of experience in the HVAC industry, highlighted by inventing modern-day air conditioning systems in 1902.
Contact a Carrier Dealer today to get an estimate for your home.
Wi-Fi is a registered trademark of the non-profit Wi-Fi Alliance