How to Install a Mini Split
Installing a ductless air conditioner differs from installing a traditional air conditioner since ductwork isn't needed. Of course, to the average homeowner, knowing how to install a mini split ductless system is not about the hands-on experience. It's about providing a solid understanding about where and when a ductless mini split installation makes the most sense, then letting an experienced HVAC technician do the rest.

A ductless mini split heat pump or air conditioner can be a great choice for heating and cooling an older home with no existing ductwork, supplementing a ducted system in rooms that are not adequately heated or cooled, and for adding comfort to room additions or a converted space (such as a basement, garage or attic). From picking the placement of indoor and outdoor units to choosing a system with great efficiency and a high SEER, mini split installation can come with many different considerations. Learn the different options for your mini split install.
Can You Install A Mini Split Yourself?
While you might be tempted to tackle a DIY mini split installation yourself, we recommend that this work be done by your local Carrier expert who is trained to know how to install a mini split ductless system. A ductless air conditioning system consists of at least one outdoor unit and an indoor unit connected by refrigerant pipe and electric cable, which enter the home through a small hole in the wall. Installation by a professional installer is quick and minimally disruptive, providing you an easy and flexible way to heat and cool your home.
For example, indoor units for a ductless system are available in wall mount, ceiling mount, in-ceiling, and floor mount options. The indoor unit needs to be properly secured to an interior surface, often with a specially designed mounting bracket. An improperly installed condensate line on the indoor unit can leak condensate on interior surfaces.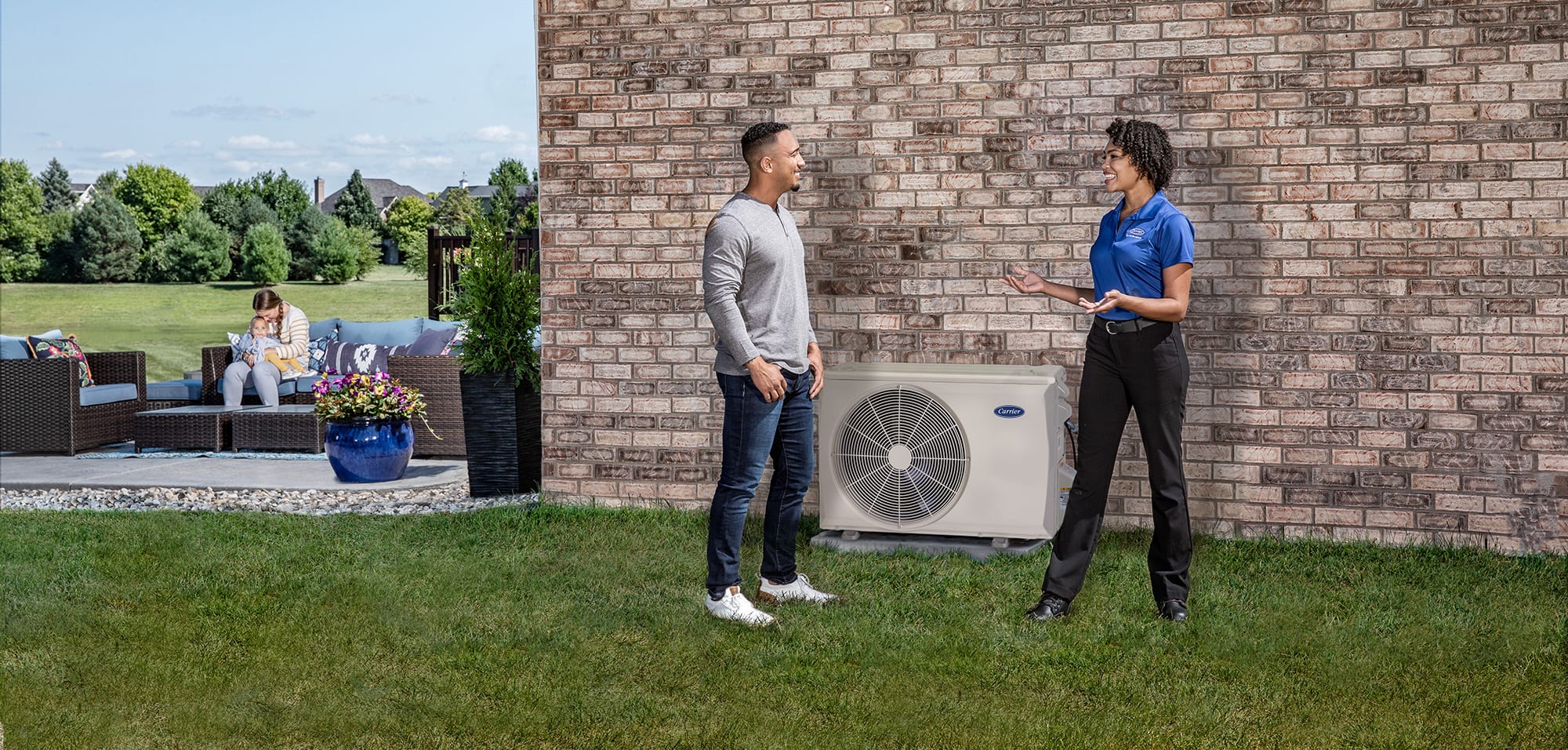 Another common misperception about ductless systems is that the indoor unit needs to be mounted on an exterior wall for venting purposes. However, this is not the case. Like ducted split systems, heat energy from indoor air is absorbed into the refrigerant which circulates through connected tubing to the outdoor condensing unit where it is released into the air outside.
Installing and connecting the refrigerant lines and charging the system to the correct pressures are critical to ensuring effective and efficient performance.
For these reasons and many more, hiring a professional is the best way to ensure the comfort – and safety – of you and your loved ones.
6 Benefits of Mini Split Installation by a Professional
While the absence of ductwork might make mini split installation seem like a great DIY project, that's far from the truth. Sure, it may be a little less complicated than installing forced air AC systems, but there are still a number of reasons why you should contact a professional to install your ductless AC or heat pump, including:
Protect your investment: Ductless mini split air conditioners and heat pumps are not cheap, and you will need additional materials such as refrigerant piping, approved wiring, refrigerant and specialized tools. You can protect your investment by also paying for professional installation.
Easy and painless process: Most DIYers know that even the simplest projects can result in unexpected circumstances that can make the job longer, and more complicated and difficult than planned. A professional installer can often foresee issues and will likely be better equipped to handle issues that come up.
Avoid the risk damaging your system: Amateur installers don't have the training or experience to ensure proper installation. Common mistakes include improperly sizing the system, overcharging or undercharging the system, making the refrigerant lines too long, and not allowing enough clearance around the units.
Risk of electric shock: Ductless installation involves running electrical wiring, including making connections with the electric service panel, installing a disconnect box and more. These tasks require great care and may cause harm to your health if not done properly.
Energy efficiency: With their ability to only heat and cool in-use rooms and their high seasonal energy efficiency ratio 2 (SEER2), mini split ACs can be an excellent way to save on your utility bills. Professional installers can give you advice on the best locations to place indoor and outdoor units to minimize energy consumption, and can also install units correctly in order to ensure your system is running as efficiently as possible.
Expert advice: There are many considerations when installing ductless mini split systems, including how many units you need to cover all the square footage in your home and the number of zones that will work best for your home. Ductless mini splits can be single-zone, meaning that each indoor unit has one corresponding outdoor unit, or multi-zone, meaning that multiple indoor units are connected to one outdoor unit. Measuring multiple rooms in your home and determining the correct number of units and zones on your own can be difficult without the help of a professional installer.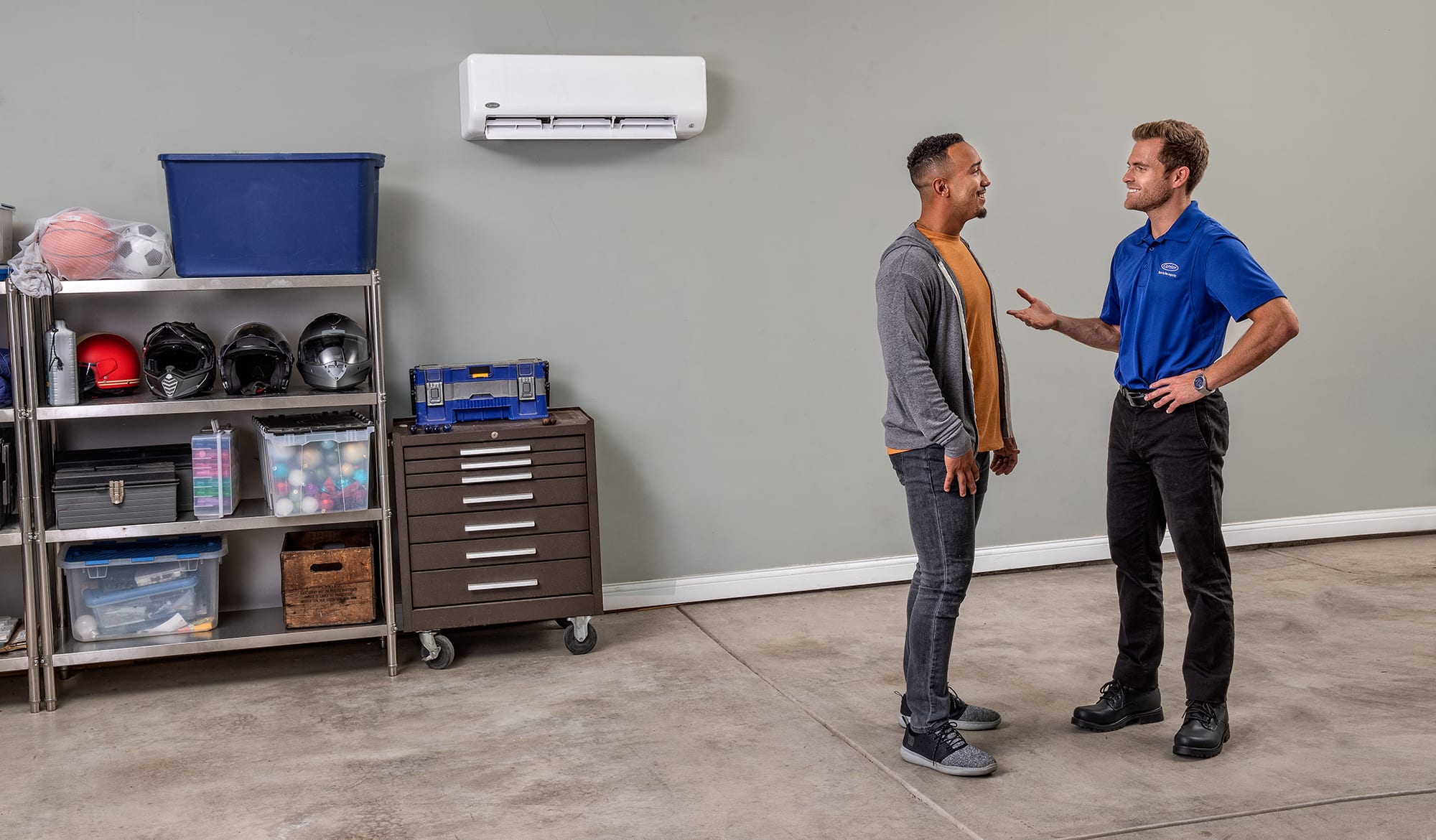 Ductless Mini Split AC Installation FAQs
Even when hiring a professional, many people have questions about ductless Mini split AC installation which may impact their decision-making when deciding whether ductless is the right answer. Here are some common questions:
How Far Can a Mini Split Be From the Condenser?
The distance between the indoor unit and the outdoor compressor in a mini split air conditioner or heat pump system can vary, based upon the manufacturer's specifications. For flexibility of placement and other reasons, some manufacturers like Carrier offer units that allow longer lineset lengths of up to 328 feet. Most average installations are likely shorter.
What Kind of Wire Do I Need for a Mini Split?
Many ductless mini split systems require a 14 AWG, 4 conductor stranded cable that not only delivers power to the system, but carries information between the indoor and outdoor units as well. The cable will often need to run through conduit per local code.
What Size Breaker Do I Need for a Mini Split?
Smaller units may only require 110 volts, but many ductless mini split systems require 220 or higher voltage on its own breaker.
How much clearance do I need for a mini split outdoor unit?
Manufacturer's recommendations vary, but your outdoor unit will need clearance for air to flow through the unit's condenser coil and out of the unit to allow for the heat transfer needed for the heating or cooling operation.
Check out this article and discover what is Ductless AC
How Much Does Professional Mini Split Installation Cost?
Home Advisor reports that the average mini split heat pump cost for a complete system is around $7,500, but the actual mini splits cost can range from $1,200 to $17,000 depending on various factors.1 These factors include the size and complexity of the installation, the number of zones, and the efficiency rating of the unit. While high-efficiency models may have a higher upfront cost, they can save homeowners money in the long run due to their increased energy efficiency compared to traditional heating and cooling systems. Additionally, labor costs play a significant role in the overall cost of installation. Since each home has unique needs, it is recommended to consult with a local Carrier expert for an in-home consultation to determine the exact cost to install a mini split heat pump system.
What Is The Average Labor Cost To Install A Mini Split?
The average labor cost to install a mini split can vary depending on factors such as the complexity of the installation, the number of indoor and outdoor units, and the experience of the HVAC technician. According to Home Advisor, the average labor cost ranges from $500 to $2,000 and for larger more complex installations labor might cost up to $5,000. It's important to note that these are just estimated costs and the actual cost can vary based on the specifics of the installation. We recommend contacting a local Carrier expert to schedule a consultation. Once they have a better understanding of your needs, they can help make recommendations in addition to providing you a exact pricing for the total installation of your mini split system.
Do You Have To Cut A Hole In The Wall For A Mini Split?
In most cases, a small hole will need to cut in the wall to install a mini split system. This is because the indoor unit of the mini split in most cases is mounted on the wall and connected to the outdoor unit through a small conduit that runs through the hole in the wall. The size of the hole will depend on the size of the conduit, which typically ranges from 2 to 3 inches in diameter.
What's A Good Seer Rating For Mini Split?
To determine a good SEER rating for your mini split heat pump, you'll need to consider your specific requirements and budget. SEER (Seasonal Energy Efficiency Ratio) is a measure of the cooling output of an air conditioner or heat pump over a typical cooling season, divided by the energy it consumed in watt-hours during that period. A higher SEER rating means a more energy-efficient unit and lower energy bills. As of January 1, 2023, the Department of Energy mandates a minimum SEER rating of 15. However, mini split heat pumps available today have SEER ratings ranging from 17 to 42. While higher SEER ratings are generally more energy-efficient, they can come at a higher cost. Therefore, it's crucial to find the right balance between efficiency and cost that suits your particular requirements and budget.
We always recommend getting a quote from a professional and working with a professional installer when setting up your new mini split system. To find a Carrier expert in your area, check out our dealer locator on our residential products website.
1https//www.homeadvisor.com/cost/heating-and-cooling/ductless-heat-pump/
Get Carrier Comfort in Your Home