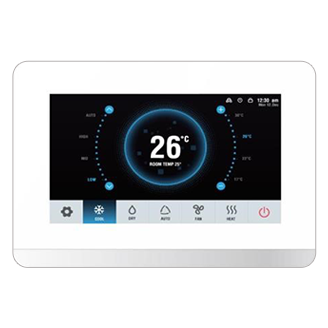 Carrier Touch Screen Wired Controller
40VM900005
Compatible with both indoor & outdoor Carrier VRF units.
Connect With a Local Expert
Overview
The Touch Screen Wired Controller is a low voltage controller mounted on the wall that maintains room temperature by controlling the Carrier VRF system operation. The controller is capable of displaying temperature from 54° F to 86° F for standard indoor unit and 50° F to 86° F for outside air unit.
Product Features
Group control (max 16 indoor units)
Dual setpoint control
Weekly scheduling
Touch screen
Mode Setting: Fan Speed, Swing
Room temperature display
Addressing capability
Error code display
1° F temperature indication
Installation Features
Interface is powered from field-supplied 24VAC power.