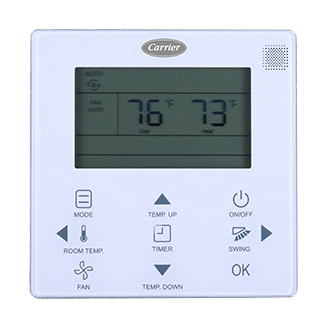 Carrier Non-Programmable Wired Remote Controller
40VM900002
Compatible with both indoor & outdoor Carrier VRF units.
Connect With a Local Expert
Overview
The Carrier VRF Wired Remote Controller (Non-Programmable) is a wall mounted thermostat that maintains room temperature by controlling system operation.
Product Features
Simple & easy to use
Mode setting
Fan speed setting
Dual setpoint control
Louver swing setting
ON / OFF
Touch button
Backlight
Group control (Max 16 IDU)
Addressing capability
Error display
Installation Features
Controller is powered from indoor unit
Warranty
5-year parts limited warranty, except refrigerant, air filters and filter driers which are not included in any part of the limited warranty.