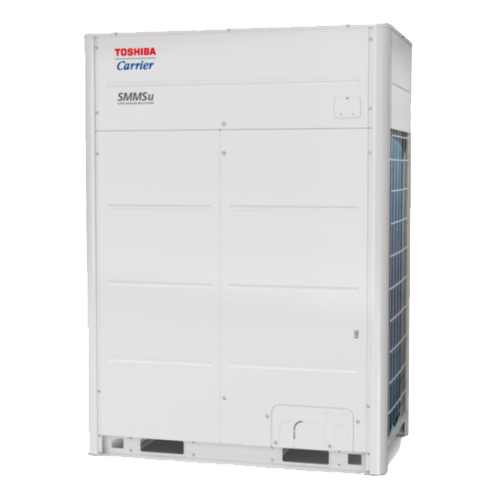 Toshiba Carrier Heat Pump
MMYH-U
The u-Series heat pump guarantees year-round comfort combined with superior energy management and full control solutions for maximized product usability.
Connect With a Local Expert
Overview
Carrier is proud to introduce the Toshiba Carrier u-Series - the next generation, three-phase, full line VRF equipment for commercial and large residential needs. The new u-Series product line offers a higher capacity and extended operating range, along with an updated communication protocol and service tool. With Toshiba's advanced global innovations, Carrier offers a highly flexible, industry leading system with efficient, quiet, and space-saving solutions for virtually any VRF application.
Product Features
Smaller footprint – allows for installations where space is limited
Configuration flexibility – allows for a diverse and expanding number of connectible indoor units
Energy-efficient priority design with new DC triple-rotary and twin-rotary compressor - the newly developed compressors offer increased capacity, better energy efficiency, and less vibration
Super-efficient heat exchanger – has an increased surface area (16 - 45%) that contributes to higher efficiency and capacity
High-static pressure propeller fan – ruggedly designed, unique core curvature supports higher volume of air flow and static pressure without increasing noise
Available in 6- 40 ton capacities
72,000 - 480,000 Btu/h
Reliability Features
Unit constructed in accordance with ETL requirements
Unit performance is in accordance with AHRI 1230 standards
DC Triple-rotary and Twin-rotary compressor
Finned tube heat exchanger
Suitable for R-410a refrigerant
Installation Features
Indoor units can be connected using Y-branch joints and branch headers
Factory-provided controls
Individual power connection for each module
Outdoor units are connected using twinning kits provided from factory
Warranty
5-year parts limited warranty, except refrigerant, air filters and filter driers which are not included in any part of the limited warranty. 7-year limited warranty on compressor only.