Five tips for moving to a new home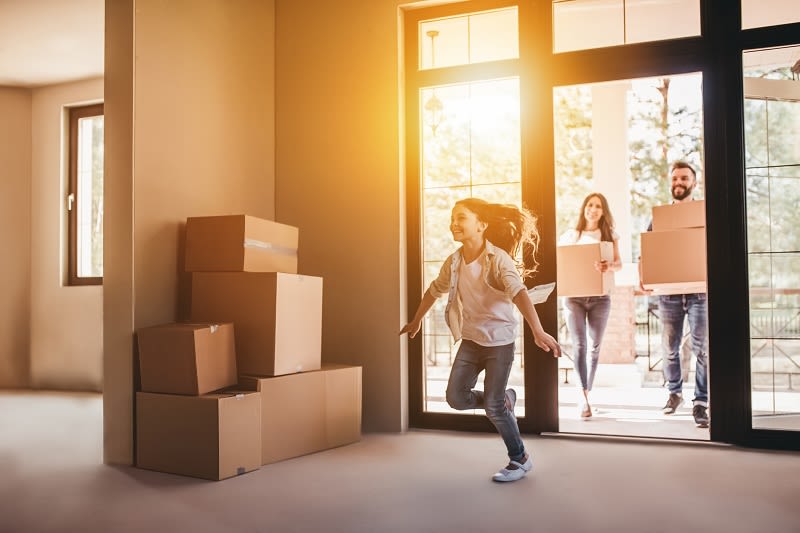 Moving to a new home? First – congratulations! This is an exciting, and maybe a little stressful, time. Second – lots of luck! Moving to a new home can test your patience. But with a little organization and planning, you can make the move easier, more comfortable and hopefully a little less stressful for everybody involved.
1. Get organized, early
Whether you are moving across the street or across the country, it's never too early to get organized.  
You'll probably have limited time, so creating weekly and daily to-do lists will help keep you on track.
If you are moving locally, renting a box truck and making multiple trips is an option. Moving across country? Start pricing out and evaluating moving companies.
Recruit your crew – if you are planning on help from friends and family, recruit and schedule them ASAP!
2. Pack with a purpose
Whether you are packing similar items together or just going room-by-room, labeling your boxes will help make both moving out of your old home and moving into your new place a little more orderly. Also:
Pack heavier items in smaller boxes.
Consider using re-usable totes, containers and even your luggage.
Pack a box of moving essentials, like cleaning supplies, trash bags, toiletry items and even a change of clothes.
3. Get connected with your local utilities
Before the move, be sure you will have your utilities transferred from the previous owner, including gas, electricity and water. Also consider whether you'll need internet, cable and land line connected for the move.
4. Make sure you're moving in comfort
Moving isn't easy, so try to make sure it's comfortable! 
If it wasn't done during the inspection, consider contacting a local Carrier HVAC contractor to check and inspect your HVAC system before you move in. 
5. Respect your movers and make a good first impression with new neighbors
Moving is hard work, so be sure to keep your movers fed and hydrated, and your neighbors informed.
Have plenty of bottled water available, especially on a hot day. 
Keep extra vehicles to a minimum, don't block neighboring driveways, and consider letting your new neighbors know when you are moving in and what vehicles to expect.
While there are any number of variations on how to do it, taking the time to plan and get organized will go a long way towards making it a smooth move. Good luck!