Five holiday dessert recipes to treat your guests with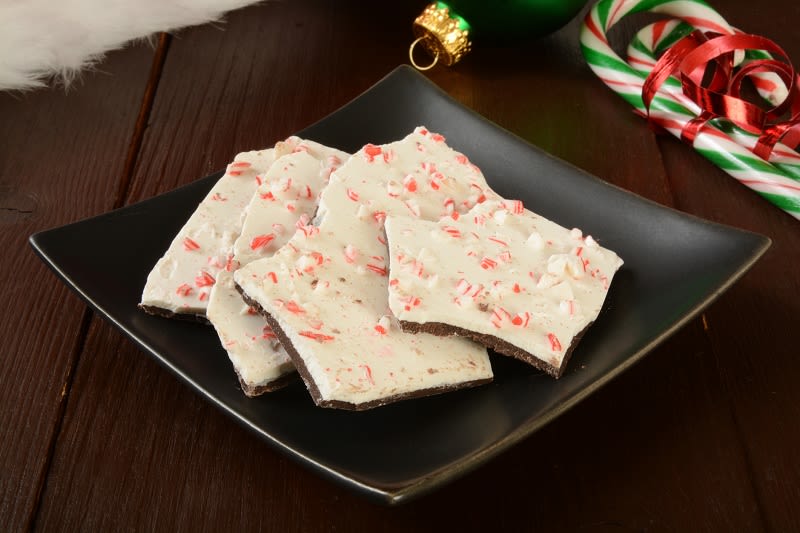 It never fails. The holidays are upon us, and after all of the plotting and planning you need one more treat to make your menu complete. Whether it's feeding friends and family or fueling a holiday TV-watching binge, forget the figgy pudding -- try one of these five holiday dessert recipes that anybody can whip up.
Coconut Joys
Ingredients: 1 stick butter (softened), 2 cups powdered sugar, 3 cups coconut, 1 tbsp milk, 1 bag chocolate kisses (any variety)
Directions:  Line a cookie sheet with waxed paper. Combine butter, powdered sugar, coconut and milk in a mixing bowl. Roll coconut mix into approximately 1-inch balls and place on lined cookie sheet. Press a chocolate kiss onto each.  Refrigerate and serve! 
Peppermint Bark
Ingredients: 16 oz package vanilla-flavored melting candy (candy melts, candy coating, almond bark, etc.), appx. 24 hard peppermint candies 
Directions: Line a cookie sheet with waxed paper. Place peppermint candies in a heavy-duty plastic bag and crush with a rolling pin. Place vanilla melting candy in an uncovered microwave-safe bowl. Heat in microwave for about 2-3 minutes, stopping often to stir. Using a wire strainer, shake the finer peppermint particles into the bowl of melting candy, then stir. Pour the melted candy onto the lined cookie sheet and spread evenly to desired thickness. Sprinkle the remaining crushed peppermint pieces evenly over the top. Let stand for about 1 hour, then break into pieces. 
Option: Make it chocolate peppermint bark using chocolate melting candy.
Graham Cracker Toffee
Ingredients: about 14 graham crackers, 1 stick butter, 1 cup brown sugar, 1 cup chopped pecans, 2 large (7 oz) chocolate bars (broken into small pieces)
Directions: Pre-heat oven to 350°. Line the bottom of a shallow, 12"x 16" cake pan with graham crackers. Melt the butter in a saucepan, then add the brown sugar. Let boil for 2-3 minutes. Add the pecans, then pour the mixture into the baking pan, over the graham crackers. Bake for 10 minutes at 350°. Remove pan from oven and immediately sprinkle the chocolate pieces over the graham crackers. Spread evenly with knife as the chocolate melts. Place into freezer until hardened. Break into pieces and enjoy!
Cream Cheese Mints
Ingredients: 8 oz softened cream cheese, 3 tbsp butter (softened), 1 tsp mint extract (or less), 7-8 cups powdered sugar, sugar sprinkles
Directions: Line a cookie sheet with waxed paper. In a mixing bowl, beat cream cheese and butter until smooth. Add mint extract, to taste. Add powdered sugar 1-2 cups at a time until dough is stiff. Cover and refrigerant for 2 hours. When dough is ready, roll into balls and place on lined cookie sheet. Lightly flatten with a fork, and decorate with sugar sprinkles. Allow to dry for 3 hours without covering. 
Option: Add holiday-themed food coloring when mixing to add a personal touch!
Peanut Butter Fudge
Ingredients: 1 cup unsalted butter, 1 cup creamy peanut butter, 3-½ cups powdered sugar, 1 tsp vanilla extract
Directions: Line an 8"x 8" cake pan with aluminum foil. Combine butter and peanut butter in a microwave-safe bowl. Microwave for 1 minute and stir mixture. Repeat until smooth & creamy. Add powdered sugar and vanilla and stir until thick. Transfer to foil-lined cake pan and press in. Refrigerate for 2-3 hours. 
Of course, while you are baking your way to sugary oblivion, be sure to keep an eye on the temperature in your home. If your heating system is struggling to keep you cozy, check your thermostat settings to be sure you are set for heat, and inspect the air filter to make sure it doesn't need to be replaced. If everything checks out, it might be time to call your local Carrier HVAC contractor now so you can enjoy a tasty – and comfortable – holiday.