Equipment for Carter Work Project Arrives in Tennessee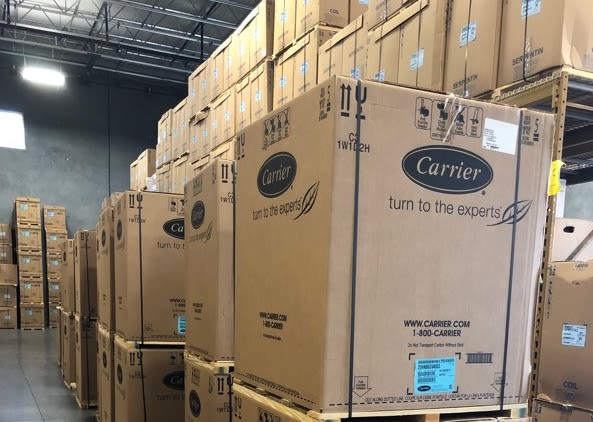 Carrier is once again participating in the Jimmy & Rosalynn Carter Work Project this fall. Each year, hundreds of volunteers and future homeowners help build a housing community alongside the former President and Mrs. Carter. This year, the Carter Work Project is being held October 6-11 and will construct 21 affordable homes in the north Nashville neighborhood of Park Preserve. 
When the Project starts on October 6, the Carrier® equipment being used for the 21-home build will have already made quite a journey to the Park Preserve neighborhood. In fact, Carrier equipment was shipped from three different facilities and has traveled a total of over 1,500 miles in order to reach Nashville. All of the equipment is in Tennessee now and awaiting installation in each of the homes this fall.
The 21 Infinity® 16 heat pumps to be used for the project were manufactured just 200 miles down Interstate 40 at the Carrier facility in Collierville, Tennessee. Infinity series products represent the pinnacle of Carrier's communicating technology. The advanced system offers some of our most advanced comfort features and energy saving innovations.
The new homeowners will enjoy enhanced energy savings when the unit is paired with the Carrier® Infinity® System Control, which traveled nearly 400 miles from Huntington, Indiana. The Infinity® System Control is easy to use and features an intuitive user interface. With wireless connectivity, occupancy sensing capabilities and built-in smarts, the Infinity System Control puts the homeowner in command of comfort and energy savings like never before.
For the indoor component of each home comfort system, Carrier is providing an Infinity® fan coil, an essential companion to an Infinity system outdoor unit. Carrier® Infinity Series fan coils complement an Infinity® heat pump or air conditioner with intelligent electronics and multi-speed capabilities that deliver premium indoor comfort and energy-saving performance. The fan coils used for this project made the 950-mile trip to the Nashville area from our Carrier warehouse in San Antonio, Texas. 
So when all is said and done, homeowners will have Carrier equipment that has traveled from three different facilities, for a total of more than 1,500 miles, in their new home. Until event week, the equipment is being housed at a storage facility at Carrier Enterprise, a Nashville-area Carrier distributor.  
Our friends at American Heating & Cooling will donate their time and expertise for this project as they are installing each of the home comfort systems. In fact, they have already begun the prep work on the 21 homes and have been hard at work roughing out the first few lots. 
It's been terrific to work with Carrier Enterprise and American Heating & Cooling, and we're looking forward to providing Carrier home comfort to each of these brand-new homeowners.