Enjoy the Fourth of July with these tips for fun and safety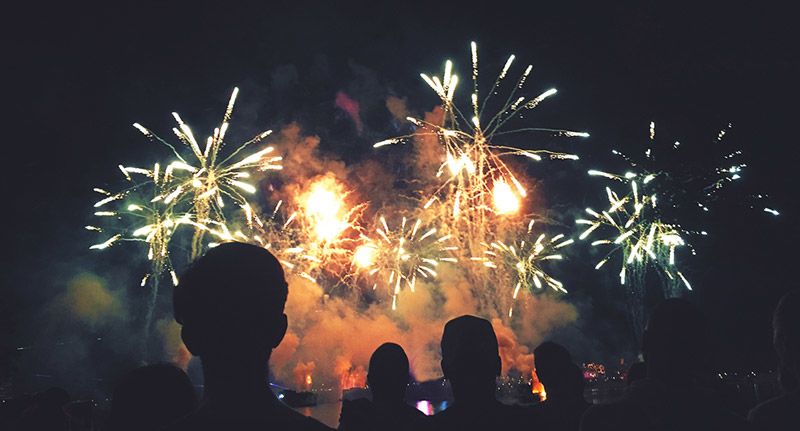 Summer is here, and before you know it, we'll be celebrating our nation's birthday. And whether your Fourth of July plans include firing up the grill or launching a few fireworks, a small amount of preparation can pay big dividends for making the most of your celebration.
Grilling & Chilling
Throwing a backyard barbecue isn't just a Fourth of July tradition – it's downright patriotic. But it doesn't have to be elaborate to be awesome. Keeping it simple could be the key to making sure you AND your guests have a great time. 
Before you barbecue...
If you use a propane gas grill, be sure you have plenty of fuel in the tank. 
Go easy on the seasoning whether you brine, marinate or dry rub – then, serve a variety of flavor-enhancing sauces on the side.
Have a meat thermometer handy -- recommended internal temperatures for grilled meats are 145° F for whole cuts of beef, pork, lamb, veal and fish; 160° F for hamburgers / ground beef; and 165° F for poultry & hot dogs (be sure to follow any "rest time" periods for your food.
And, meat isn't the only food that likes a good grilling! Grilled corn on the cob makes an excellent addition to your menu. Don't forget the vegetarians! 
Liven up Your Lemonade
Sure, you can toss a variety of canned or bottled beverages in a cooler and be done. Or, make it more festive by adding a new twist to an old summer staple -- lemonade.
Basic – Prepare a pitcher of lemonade mix, either frozen or powdered. Add fresh sliced lemons and sugar to taste – pretty soon it will taste like fresh-squeezed!
Minty fresh – Start with the basic lemonade recipe above. Add fresh mint leaves. For an extra twist, replace about 1/3 of the water with soda water or lemon-flavored sparkling water.
Cherry lemonade – Start with basic lemonade, add juice from a jar of maraschino to taste. Add lemon slices and maraschino cherries.
Fireworks Fun & Safety
No Fourth of July is complete without the fireworks, but your safest bet is leaving the pyrotechnics to the experts! Pack up a few lawn chairs and/or an old blanket, then go enjoy your local public fireworks display with friends or neighbors. But if launching a few fireworks of your own is on the agenda, be sure to follow some basic safety guidelines, available on the U.S. Consumer Products Safety Commission website.
Here are some fireworks safety highlights:
Always provide adult supervision and never allow young children to handle or ignite fireworks.
Be sure to have a bucket of water or garden hose handy.
Never attempt to re-light or pick up fireworks that did not fully ignite.
Douse used fireworks with water before discarding.
Have a cool plan "B"
Let's face it, July 4th comes around during one of the hottest months of the year.  And you never know when a pop-up storm is going to steal your holiday thunder. If your plan "B" involves retreating to the comfort of your home, be sure your central air conditioning system is ready to deliver. Contact your local Carrier HVAC contractor for an inspection of your system, especially if you skipped your spring clean and check. Then try one of those sweet lemonade recipes, and start counting the days for the best July 4th ever!