error This product is no longer in production and may only be available in limited quantities. Contact your dealer for further details.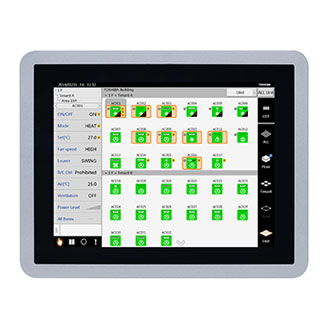 Toshiba Carrier Touch Screen Central Controller
BMS-CT5120UL
Compatible with Toshiba Carrier VRF systems
Connect With a Local Expert
Overview
The Touch Screen Central Controller is a line voltage controller mounted on the wall with a touch screen LCD display panel. This controller enables the customer to control and monitor the operation of the VRF System.
Product Features
Grouping based on floor, unit, area, tenant and level
Operating Mode, Turning ON/OFF
Enable or disable local remote control
Master scheduler: weekly, 5 special days, monthly
Display alarm + provide history for alarms
Web browser monitoring and control (for intranet PC)
Up to 2 concurrent users can be connected
Additional digital I/O device available
Maximum of 512 indoor units per Touch Screen Controller
Selectable display language - English/French/Spanish