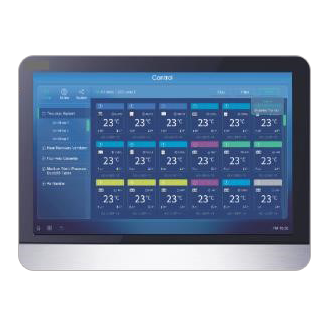 Carrier Touch Screen Central Controller
40VM900006
The 40VM900006 is compatible with both indoor & outdoor Carrier VRF units.
Connect With a Local Expert
Overview
The Touch Screen Central Controller is a low voltage controller mounted on the wall that provides site-level control of multiple Carrier VRF systems. The controller allows central management of mode, set-point and scheduling of indoor units.
Product Features
Three levels of account management, up to 20 users
Remote access to the system
Alarm notification via email
Dual setpoint control
Weekly scheduling
Settings: Mode, Fan Speed, Swing, Temperature Range and Dual Set Point Control
Digital input and digital output
Controls up to 384 indoor units
Recognize units automatically
Error code display


Installation Features
Interface is powered from field-supplied 24VAC power.