error This product is no longer in production and may only be available in limited quantities. Contact your dealer for further details.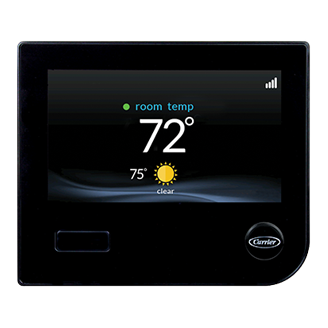 Infinity® System Control (Black)
SYSTXCCITC01-B
Designed exclusively for our Infinity system products for advanced comfort control and energy management.
Connect With a Local Expert
Overview
The Infinity® system control is designed for homeowners who understand the value of precision comfort and an easy to use, intuitive user interface. With wireless connectivity, occupancy sensing capabilities and built-in smarts, the Infinity system control puts you in command of comfort and energy savings like never before.
As part of a complete, communicating Infinity® system, this smart control takes full advantage of the best technology Carrier has to offer, including Greenspeed® technology and Hybrid Heat® system management. Taking your comfort well beyond temperature control, the Infinity System Control can manage humidity levels, airflow, ventilation, indoor air quality and up to 8 zones, from wherever you are, with a connected smartphone or tablet. It's also compatible with Amazon™ Alexa™.
Energy-conscious homeowners will especially appreciate the energy tracking and reporting, as well as the occupancy sensing ability that can automatically set the system back to maximize savings when you are away.
Simple, powerful and convenient, the Infinity System Control takes your comfort to the next level.
Wi-Fi® is a registered trademark of the Wi-Fi® Alliance Corporation.
Amazon, Alexa and all related logos are trademarks of Amazon.com, Inc. or its affiliates.