HVAC Education, Heat Pumps
Carrier Participates in Habitat for Humanity® Carter Work Project
Carrier has a rich legacy of volunteerism and philanthropy and its employees worldwide support organizations like Habitat for Humanity, on both the local and national levels. For decades, Carrier employees have helped build Habitat houses and Carrier home comfort systems have been installed in Habitat homes from coast to coast.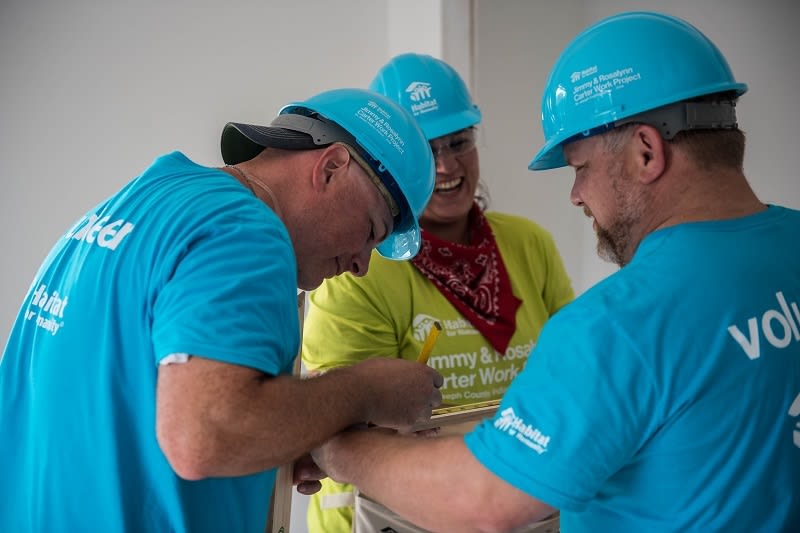 Building on that legacy of support for Habitat for Humanity, Carrier participated in the Jimmy & Rosalynn Carter Work Project for the second time in 2019. Each year, hundreds of volunteers and future homeowners help build a housing community alongside the former President and Mrs. Carter. In 2019, the Carter Work Project was held October 6-11 and constructed 21 affordable homes in the north Nashville neighborhood of Park Preserve. 
To support the project, Carrier donated 21 Infinity® 16 heat pump systems – one for each Carter Work Project Home – so each home will have dependable and energy-efficient cooling and heating. The system was paired with an Infinity® control, offering homeowners the ability to control humidification, dehumidification, airflow, ventilation, indoor air quality and up to eight separate comfort zones through intelligent user interface.
Carrier supported the Carter Work Project for the first time in 2018, when it provided heating and cooling systems for a neighborhood that was constructed in St. Joseph County, Indiana. For the first time, four of those homes achieved the classification of net zero energy using Infinity heat pumps with Greenspeed® Intelligence, as well as Infinity® geothermal and ductless systems. This means they produce as much renewable energy as they consume over the course of a year. Carrier also donated a mix of Infinity® geothermal, ductless system and ducted split systems.  
In addition, Carrier, whose residential headquarters is located in Indianapolis, has been supporting the Greater Indy Habitat for Humanity with equipment donations since 1995.  And, local employees have built one home a year since 1998. In fact, Carrier has built more Habitat homes in Indianapolis than any other sponsor and has donated approximately 576 systems to the Indy Chapter during this nearly 25-year relationship. Carrier is the exclusive HVAC supplier for Greater Indy Habitat homes.
Get Carrier Comfort in Your Home