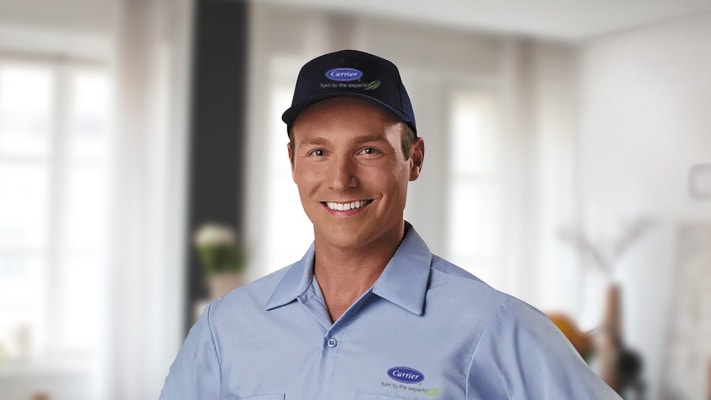 Not only is your Côr
®
 thermostat installed by a trained Carrier
®
 expert, but service is made simple with automatic alerts. When you opt in, your thermostat will let your Carrier dealer know if your system needs attention. Registered Côr
®
 thermostat products are also backed by a five-year limited warranty
[1]
, so you can rest easy knowing that your thermostat is supported by Carrier experts.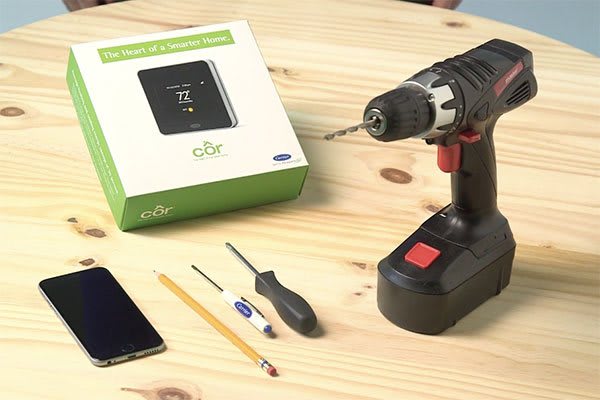 Installation Step 1
Compatibility and removing your old thermostat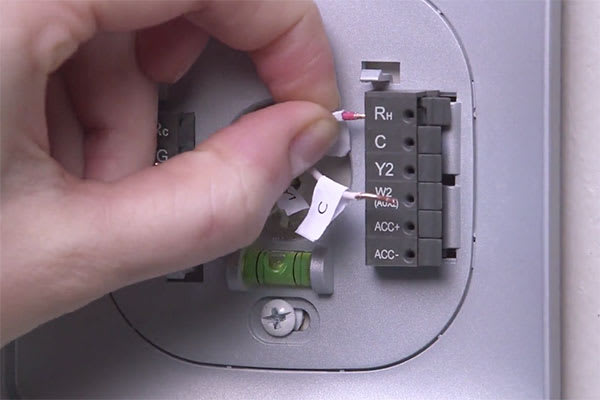 Installation Step 2
Installing your Côr® thermostat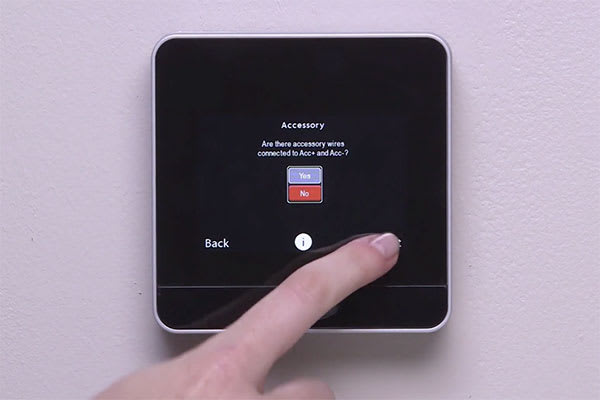 Installation Step 3
Guided setup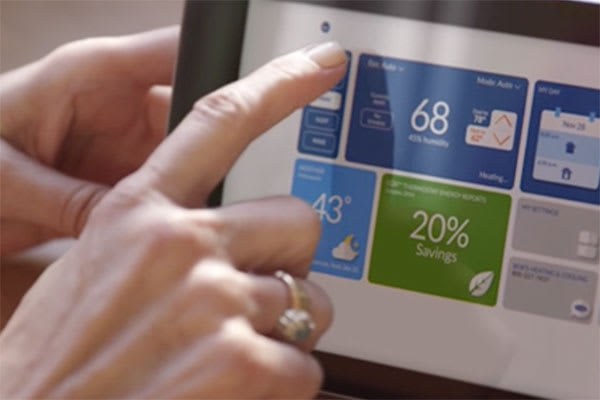 Simplicity at Your Fingertips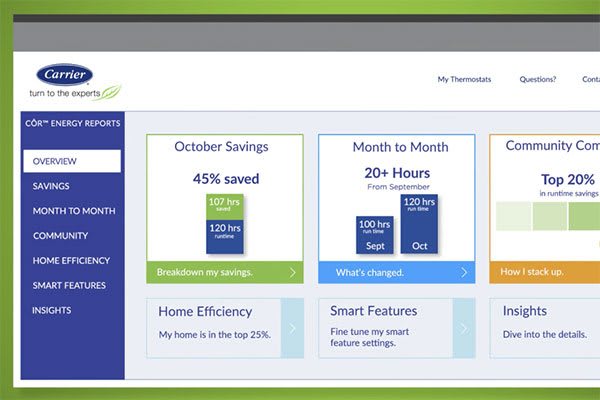 The Heart of a Smarter Home
Find Out If the Côr® Thermostat Is a 
Fit for Your System.
This versatile thermostat is readily compatible with most home comfort system types and brands to allow you to upgrade to convenient remote-access control and energy-saving intelligence. With its easy-to-use online interface or mobile app, you can control your comfort settings, set or change your schedule, view energy reports and tips and adjust temperatures or utilize the the Touch-N-Go® feature to change settings with a single button.
Contact a Côr Dealer
Frequently Asked Questions
Is the Carrier® Côr ™ thermostat compatible with my heating / cooling system?
The Côr thermostat was designed to be compatible with most heating and cooling systems regardless of brand. The Côr thermostat supports up to 2 stages of heating and cooling for conventional systems with 2 additional stages of auxiliary heating for heat pump systems. For specifics on your system's compatibility, contact your local Carrier dealer or check out our online compatibility checker.
How do I connect my thermostat to the Internet?
The thermostat connects to the Internet using your existing Wi-Fi® router. To set up a connection, simply navigate to the Wi-Fi menu (Main Menu > Settings > Wi-Fi > Setup a Wi-Fi connection) and follow the steps to setup your Wi-Fi connection. For advanced configuration you can manually configure your network by selecting "Manually configure Wi-Fi" from the Select Wi-Fi Network screen.
How do I register my thermostat for remote access?
Once your thermostat is connected to the Internet you can register it by going to http://www.carrier.com/myhome. Simply select the "Register" button next to the image of your thermostat to start the registration process. During the registration process you will be asked for a 4-digit registration code, which can be found on the thermostat by pressing "Register thermostat" (Main Menu > Settings > Register Thermostat) from the Settings menu. For warranty registration visit our warranty registration page.
Why does the system need my home address?
Outdoor weather conditions have a significant impact on your home's energy usage. The Carrier Côr thermostat uses your home's address to gather local weather data from the Internet so it can make smart, energy-saving decisions when managing your heating & cooling system. Without this local weather data, many of the thermostat's smart features will be deactivated.
What if I don't have a Wi-Fi router?
Without a Wi-Fi connection to the Internet you can still use the Côr thermostat to control your equipment, however many of Côr thermostat's algorithms and smart features will be disabled. Your Carrier dealer can offer installation of an optional Wi-Fi router for your system.
How do I access my thermostat remotely?
Remote access is available through the Carrier Côr thermostat mobile application or the My Home web portal when your thermostat is registered and connected to the Internet.
Where can I login to the web portal?
Login and registration can be done at http://www.carrier.com/myhome.
Where can I download the mobile application?
The Carrier Côr thermostat app is available for iPhone and Android devices. You can download the mobile app for free from the iTunes App Store and Google Play Market.
What can I do with my app?
The mobile app is like having your Côr thermostat in your pocket. It gives you total control of your Côr thermostat all from your mobile phone – turn your system on / off, change your temperature, setup or adjust your schedule, schedule a vacation, & view the weather.
What can I do from the web portal?
The web portal gives you access to nearly everything you have access to on the thermostat with the exception of installation settings (for safety reasons we do not allow users to change installation settings remotely).
Can I manage more than one thermostat from my account?
Yes. You can add additional thermostats at any time using the mobile app or the web portal. On the mobile app press your thermostat's name (My home is the default) in the top center of the main screen and select "Register new". On the web portal press the Menu Icon in the upper right corner and select "Add thermostat".
How do I manage several thermostats?
You can manage your thermostats individually or create groups of thermostats to manage them together. Groups allow you to apply changes to multiple thermostats just as you would an individual thermostat. You can also customize what settings are shared across the group such as sharing schedule, preferences, or addresses.
How do I get the most energy savings out of my thermostat?
The Côr thermostat is designed to optimize standard heating and cooling systems based on your schedule, unique characteristics of your home, and your current weather conditions. The first step in getting the most from your Côr thermostat is getting it working for you by:
Registering your thermostat: The Côr thermostat relies on the Internet to get critical information such as the local weather it needs in order to run many of its advanced algorithms. Register your thermostat http://www.carrier.com/myhome.
Setting your schedule: Set up your typical schedule and desired comfort settings for key activities such as when you are home or away. Once your schedule is set, advanced features like Smart Setback can help you save without lifting a finger or sacrificing comfort. While those two simple steps will take you a long way, the savings don't have to stop there. To take your savings to the next level, continue with these simple steps:
Make informed decisions: The Côr Energy Reports within the web portal provide you with personalized savings tips, informative comparisons, and even detail energy usage data to help you make informed decisions about managing your home comfort and energy usage.
Proactively manage your energy use: When you're not following your typical schedule adjust your temperature accordingly using the Touch•N•Go® feature or by setting a vacation schedule.
Use your mobile app or web portal: The app is your pocket-sized thermostat, making it easy to adjust anytime, anywhere! The Touch•N•Go buttons make it easy to manage your savings while on the go.
What is the Touch•N•Go feature?
The Touch•N•Go feature allows you to quickly change between your standard comfort profiles.
Can I change my temperature temporarily?
You can temporarily override your schedule by using the Touch•N•Go feature or by manually changing set points. The Touch•N•Go feature gives you a simple, quick way to change between your pre-programmed comfort settings ideal for those on-the-go changes. To change the temperature settings manually simply click on the Heat To or Cool To button and then use the up / down arrow to adjust the temperature set point.
By default changes made manually or with the Touch•N•Go feature will be held until your next scheduled activity change. When time arrives for the next scheduled activity the thermostat will return to its normal schedule. You can override this default by clicking the "Hold Until" button below the Touch•N•Go profile or you can change this default Hold Time setting permanently on the thermostat (Main Menu > Settings > Preferences > Default Touch•N•Go hold time) or on the web portal (Settings Tab > Preferences Tile > Hold Action).
What are Comfort Profiles?
Comfort Profiles define key comfort settings like temperature set points and are used in the scheduling process to make managing your comfort easier. The thermostat comes pre-programmed with four default Comfort Profiles – Home, Away, Sleep, and Wake. You can also add up to six custom Comfort Profiles.
How do I set my weekly schedule?
The Carrier Côr thermostat comes pre-programmed with a schedule design to meet a typical 9 to 5 schedule. The easiest way to modify this default schedule is through the guided scheduling feature on either your thermostat or mobile app (Main Menu > Schedules > Guided Schedule) or through the web portal (Schedule Tile > Guided Schedule Button). For more extensive customization the easiest way to modify your schedule is through the web portal's scheduling tile.
How do I change my temperature settings for the Comfort Profiles?
As with the schedule, the easiest method is to make changes to your Comfort Profile settings through the guided scheduling feature. Alternatively, you can modify comfort profile settings or create custom profiles from the thermostat and mobile app in the profiles menu (Main Menu > Profiles > Temperature Profiles) or from the web portal within the scheduling tile in the "Edit Comfort Settings" section on the right hand side.
Can I have alerts and reminders sent to my email?
Yes. By default alerts and reminders will be displayed on your thermostat and an email will be sent to you. Disabling email notifications can be done on the web portal in the Reminders & Alerts tile (Reminders & Alerts > Preferences > Email alerts).
How can I contact Carrier Customer Support?
You can contact Carrier Customer Support by calling 1–800–227–7437 or by submitting a request online.
If registered within 90 days of installation. Thermostats not timely registered will receive a 3-year limited warranty. See warranty certificate for further information and restrictions.  ↩