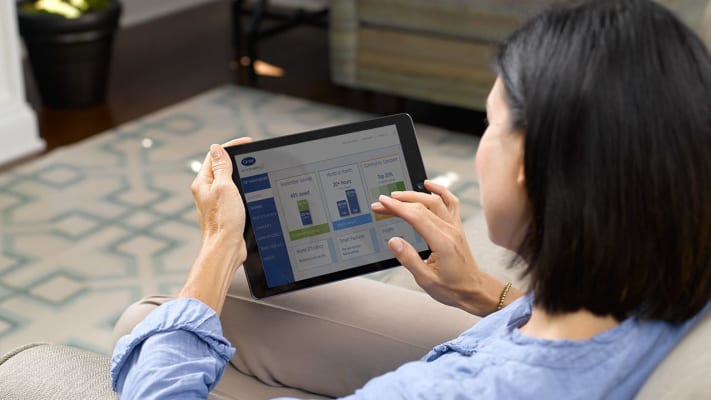 The Côr® Thermostat Knows 
Your Home Better Than You Do.
The Côr® thermostat monitors your energy usage patterns and turns them into simple, actionable energy reports. Available on your desktop or tablet, these reports offer multiple levels of pinpointed data about your home's energy performance. Whether you want a high-level overview or minute-by-minute data, the Côr® thermostat offers the right energy report to help you make smarter decisions about how you control your home's comfort.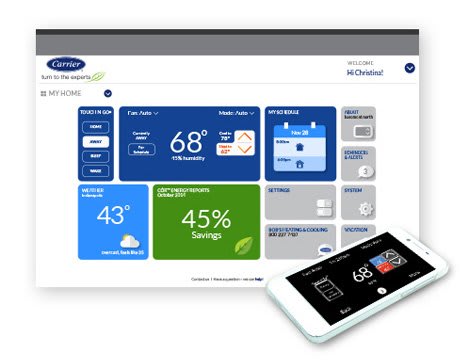 Welcome to Your Personal Web Portal
From here, you can control your comfort as you would on the wall or via your smartphone. Change the temperature manually or use the Touch-N-Go® feature to make temporary adjustments with a click or a tap of the finger. You can also glance at the current weather, view your monthly savings and get easy access to your expert Carrier® contractor's contact information along with shortcuts to other helpful features. To further understand your monthly savings, just click or tap on the Côr® Energy Report tile.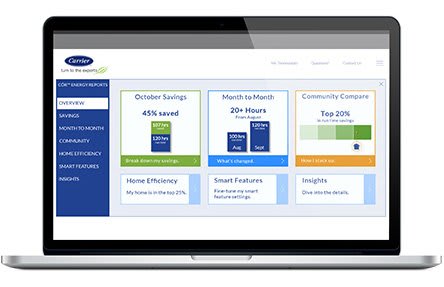 Energy Report Overview
Here you'll find an expanded overview of your system's monthly performance, including overall savings, a comparison to the prior month and a ranking versus other Côr® thermostat users in your community. Click or touch each section to delve a level deeper.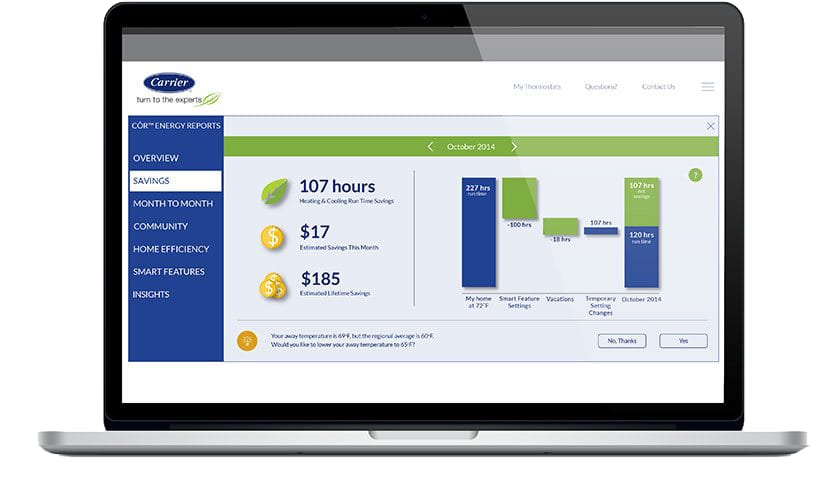 Savings
Energy reports from the Côr® thermostat – available on your desktop or tablet – offer pinpointed data about your system's performance, allowing you to make smarter decisions about how you control your home's comfort.
Month-to-Month Comparison
The only thing constant is change. Understand what's changed from the prior month to cause your system to use more or less energy. Was it warmer this month? Or did your manual temperature adjustments help you save? You'll see an explanation of the key factors with the largest impacts on your system's performance.
Community Comparison
See how you stack up to similar Côr® thermostat users in your state. For the competitive at heart, see if you're more efficient than your neighbors. Or, if you're like most homeowners, your home temperature settings are probably not a frequent topic of conversation. But understanding how your settings compare to other homeowners can help you make decisions to improve your efficiency.
Home Efficiency Report
The Côr® thermostat learns the characteristics of your home to build a model of how well it gains and loses thermal energy. Get an overview of your home's efficiency and compare it to other Côr® thermostat users in your state.
Smart Features
Choose which smart features you want the Côr<sup>®</sup> thermostat to use to help keep you comfortable and take the guesswork out of saving money on your heating and cooling energy costs.
Ideal Away™
intelligently adapts around your schedule for greater efficiency while keeping you comfortable.
Cool to Dehumidify
reduces "cold but clammy" conditions in your home by working with your air conditioner or heat pump to remove moisture from the air.
Air Circulation
is great for mild weather, maintaining airflow in your home even when heating or cooling isn't needed.
Window Protect
creates comfortable humidity levels in the home while preventing condensation from forming on windows when the Côr® thermostat is partnered with a whole home humidifier.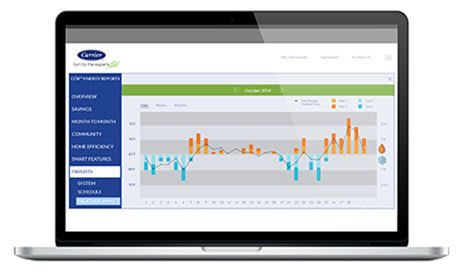 Insights
If you want an in-depth understanding of your system's performance, this last level of energy reports provides detailed, minute-by-minute data from the time the Côr® thermostat was installed. Individual reports are dedicated to helping you understand how your system is performing based on your schedule, temperature settings, time of day and outdoor temperature.