Spring clean your home with indoor plants
Spring cleaning, it's a ritual that plays out in millions of homes as the days get longer, the air gets warmer and the flowers start blooming. After all, who doesn't love the look, feel and fragrance of a freshly tidied, cleaned and polished home? Ironically, for many, freshening up their homes includes an all-out, tactical assault on dusty, dirty surfaces using a toxic arsenal of harsh chemicals. If spring is in the air and you are in the mood, spruce up your home. There are a number of kinder, gentler solutions for getting the job done.

And whether you prefer to do-it-yourself or if you're more into store-bought solutions, there are a number of ways to take a more natural approach to this common rite of spring.
The Do-it-Yourself Approach
If you are starting down the path to natural cleaning solutions, be prepared for a little trial and error. A quick web search for natural cleaning products will provide a number of recipes for cleaning virtually anything. Many of these recipes use ingredients that are often inexpensive, and some that may already be found in your home, including:
Distilled white vinegar – grease cutter, freshener
Baking soda – cleaner, deodorizer, scrubbing agent
Borax – cleaner, deodorizer, disinfectant
Lemon juice – grease cutter, freshener
Washing soda (sodium carbonate) – stain remover, grease cutter, disinfectant
To get you started down the path to a more natural cleaning routine, here are a few simple, tried-and-true household cleaners you can make yourself courtesy of Ecocycle.
Basic Glass Cleaner
2 teaspoons vinegar
1 quart warm water
Mix together in a clean spray bottle. Wipe dry with a clean coffee filter or newspaper to avoid streaking.
General Household Cleaner
1 teaspoon castile soap (peppermint)
1 teaspoon borax
1 squeeze of lemon (or a few drops of lemon juice)
1 quart of warm water
Mix together in a clean spray bottle. For scouring, use a little baking soda and a scouring pad.
Drain Cleaner
Boiling water
¼ cup baking soda
½ cup distilled white vinegar
Start by pouring 3 – 4 cups boiling water down the clogged drain. Sprinkle ¼ cup baking soda into drain. Pour ½ cup vinegar down the drain (optional: add the vinegar to 2 cups hot or boiling water) and let sit for 10-15 minutes. Follow up with 1 – 2 quarts boiling water. Repeat if necessary.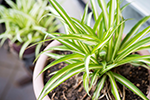 ability to control ozone in a controlled environment. The snake plant (
Sansevieria trifasciata
), spider plant (
Chlorophytum comosum
), and golden pothos (
Epipremnum aureum
) all showed varying effectiveness in reducing ozone concentration. And, they all add a pleasing aesthetic to any home!
The Store-Bought Solution
If going to your local retailer and loading up on cleaning supplies is more your style, you can still take a kinder, gentler approach to spring cleaning. The Environmental Protection Agency's Safer Choice program helps you identify products that are safer for you, your family and the environment. Look for the Safer Choice label on more than 2000 products that include safer chemical ingredients without skimping on quality and effectiveness.

Once you've chosen your path, and stocked up on your supplies, it's time to roll up your sleeves and start scrubbing. That home isn't going to clean itself! And don't forget to turn to your local Carrier HVAC contractor for your spring heating and cooling needs.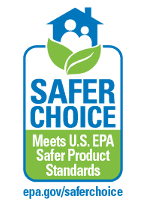 Logo is a trademark of the Environmental Protection Agency.