Dress Your Home for Success with Five DIY Summer Projects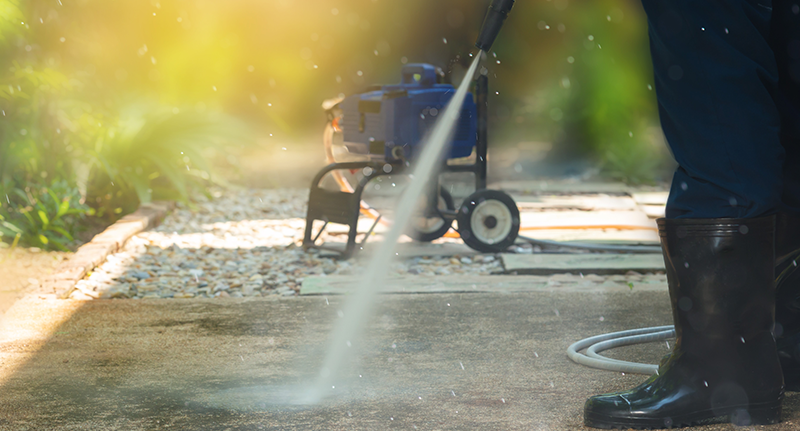 It's time to get busy and tackle those outdoor home projects. These five projects can go a long way towards making your home a little more inviting for your guests while adding to its overall curb-appeal.
1. Power wash the driveway, walks and deck
Years of weather, car traffic, foot traffic, fertilizer and more can take their toll on exterior surfaces. Sure, you could spend a few days scrubbing away with expensive deck and driveway wash chemicals and a lot of manual labor. Better yet, rent or buy a decent quality power washer. A gas or electric power washer connected to your garden hose will not only make the job easier, it can make your driveways, walks and deck look as good as new, no chemicals required.
2. Caulk around windows & doors
Caulking your home is an easy way to help keep Mother Nature out, protect your home's exterior against water damage and save energy by sealing in heated or cooled air. And, the mild temperatures and sunny days of late spring or early summer are the ideal time to do it. Start by selecting a good quality caulk, make sure you have a ladder that's in good condition and have a wet rag handy to clean up any mistakes. Be sure to read the directions on the caulk for how and when to apply, and keep in mind that some caulk will require mineral spirits to clean up if you over-apply.
3. Enhance or add exterior lighting
Upgrading or enhancing exterior lighting is a simple and inexpensive way to upgrade your home's appearance after dark while potentially providing a little extra security, too.
Start by replacing existing fixtures such as porch lights, coach lights or yard lights with updated versions. Lightsensing or motion-detecting models to add either convenience or security.
Add accent lighting such as solar-powered pathway lighting, or "uplighting" with selectively placed flood lights pointing up from the ground.
Lighting landscape features such as trees can add a dramatic effect as well.
Many of these projects can be done simply and inexpensively using fixtures available at your local big-box retailer and without having additional wiring installed.
4. Spruce up your entry
Sprucing up your front entry not only makes your home more inviting to visiting family and friends, it can enhance the overall visual appeal of your property. Some simple, yet effective options for upping your entry's game include:
Paint your front door. Adding a fresh coat of high-quality paint to an existing door is an inexpensive upgrade that can make a bold statement, depending upon the color you choose.
Dress it up with container plants and/or flowers. Be sure to keep them properly watered and maintained for the best effect
If your entry includes a porch, be sure any seating, tables or decorations are in good repair. Freshen up your look from time-to-time with updated items, including a new welcome mat
5. Give your landscaping a lift
Older, overgrown shrubs can really age a home, so either give them a good trimming or better yet, remove and replace with new. Clean up flower or mulch beds by blowing or raking out leaves and other debris left over from winter. Pull weeds and put down fresh mulch or other decorate ground cover. Add a few potted flowers or plants for a different look.
Doing just a few of these projects will help; doing all five might make you the envy of the neighborhood. And don't forget to schedule an appointment with your local Carrier HVAC contractor to get your air conditioning system ready for the hottest days of the year.