Carrier proud main sponsor of Clima 2022

---
COMMITTED TO WHAT MATTERS
Climate change is among the most significant issues facing humanity. HVAC contributes an estimated 15% of the world's greenhouse gas emissions. Carrier recognizes the potential for smart, sustainable innovation, and is committed to setting science-based emissions targets aligned with the goals of the Paris agreement. This is why Carrier is proud to be the main sponsor of CLIMA 2022, REHVA's World Congress, on 22-25 May 2022.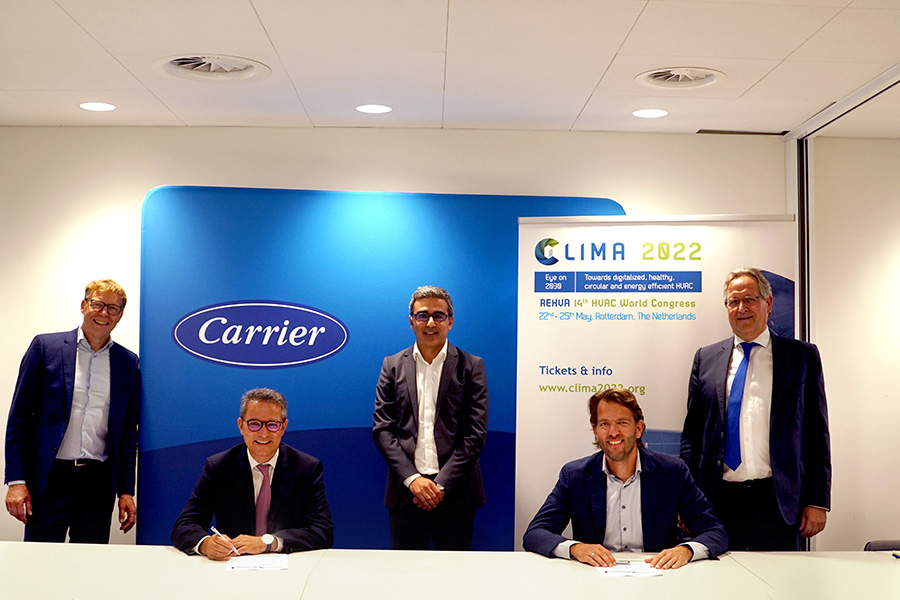 Signing moment sponsor contract, 12 July 2021. In the photo from left to right: John Lens (Managing Director TVVL), Didier Genois (Vice President & General Manager, Carrier HVAC Europe), Tony Jabbour (Applied Sales, Marketing and Communication Director Carrier Europe), Olaf Oosting (Board member TVVL) and Dick van Giezen (Director Sales New Equipment Carrier Benelux)
We believe knowledge has value if we share it with each other
This edition of the congress comes at a very crucial moment for our HVAC world. At Carrier, innovation has always been one of our core values. Our research & design centers provide our customers with the highest-performing, most efficient products and services. We actively share our expertise to promote environmental stewardship.
We look forward to share expertise with the brightest HVAC minds at CLIMA 2022.