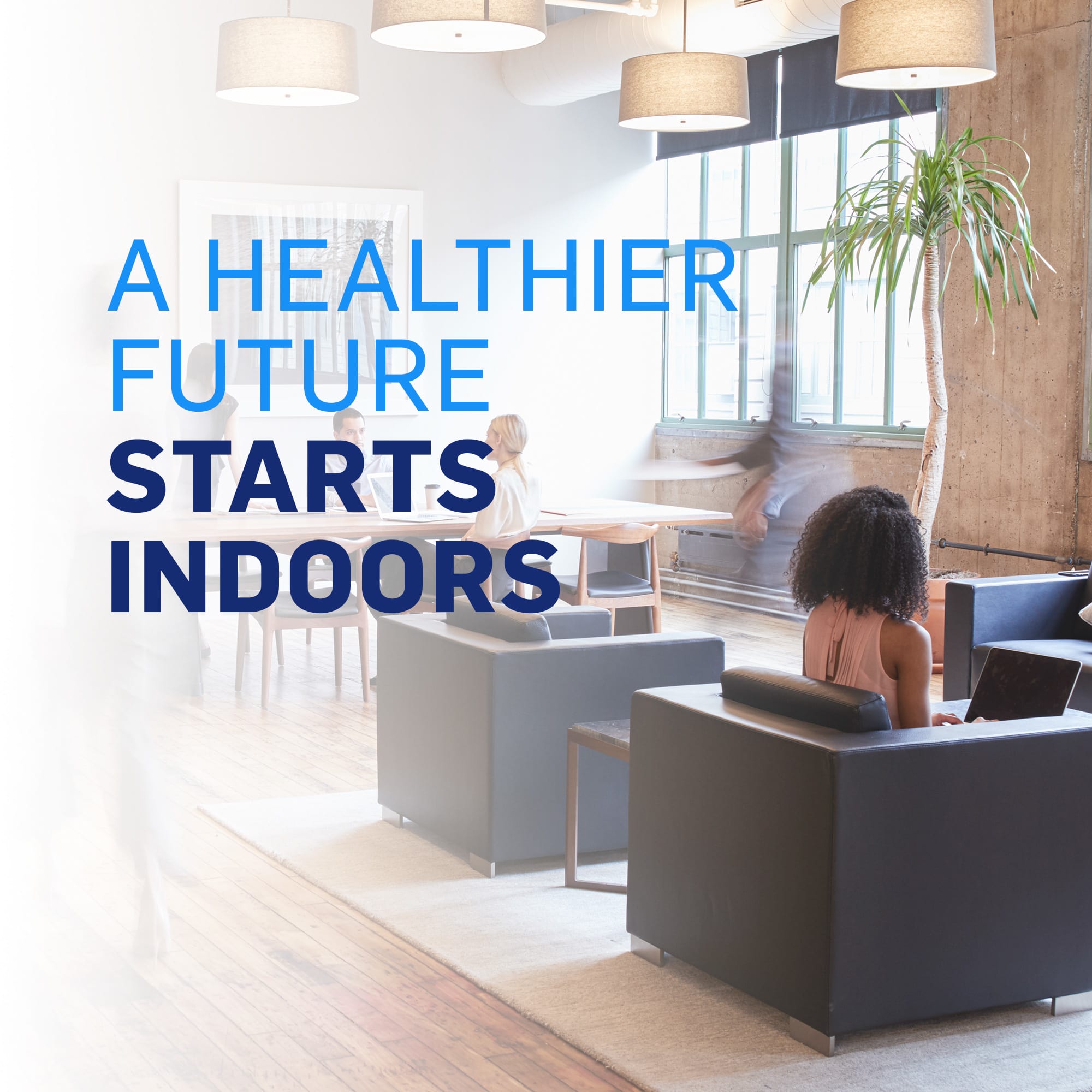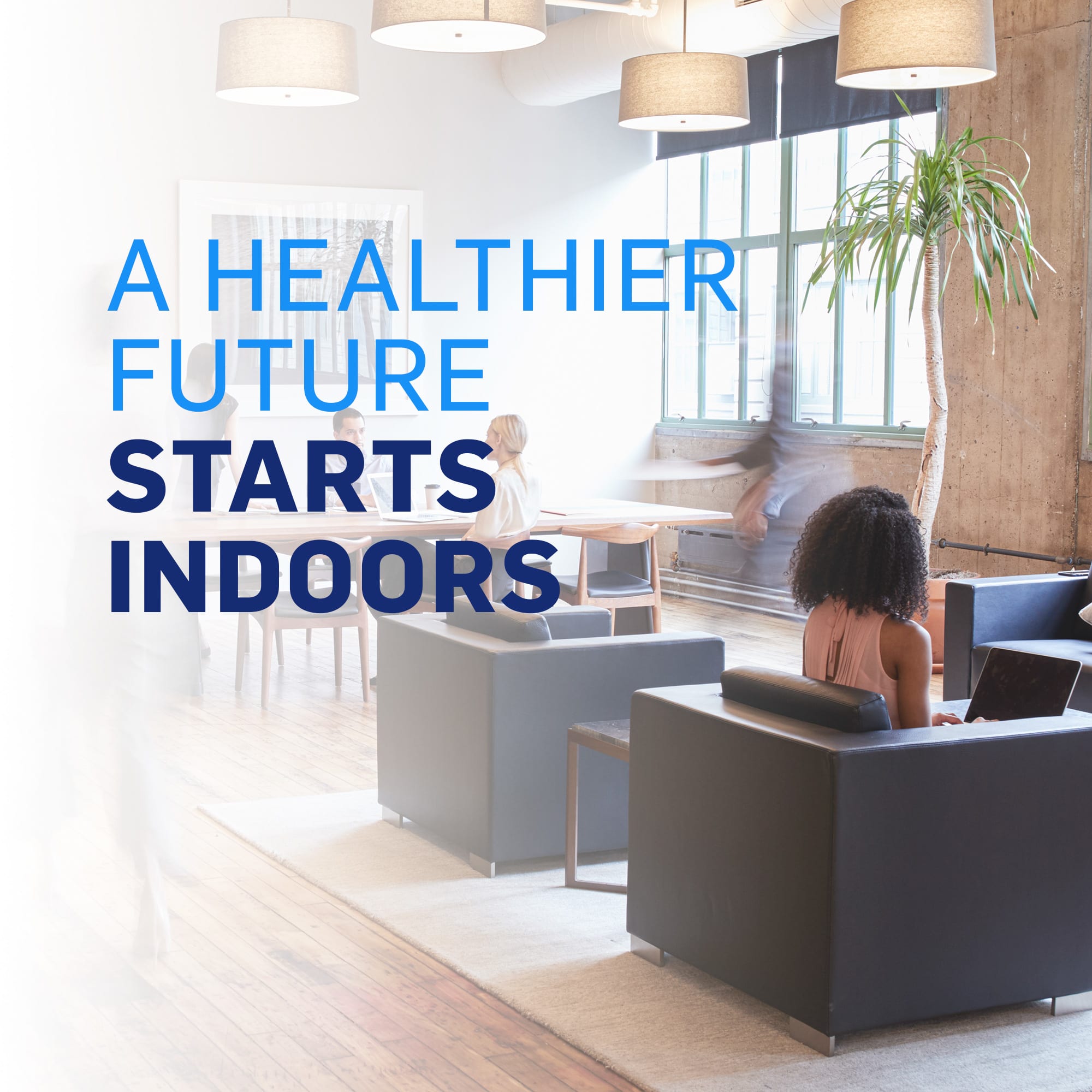 Healthier Air. Healthier Buildings.
Carrier's Healthy Buildings Program provides an expanded suite of advanced solutions to help deliver healthier, safer, more efficient and productive indoor air quality regardless of your building type/indoor environment. From innovative products, controls and system design solutions to remote services including assessments, maintenance and re-commissioning, you can trust Carrier's 100+ years of experience creating optimal indoor air environments to help you with yours. Click below to connect with a local Carrier expert.
Connect with a Local Carrier Expert keyboard_arrow_right
Carrier Healthy Building Overviews
For summary documents about indoor air quality (IAQ) science and Carrier HVAC solutions, click on the titles below.
Carrier offers a suite of Indoor Air Quality Solutions & Services that help deliver healthier, safer, more efficient, and more productive indoor environments for Healthy Buildings.
From building assessments and technology solutions that improve indoor air quality (IAQ), to maintenance and monitoring to support buildings throughout their lifecycle. Carrier's experts will work closely with you to assess, upgrade, maintain, and sustain your buildings.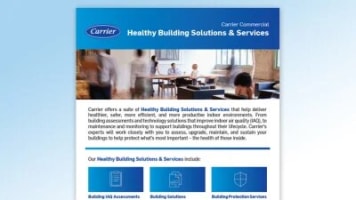 Healthy Building Solutions & Services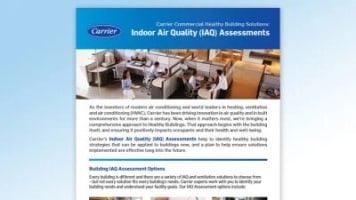 Indoor Air Quality (IAQ) Assessments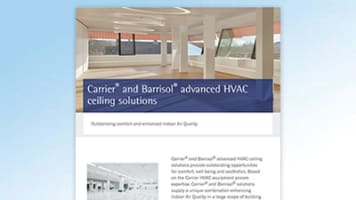 Advanced HVAC ceiling solutions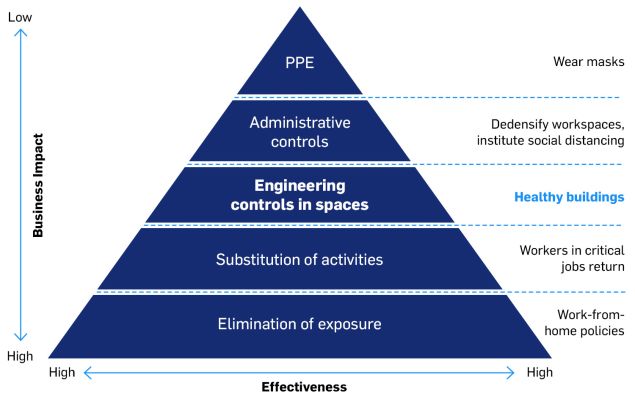 The Role of

Creating a healthy building through engineering controls in spaces is a key component of combatting COVID-19. It's a strategy that balances overall effectiveness with the financial impact it can have on the business.
---
Allen, J. G., & Macomber, J. D. (2020, April 29). What Makes an Office Building Healthy. Harvard Business Review. https://hbr.org/2020/04/what-makes-an-office-building-healthy
Building on a Foundation
No two HVAC systems or applications are the same. And solutions are plenty, varied and can be layered to maximize effectiveness. That is why Carrier takes a consultative and comprehensive approach to understanding your HVAC system, building and occupants' needs.
Carrier assessments provide a custom roadmap for your particular HVAC needs. Ask your local expert to suggest HVAC system design and equipment upgrades, replacements, service plans and analytics to maximize system efficiency and longevity.
Actions you can take to improve indoor air quality (IAQ)
Your customised Carrier IAQ solutions suggestions may include equipment, controls and service that address various aspects of your HVAC system and building needs as noted below.
---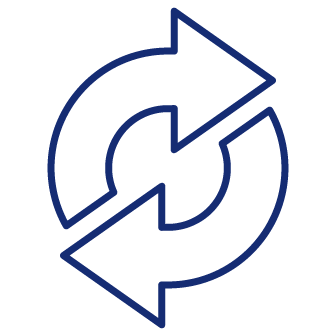 Ventilation
Maximize outdoor air ventilation • Monitor & control target ventilation
From simple tweaks and settings adjustments to adding new or retrofit equipment, bringing in more fresh outside air to replace indoor air can help reduce airborne pathogens and other contaminants.
---
Filtration
Filter air at MERV 13 or higher • Implement advanced purification solutions
The higher the MERV rating, the more efficient the filter. ASHRAE recommends MERV 13 whenever possible. Other air purification solutions range from UVGI (Ultraviolet Germicidal Irradiation) using short wavelength UV (UV-C) to high-voltage electrostatic filters (capturing particles with high voltage and ionisation fields) and photocatalyst using titanium dioxide to decompose organic compounds.

Simply and easily increase filtration with this portable, air-cleaning solution that can remove contaminants and discharge cleaner air back into the room. Roll it into place and plug it in to a standard electrical outlet to supplement your existing HVAC system.
---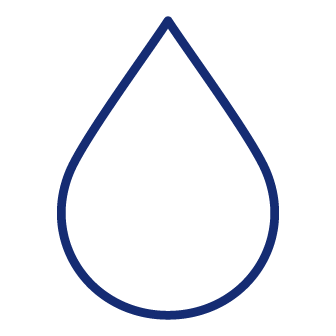 Humidity
Control to 40% - 60% relative humidity
Depending on your building design and location, you may need to add OR remove humidity to meet established guidelines. Keeping indoor relative humidity within the ASHRAE® 55 suggested range (40% - 60%) can minimize the effects of bacteria and allergens.
---

Air Quality
Implement multipoint IAQ monitoring • Incorporate advanced IAQ controls
Let Carrier test your indoor air quality and develop and implement upgrades to help ensure: optimal filtration, ventilation, airflow, controls, and more. Carrier experts can also develop corporate-wide IAQ engineering standards and help implement them.
---

Manage Facilities
Facility management tools help building operators manage occupant comfort, energy efficiency, and overall building health.
Carrier Commercial Service provides BluEdge, a new best-in-class service and aftermarket offering. Central to BluEdge is a progressive, tiered service model, that provides a range of dynamic options to meet the needs of your business.
---

Engage Occupants
Providing building occupants with real-time visibility into air quality metrics promotes the health and safety of their surroundings.
---

Thermal Health
Design to appropriate comfort standard • Advanced localized controls
Thermal health is a result of proper and acceptable conditions (humidity, temperature, etc.) necessary to obtain indoor human comfort. Without a proper thermal health, people may feel too tired or distracted. Your local Carrier expert can help by matching key products to address particular issues keeping in mind that your site is unique thereby requiring a unique solution.
Read our whitepapers to learn more about the science of IAQ and application-specific solutions.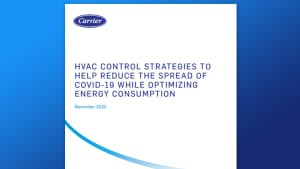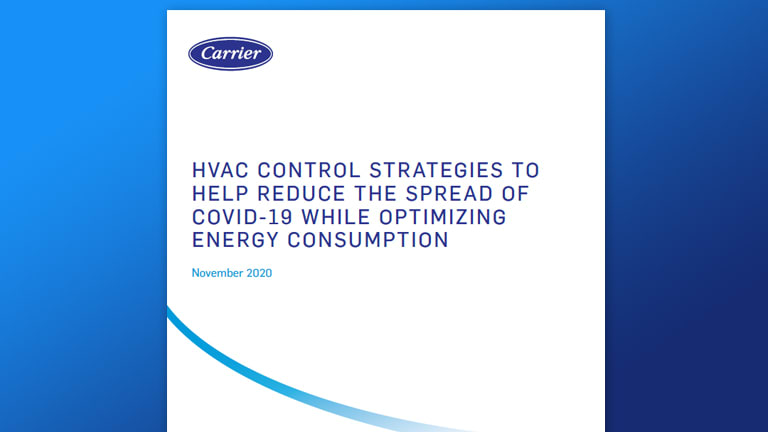 HVAC Control Strategies to Help Reduce the Spread of COVID-19 While Optimizing Energy Consumption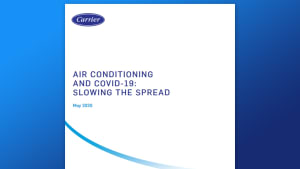 Air-Conditioning & COVID-19: Slowing the Spread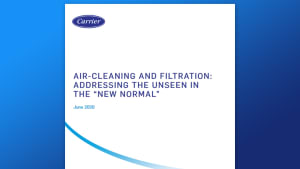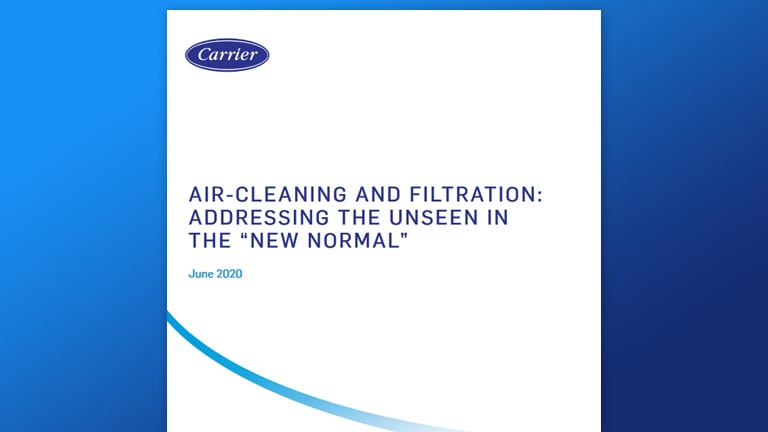 Air-Cleaning & Filtration: Addressing the Unseen in the "New Normal"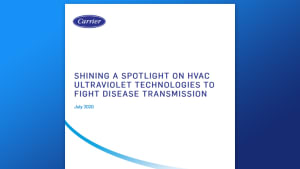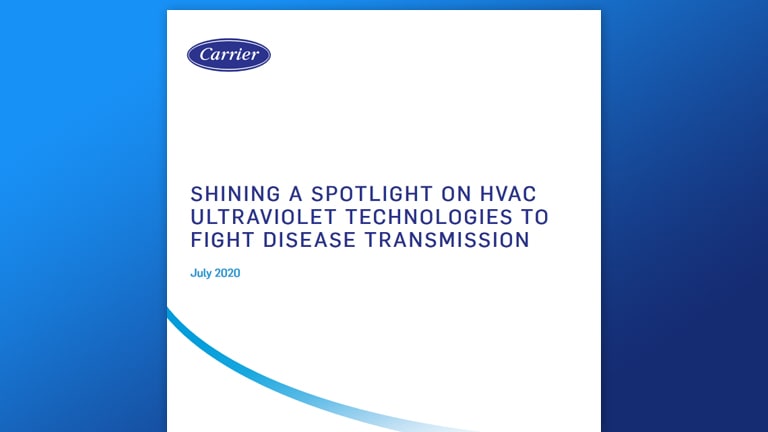 Shining a Spotlight on HVAC Ultraviolet Technologies to Fight Disease Transmission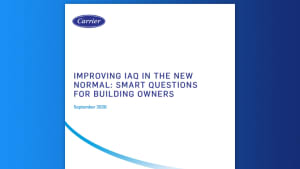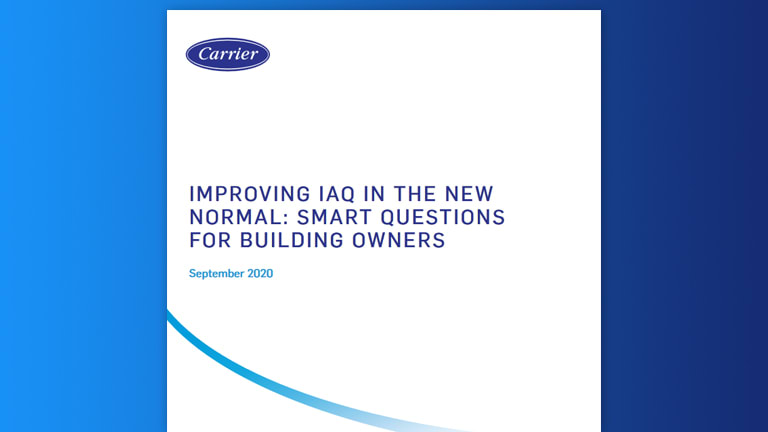 Improving IAQ in the New Normal: Smart Questions for Building Owners

Learn about other building-wide technology solutions for today's reimagined environments
In addition to Carrier's commercial HVAC equipment, controls and service solutions, we also offer comprehensive fire, security and controls product offerings. Learn more at carrier.com/healthybuildings.