Twickenham Launch for Carrier AquaForce® Vision in the UK
LONDON, UK -
Carrier's Most Efficient, Intelligent and Compact Variable-Speed Screw Chiller
Today, Carrier in the UK launched its new AquaForce Vision 30KAV chiller at Twickenham Stadium. As well as learning more about the energy-efficient AquaForce Vision, customers and contractors had a chance to meet international rugby stars – former England captain Will Carling, Welsh captain Scott Quinnell, and former England player and television celebrity Ben Cohen. Carrier, a world leader in high-technology heating, air-conditioning and refrigeration solutions, is a part of UTC Climate, Controls & Security, a unit of United Technologies Corp. (NYSE: UTX).
The first phase of the new 30KAV range of variable-speed screw chillers, equipped with Greenspeed™ intelligence, covers cooling capacities from 500 kW up to 1100 kW, achieving exceptional levels of seasonal efficiency.
Equipped with variable-speed screw compressors and variable-speed fans – alternating current (AC) as standard and electronically commutated (EC) as an option – as well as optional variable-speed pumps, Carrier's AquaForce Vision 30KAV automatically adjusts the cooling capacity and water flow to perfectly match the needs of the building or process load variations.
The result is optimal operation at both full load and part load. This new range of chillers has a SEER of up to 5.5 in cooling mode, and an Energy Efficiency Ratio (EER) of up to 3.49 at full load. 30KAV offers energy efficiency up to 40 percent higher than the 30GX range with the same footprint.
"Our engineers have developed state-of-the-art technologies to exceed the European Ecodesign energy performance standards by 30 percent," said William Doll, product manager, Carrier, HVAC Europe. "AquaForce Vision 30KAV sets a new benchmark for efficiency, compactness and intelligence."
Operating at external temperatures ranging from -20°C up to 55°C and negative water temperatures, 30KAV is an ideal solution for a wide range of sectors. From large-scale office buildings, hotels and healthcare facilities to data centres and industrial projects, 30KAV meets the most demanding expectations in terms of energy efficiency and savings, whatever the climate.
The AquaForce Vision 30KAV introduces the latest cutting-edge Carrier technologies, including:
the brand new 06Z variable-speed screw compressor
the 6th generation Flying Bird® Fan with EC motor
the 3rd generation Novation® micro channel heat exchangers with a unique W coil design built in one single piece
The AquaForce Vision 30KAV also features Touch Pilot® control with a colour touch screen user interface in 10 languages and functions, such as Carrier's smart energy monitoring to provide customers with smart data and optimise energy savings under real conditions. Furthermore, the 30KAV can be connected to Carrier's remote monitoring centres where Carrier engineers can analyse data and optimise chiller performance.
With sound levels of only 90 dB(A) during operation, this new range has particularly low sound levels compared to its previous generation.
The AquaForce Vision PUREtec™ 30KAV-ZE version, designed exclusively for ultra-low global warming potential (GWP) refrigerant HFO R-1234ze, will be available in later this year.
The range will also be extended up to 1800 kW cooling capacity with premium technologies and additional options.
Presenting the range to leading UK consultants and contractors, Nancy Jonsson, Carrier's UK sales director, said: "We believe the new chiller is ideally suited to meet UK requirements, delivering outstanding energy efficiency across the range. The coming introduction of an HFO version later this year adds a further exciting option for end users keen to future-proof their buildings and achieve the highest environmental standards."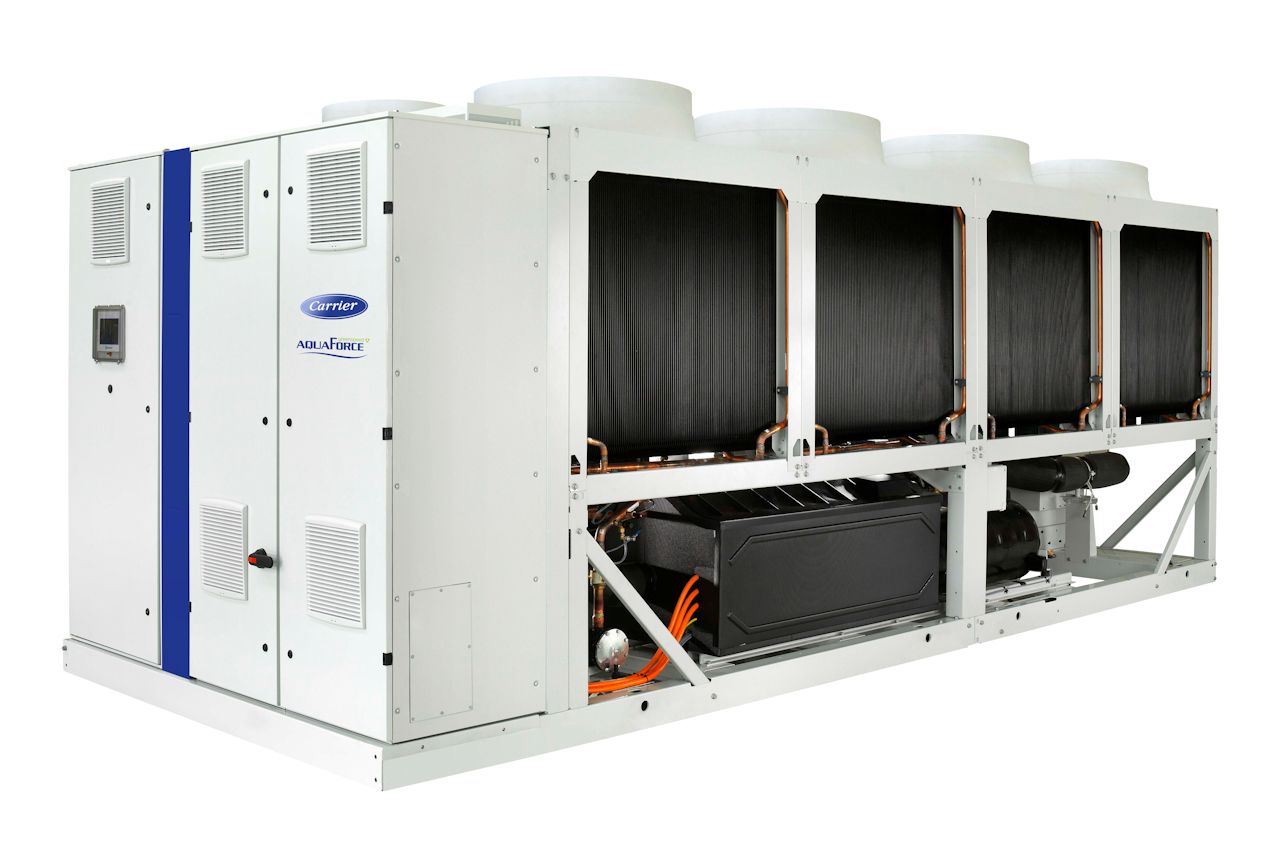 The AquaForce® Vision 30KAV with Greenspeed™ intelligence is Carrier's most efficient, intelligent and compact variable-speed screw chiller.