Cool Designs Offers the Latest VRF Technology with the Recently Launched Carrier XCT7 Systems
LEATHERHEAD, UK -
Cool Designs Ltd (CDL), one of the UK's largest independent air conditioning distributors, has added Carrier's new Variable Refrigerant Flow (VRF) system to its portfolio in recognition of the product's high-quality build, advanced features and excellent energy efficiency. Toshiba Carrier UK Ltd (TCUK) is a joint venture between Toshiba Carrier Corporation and Carrier, which is part of Carrier Global Corporation (NYSE: CARR), the leading global provider of healthy, safe and sustainable building and cold chain solutions.
Darrel Birkett, Managing Director of CDL, stated that his association with TCUK for 17 years has helped him build a strong customer following based on quality and customer service. With the launch of Carrier's XCT7 VRF, he wanted to expand his product offerings.
"Many manufacturers have launched into the VRF market, but we find contractors tend to stay with what they know," said Darrel Birkett. "A new VRF product needs to offer something new that benefits contractors and end users. And it must be backed-up with high quality technical support, such as details about part-load data, software and controls, which Carrier has done."
After a detailed product evaluation, Darrel Birkett explained: "The Carrier VRF is impressive. We were initially concerned that it was just going to be another budget range entering the market, which is not where we want to be, as CDL specialises in premium technology. However, having seen the product, this couldn't be further from the truth. Build quality is first class – it is totally solid, very well built and a very competitive price level."
He continued: "There is also great attention to detail in the design with nice touches to help installers, such as the positioning of handles to help lifting, and panels with places to note references for indoor details, and so on. A lot of thought has gone into the design, and it shows."
CDL is now adding the Carrier VRF to its air conditioning range alongside Toshiba's latest VRF product, as the company believes Carrier's XCT7 VRF makes an excellent companion.
"Together, our Carrier and Toshiba VRF ranges cover all the bases, and without any compromise in quality," said Darrel Birkett.
The Carrier system is highly flexible and can be used in a wide range of applications and building types, from mini-VRF projects to large buildings, with extended pipe runs and height separation of up to 110 meters, plus full connectivity to a building management system (BMS) for optimised control. It also has multiple options to connect to air handling units (AHUs) from a single refrigerant circuit, providing more flexibility for system designers.
As testimony to his belief in the Carrier system, Birkett is installing a Carrier XCT7 in his own home as part of a new air-source heat pump system.
"The XCT7 launch coincided with our move, and we are installing the Carrier system in the bedrooms. The slim ducts are ideal for use in the loft-space. With 600mm integrated pumps and flexible return air, they are ideal. The real clincher was the smart, contemporary design of the Carrier room controls, which my wife preferred over other options!" he said.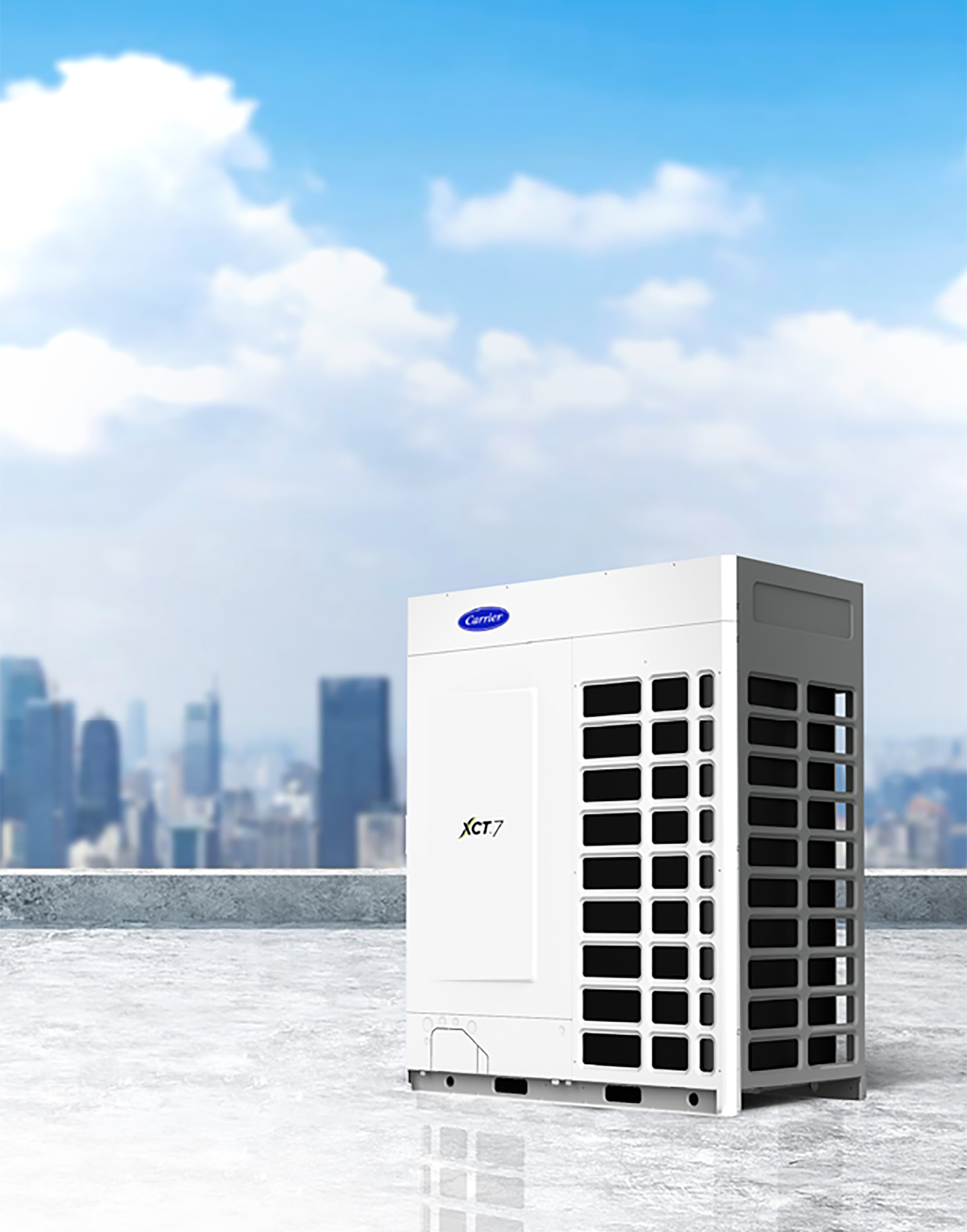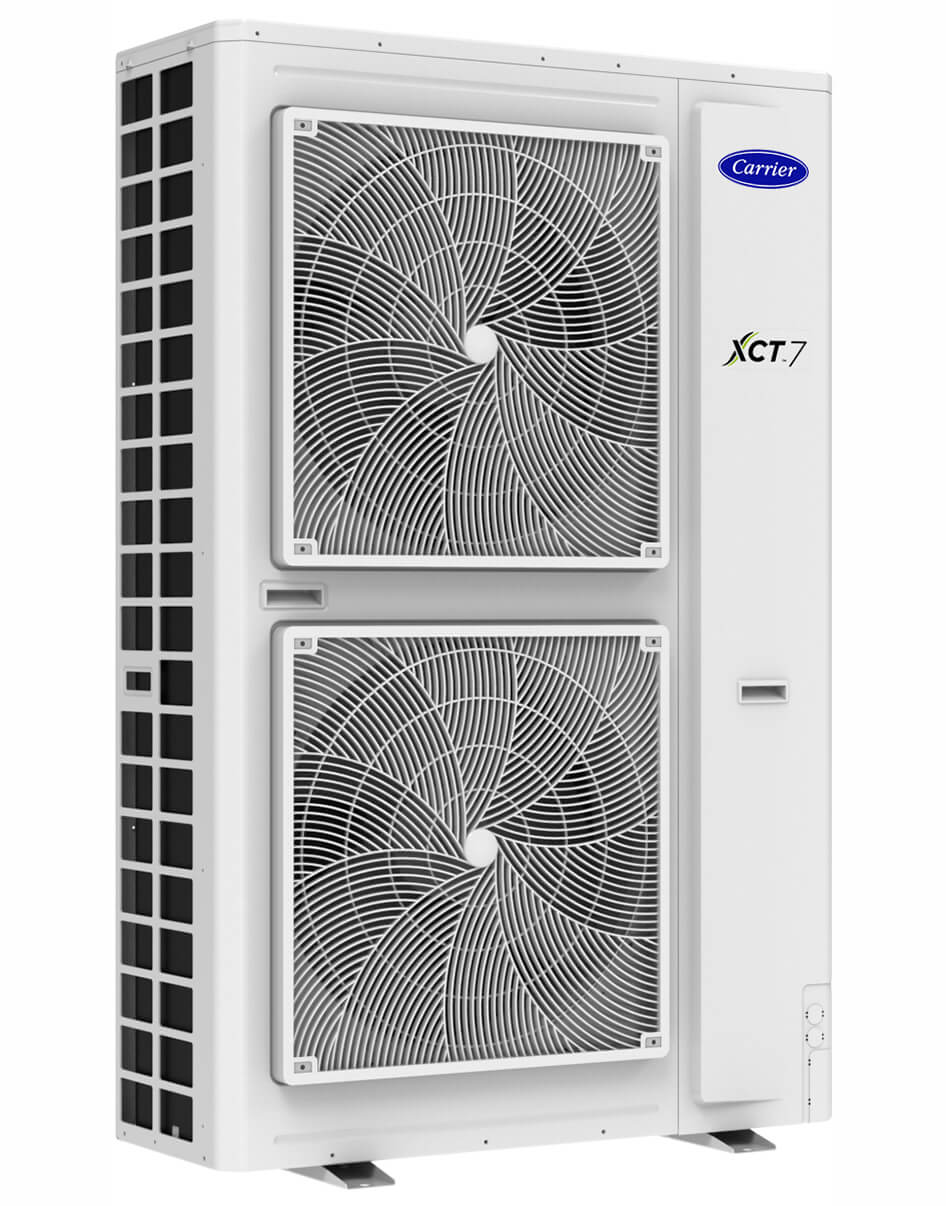 XCT7 is highly flexible and can used in a wide range of applications and building types.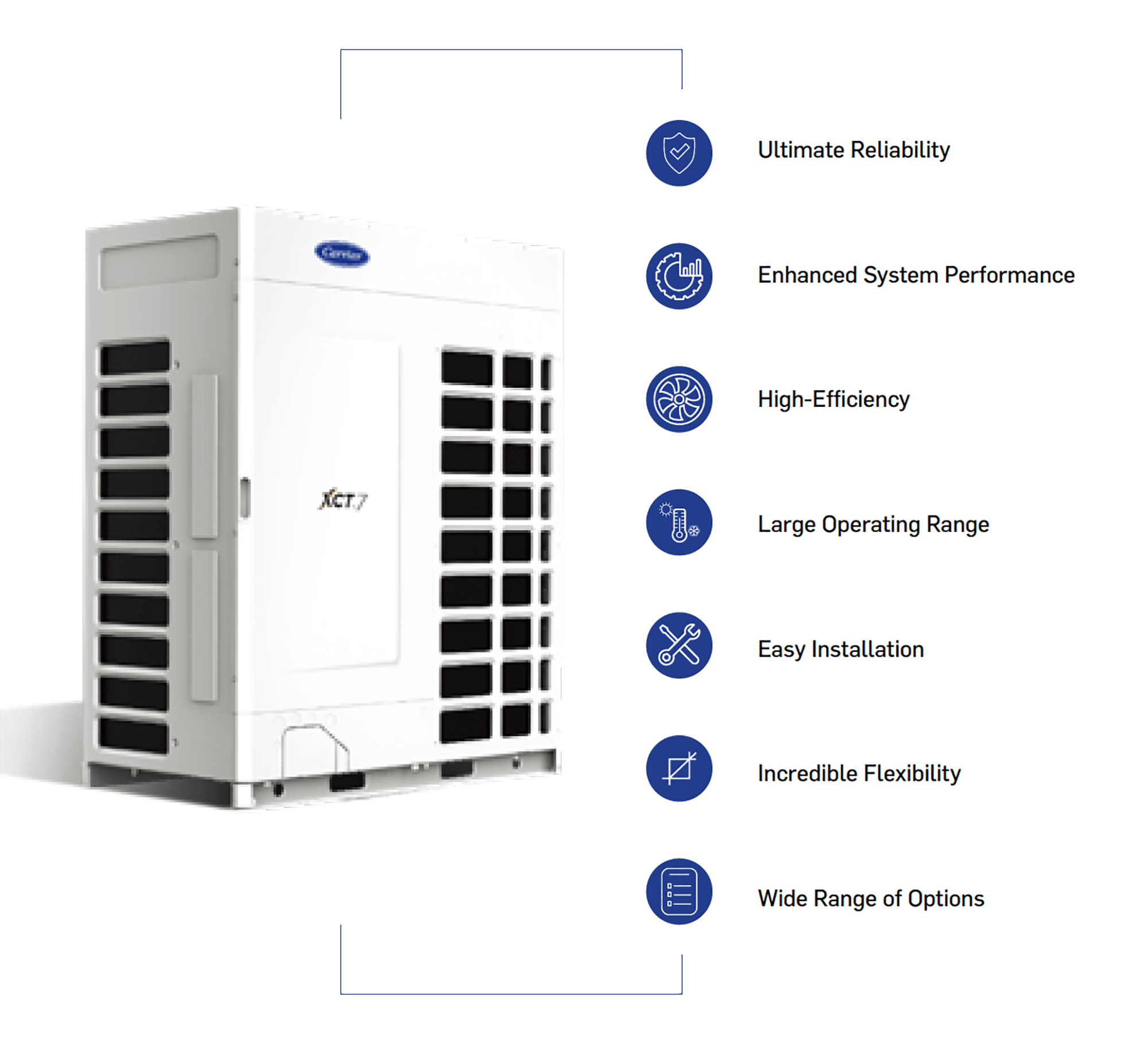 It also has multiple options to connect to Air Handling Units from a single refrigerant circuit, giving added flexibility for system designers.