Carrier Supplies Bespoke Chillers for London's New Elizabeth Line Underground Stations
LONDON, UK -
Carrier is supplying bespoke high-performance, high-efficiency chillers for London's Elizabeth Line project to meet its cooling needs and the stringent fire safety materials standards required for use underground. Carrier, a world leader in high-technology heating, air-conditioning and refrigeration solutions, is a part of UTC Climate, Controls & Security, a unit of United Technologies Corp. (NYSE: UTX).
Fifteen customized Carrier AquaSnap® air-cooled liquid chillers with Greenspeed Intelligence® will provide resilient, reliable cooling for new Elizabeth Line stations at Tottenham Court Road, Paddington, Woolwich and Farringdon.
Carrier's UK team worked closely with its chiller research and development centre in Montluel, France, to develop a solution that met the strict fire prevention requirements for the project, due to its underground location.
The bespoke chillers are equipped with zero halogen, low-smoke insulation and cables, and finished with specialist paint, all formulated to emit very limited smoke and/or fumes when exposed to heat or flame
The changes to the standard factory specification required detailed research on alternative components and their application. For example, the requirement for zero halogen, low-smoke cables required a completely new chiller wiring loom.
Matthew Maleki, Carrier product manager who headed the compliance project, said: "The specification was challenging and there were no standard factory-produced chillers available that were compliant. Carrier's technology specialists were very innovative, and we worked closely with them to develop a custom-made chiller that met all of the requirements, and provides efficient and reliable cooling with proven Carrier technology."
Carrier's AquaSnap 30RB chiller is based on highly-reliable rotary scroll compressors running on refrigerant R-410A, a quiet-running AeroAcoustic™ fan system, and high-efficiency microchannel condenser coil technology.
In addition to the importance of fire-safe materials for all equipment used underground, reliability is also a key issue. In this regard, the chillers are built on a heavy-gauge galvanized steel frame and come with a range of security grilles and hail guard options. Safety features include low ambient head pressure control and high short circuit current rating.
Carrier is believed to be the only manufacturer able to supply chillers in full compliance with the required fire safety materials standards for use on London underground stations.
New Paddington Station on Elizabeth Line will be air conditioned with bespoke Carrier chillers.
Credit© Crossrail Ltd – reproduced with permission.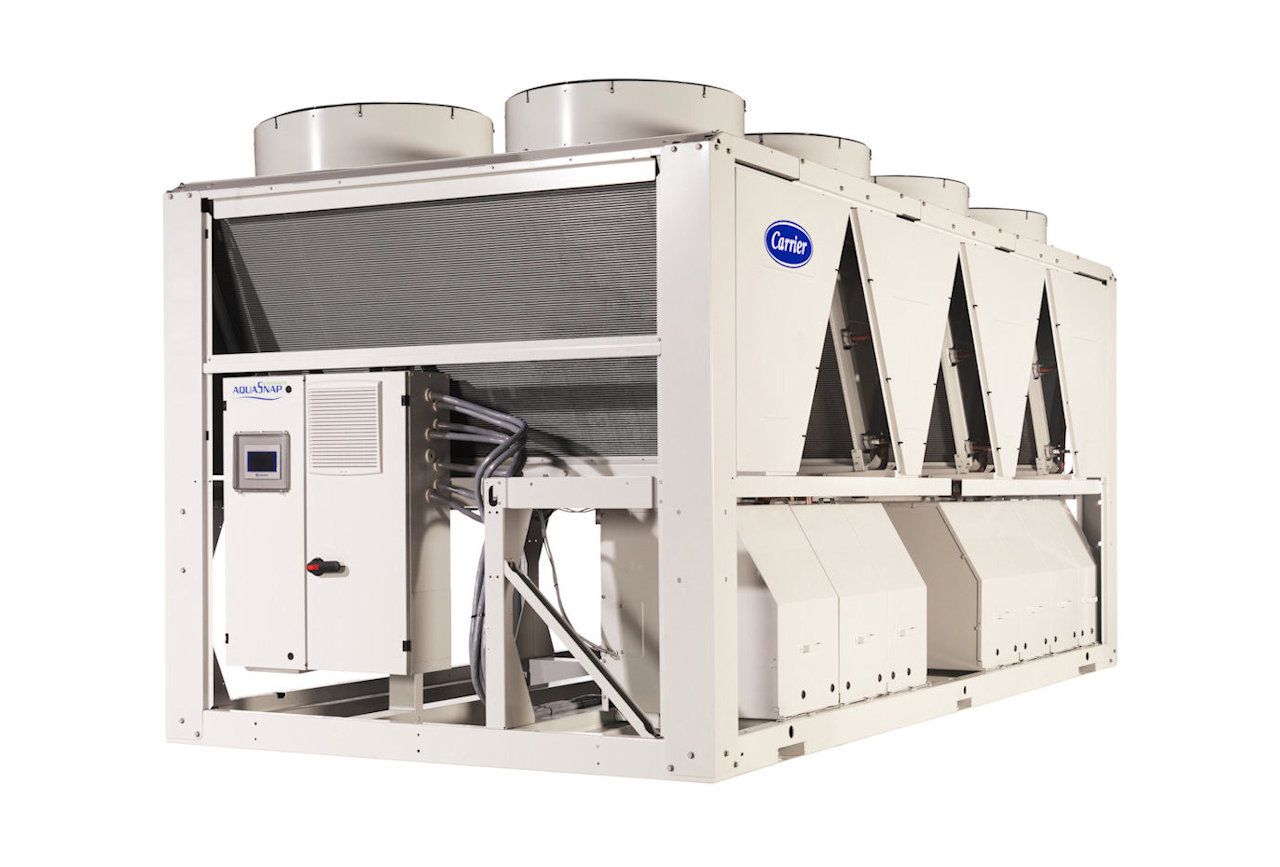 Carrier's AquaSnap 30RB chiller is based on highly reliable rotary scroll compressors running on refrigerant R-410A