Carrier® AquaForce® 30XV Variable-Speed Air-Cooled Screw Chiller Now Available with Waterside Economizer New feature provides reliable performance during "free cooling" and can help eliminate equipment down time
Carrier has announced the availability of an innovative waterside economizer option for its award-winning AquaForce® 30XV air-cooled variable-speed screw chiller.The addition of a waterside economizer, or "free cooling," allows the owner to take advantage of lower outdoor air temperatures to cool their building or process, thus saving a significant amount of energy. Carrier is a part of Carrier Global Corporation (NYSE: CARR), a leading global provider of healthy, safe and sustainable building and cold chain solutions.
The unit comes standard with industry exclusive MaxCap Advantage, a feature that allows the extraction of the most free cooling possible during all operating conditions, while improving system uptime. The design reduces complexity and substantially improves serviceability and cleaning through eliminating the double coil design. As the unit is completely modular, it is built as required for the specific intended application. The option also meets the ASHRAE 90.1 code requirement.
"The addition of this innovative waterside economizer to the 30XV adds a new layer of efficiency, reliability and performance for our customers," said Chris Opie, vice president, Product Marketing & Platform Strategy, Commercial HVAC, Carrier. "With this feature, customers will recognize the same trusted performance of the 30XV with the added benefit of even greater efficiency during 'free cooling' operation. The ease of service and maintenance afforded by its unique design makes it that much more valuable."
The AquaForce 30XV line was developed to ensure optimum performance in an air-cooled solution that's easy to install, easy to service, highly reliable and quiet. The 30XV delivers industry leading efficiency (IPLV Ratings greater than 22.0 available in certain models) and low sound. The smaller footprint 30XV can replace almost all older equipment going back two generations. The 30XV can be customized to fit most building needs, anywhere. With value-added features such as fully air-cooled variable frequency drives and next generation sub-systems including rotary screw compressors and a quiet AeroAcoustic fan system, integrated with microchannel condenser coils, the 30XV is made for versatility, robustness and efficiency. Its user-friendly control with color touchscreen display is self-optimizing, enabling the 30XV to run at optimum performance at any given set of conditions.
To learn more about the Carrier AquaForce 30XV variable-speed air-cooled chiller and its innovative free cooling offer, visit www.carrier.com/30XV.
About Carrier Founded by the inventor of modern air conditioning, Carrier is a world leader in high-technology heating, air-conditioning and refrigeration solutions. Carrier experts provide sustainable solutions, integrating energy-efficient products, building controls and energy services for residential, commercial, retail, transport and food service customers. Carrier's HVAC business is a part of Carrier Global Corporation, a leading global provider of healthy, safe and sustainable building and cold chain solutions. For more information, visit www.carrier.com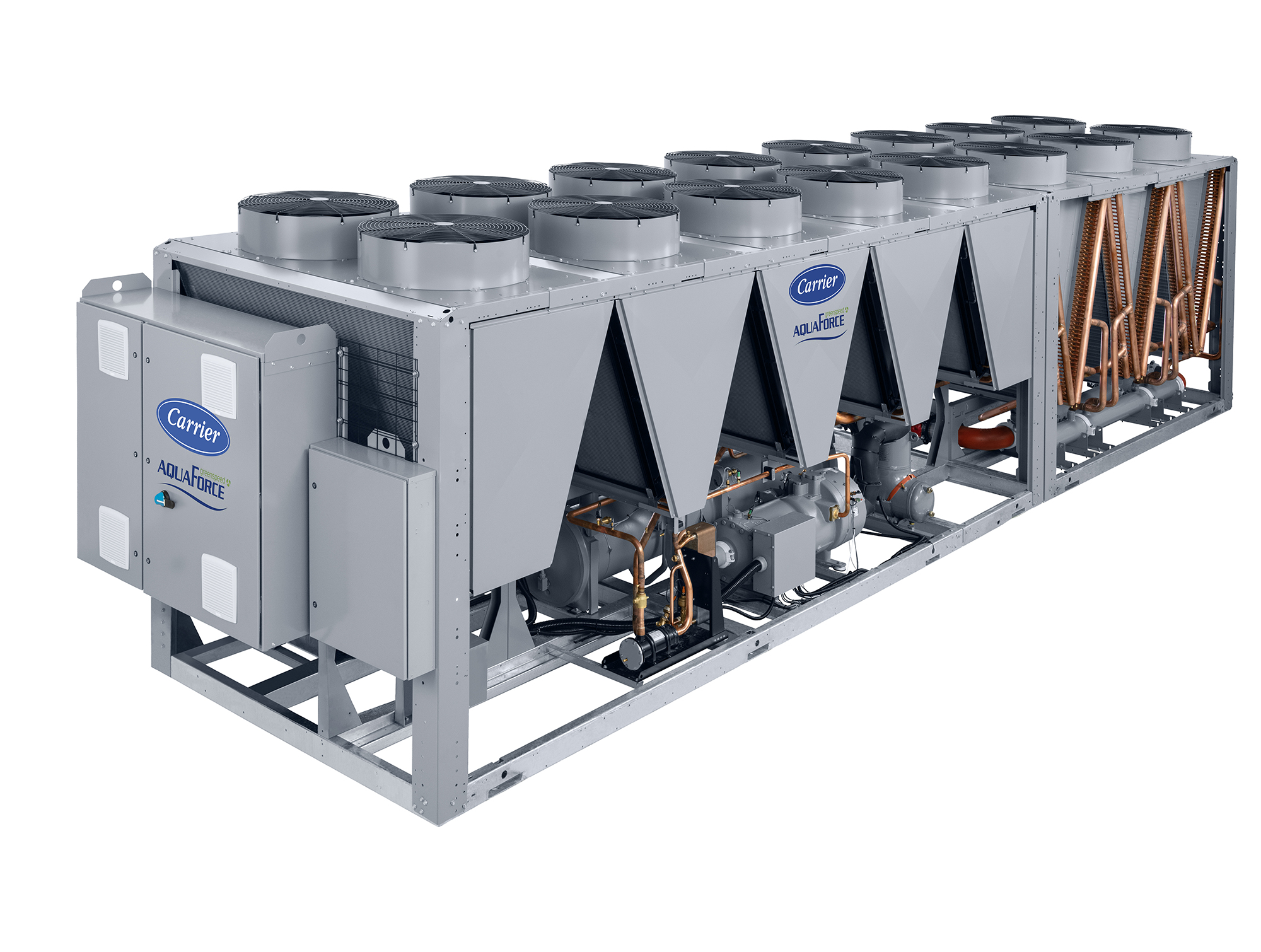 The Carrier® AquaForce® 30XV Variable-Speed Air-Cooled Screw Chiller is now available with Waterside Economizer for "free cooling." This technology allows the chiller to use an auxiliary source of chilled water rather than the compressor and mechanical coils to optimize performance and reduce down time due to environmental challenges such as cold weather.